Is my life ruled by karma? Learn how to change it - 26 June 2018
Description
Is my life ruled by karma? Learn how to change it
The Spiritual Science Research Foundation invites you to attend a unique spiritual lecture. All are welcome.
When we face challenges in life, we sometimes ask ourselves "Why is this happening to me?" Some of us may have pondered over a difficulty in our life and thought "Could this be my destiny or fate?" and at moments felt helpless to change the situation. It is a common belief that if we try to be a good person and do good deeds, then the same will return back to us. However, we do not realise that our karma from all of our previous lives has a great influence on our current life.
Spiritual research has shown that 65% of the events in our lives are destined and not within our control. This includes all major events in our lives that cause us happiness and unhappiness. In this spiritual lecture we will explain how we can overcome our adverse destiny through spiritual practice. Not only does spiritual practice help us overcome our karma but it allows us to experience more happiness and stability in life. We welcome you to join us in this spiritual lecture to learn more.
This event is free for all to attend and donations to The Spiritual Science Research Foundation are welcome.
Presenters of the workshop
Susan Markham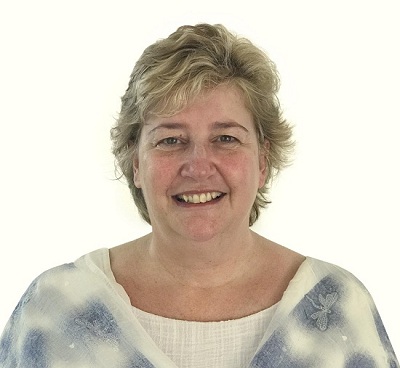 Susan's first spiritual experience was as she was driving to work one day. This came unexpectedly as she had not thought about God since she was little. She felt compelled to stop the car and onto the grass bank. She felt God was with her. She began to cry with spiritual emotion she didn't understand at the time and had tingles all over her body. She just knew then and there God was showing himself to her. After her brother passed away in January 2017 due to an alcohol addiction, Susan felt inside that her brother was not at peace even in death. She searched on Google "Where do you go when you die?" www.ssrf.org was there on the first page. She read the article on 'How departed ancestors affect us'. She knew immediately this is what she had been searching for all her life. Susan has been to the Ashram in Goa, India twice. On her second visit, she stayed for a month and learnt so much about the spiritual dimension and how it affects our lives. Meeting H.H. Dr. Athavale and being in his presence, changed everything for her. His love for her was pure, honest and unconditional. 18 months ago, Susan retired from a successful career in Insurance and became a full-time seeker. She says that this is her life now; she wants to surrender to God for His mission to spread the Absolute Truth to society around the world.
Sally Woodcock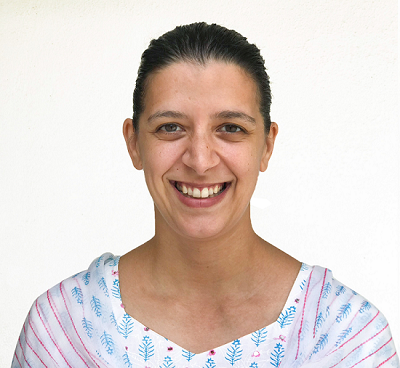 Miss Sally Woodcock is from Aberdeenshire, Scotland and has always believed that if you worked hard, dreamed big and kept a positive attitude, that anything in life was possible. Sally enjoyed building herself a successful career in the oil and gas industry and has travelled extensively for both work and leisure. Her biggest passion in life has always been for meeting new people and forming friendships with people from many different backgrounds and walks of life. In 2014, for reasons beyond her full understanding, Sally just knew it was time to leave the corporate lifestyle behind and to embark on a journey of self discovery. She began travelling around South East Asia visiting many spiritual retreats and trying different types of meditation, yoga and Ayurvedic therapies before in June of 2017, attending an SSRF 5-Day Spiritual Workshop in Goa. Sally says that the workshop completely changed her life and that she had found what she had been seeking her whole life - a purpose, a passion. Transformed by the teachings of His Holiness Dr Athavale, Sally is now devoted to spiritual practice full time, has conducted several workshops in Goa and is passionate about spreading Spirituality to the rest of the world.
Dragana Kislovski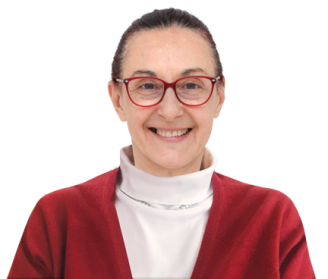 Mrs Dragana Kislovski is from Belgrade, Serbia and is the disciple of His Holiness Dr. Athavale, a Saint and Spiritual Master from India. It is with His blessings and guidance that Spiritual Science Research Foundation (SSRF) was founded and has grown to the world fastest growing spiritual website attracting over a million visitors every month and is translated into 22 languages. Since her youth, she has been attracted to Spirituality and has spent summers in England. She is a graduate of the University of Mathematics and Natural Sciences in Belgrade. In 1992 she moved to the USA and there she started doing spiritual practice under the guidance of SSRF in 1998. From that point on her life changed. She knew that this was what she was searching for all her life. On 24 December 1999, she met Her Guru, His Holiness Dr Athavale and decided to become a full-time seeker, to serve others. She is married, has two children and two grandchildren. In her professional life, she was responsible for organizing and managing large International prestigious events for over 25 years. This included 2 Olympic Games, one in Sarajevo, Bosnia, and one in Atlanta, USA. She was also Director of Sales and Marketing in the Hotel business in USA for 8 years. She has dedicated her life to spiritual practice and has conducted spiritual lectures and workshops worldwide. Having lived and worked in 4 continents, Dragana has an in depth cross-cultural and spiritual understanding. She could clearly see how everyone regardless of background, nationality and religion could benefit from these Universal spiritual principles. She conducts lectures and workshops throughout Europe, USA and Canada.
This event is organized by:
The Spiritual Science Research Foundation
www.ssrf.org