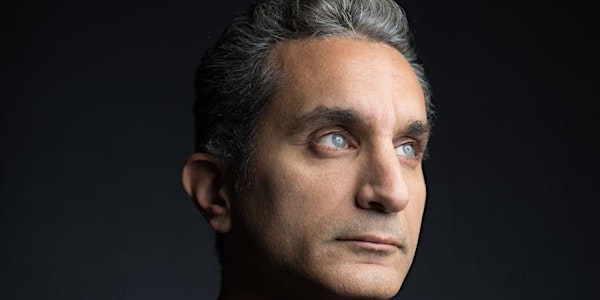 Is It Safe To Laugh Yet?
Talking religion, truth, and politics with comedian Bassem Youssef
When and where
Location
Marston Exploration Theater 781 South Terrace Road Tempe, AZ 85281
About this event
In January of 2013, Bassem Youssef's already controversial political satire show Al Bernameg struck a dangerous nerve with the Egyptian government. An arrest warrant that March followed quickly on the heels of an investigation into alleged political and religious disrespect. In November of the following year, after a hefty bail fine and an office raid, Youssef realized that it was time to flee Egypt. He made his way to the U.S. and joined longtime friend Jon Stewart on the Daily Show as the correspondent for the Middle East. Youssef returned to creating content through social media and stand up tours delivering political commentary through sharp wit and pointed satire. He continues to engage in political conversations through his work on various shows and documentaries, two books, stand-up performances across the U.S., and an active social media presence.
In conversation with John Carlson and Tracy Fessenden of the Center for Religion and Conflict's Recovering Truth Project Youssef will dive into the ways satire and humor can be used to get at the serious truths of democracy and religion.
This talk is presented by The Center for the Study of Religion and Conflict's Recovering Truth Project in partnership with ASU Gammage's Beyond Series.
More About Our Speakers:
Bassem Youssef
Bassem Youssef, dubbed the Jon Stewart of the Arab World, was the host of popular TV show AlBernameg -- which was the first-of-its-kind political satire show in the Middle East. Throughout its three seasons, AlBernameg became the most popular television show in Egypt's history, with an average of 30 million viewers each week. Currently living in the U.S., Youssef was named one of Time Magazine's most influential people, under the "Pioneers" category, and continues to challenge power with one of the most powerful weapons: humor.
John Carlson
John Carlson is interim director of the Center for the Study of Religion and Conflict and associate professor of religious studies at Arizona State University where he also co-directs the Recovering Truth project. A religious ethicist, he is co-editor of "From Jeremiad to Jihad: Religion, Violence, and America" and has written extensively on issues of war and peace, religion and violence, justice and human rights, and democracy and civic life.
Tracy Fessenden
Tracy Fessenden is the Steve and Margaret Forster Professor in the School of Historical, Philosophical, and Religious Studies and Director of Strategic Initiatives at the Center for the Study of Religion and Conflict. Her work focuses on the relationship between religion and the secular in American law, culture and public life. She is the author of "Religion Around Billie Holiday," and "Culture and Redemption: Religion, the Secular, and American Literature.