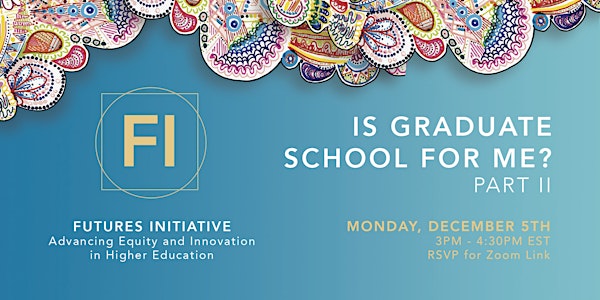 Is Graduate School for Me? Part 2
Is Graduate School For Me? Part 2
About this event
In continuation of The Futures Initiative series, we invite you to learn insightful tips on the graduate school application process from current CUNY graduate students, faculty, and administrators. This event is designed primarily for students actively applying or preparing to apply to graduate school. You'll hear personal experiences about everything to do with the application process; including writing the perfect personal statement, using resources that are readily available to you, networking, organizing deadlines, and much more! The application stage does not have to be a solitary process, join us on December 5th.
***************
Please RSVP and click "View the event" in your order confirmation e-mail to navigate to an online event page with Zoom information to join the webinar.
***************
This event is sponsored by The Futures Initiative and part of the University Worth Fighting For, a series of workshops that tie student-centered, engaged pedagogical practices to institutional change, race, equality, gender, and social justice. To keep up to date about Futures Initiative events SUBSCRIBE to the Futures Initiative Newsletter for exciting news, public programs and opportunities.