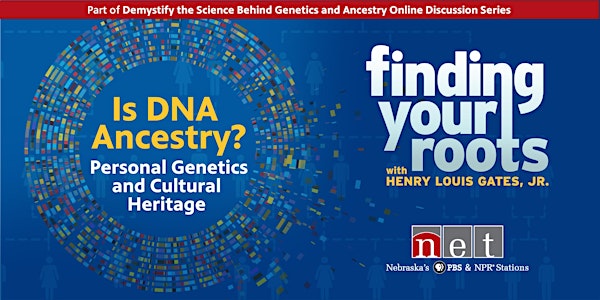 Is DNA Ancestry? Finding Your Roots FREE Online Screening and Discussion
Join us for a discussion of the relationship between ancestry and cultural heritage
Date and time
Starts on Thursday, March 18, 2021 · 2pm PDT
About this event
Join NET Nebraska for a virtual discussion of genetics and ancestry. Learn how ancestry testing works and discuss the differences between genetic ancestry and cultural heritage. Panelists include:
Finding Your Roots with Henry Louis Gates, Jr., Season Seven episodes will broadcast throughout Winter/Spring2021 and will continue to feature exciting new guests who are game-changers in their fields, with family histories that illustrate the power and diversity of the human experience. Among them are actors Glenn Close, John Lithgow, Jane Lynch, Audra McDonald, Christopher Meloni and Tony Shalhoub; acclaimed musicians Clint Black, Rosanne Cash and Pharrell Williams; groundbreaking directors Kasi Lemmons and John Waters; renowned journalists Gretchen Carlson and Nina Totenberg; hilarious comedians Lewis Black and Jim Gaffigan; popular late night personality Andy Cohen; and more to be announced.
Assembling the extensive family trees and family narratives alongside Dr. Gates are DNA expert CeCe Moore (Founder, The DNA Detective and host of ABC's The Genetic Detective), and new lead genealogist Nick Sheedy, who carries on the work of founding series genealogist Johni Cerny (Founder, Lineages), who unfortunately passed away in early 2020.
The latest season of Finding Your Roots airs on Tuesdays at 8pm eastern/7pm central on PBS through May 4, 2021.
Learn more about Finding Your Roots: pbs.org/FindingYourRoots
Join the conversation #FindingYourRoots
Learn more about NET's Demystify the Science Behind Genetics & Ancestry discussion series: netNebraska.org/genetics
Corporate support for Finding Your Roots with Henry Louis Gates, Jr., Season Seven is provided by Ancestry and Johnson & Johnson. Support is also provided by Gordon and Betty Moore Foundation, The Carnegie Corporation of New York, Candace King Weir, The Zegar Family Foundation, Lloyd Carney Foundation, and by The Inkwell Society and its members Felicia A. and Benjamin A. Horowitz Fund; Demond Martin; Sheryl Sandberg and Tom Bernthal; Jim and Susan Swartz; Anne Wojcicki; John H. N. Fisher and Jennifer Caldwell; Fletcher and Benaree Wiley; Gwen and Peter Norton; and Darnell Armstrong and Nicole Commissiong. Major support is provided by the Corporation for Public Broadcasting and PBS.
About the organizer
Nebraska Public Media has been dedicated to connecting Nebraskans through news, sports, education and entertainment for nearly 70 years. Providing global news and compelling stories from PBS and NPR, Nebraska Public Media also produces award-winning original content. Its programs and services reach 1 million people each month across the state on television, radio, online and mobile platforms. Visit NebraskaPublicMedia.org for more information.