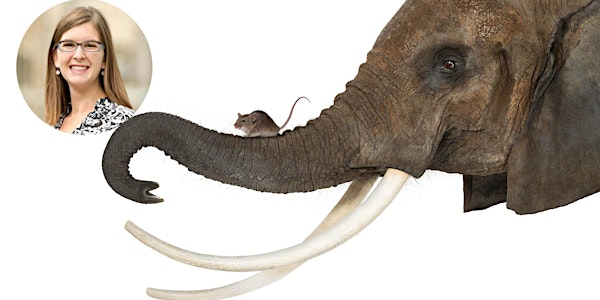 Is Bigger Better? Understanding how Body Size Shapes Immune Defenses
Sales Have Ended
Registrations are closed
The live event is over. A video recording will be available at www.caryinstitute.org.
Sales Have Ended
Registrations are closed
The live event is over. A video recording will be available at www.caryinstitute.org.
Speaker: Dr. Cynthia Downs, SUNY College of Environmental Science and Forestry
About this event
Body mass is likely to affect the way organisms evolve, develop, and use immune defenses; however, comparative data on the scaling of immune defenses is rare. Downs et al. investigated how the antibacterial capacity of serum scaled with body mass among >160 species of terrestrial mammals spanning 7-orders of magnitude in size. They show that antibacterial activity in serum across mammals exhibits was mass-invariant. Still, the serum of large mammals is less hospitable to bacteria than would be predicted by their metabolic rates. Specifically, hypometric metabolic rates would predict that a large species should have disproportionately lower antibacterial capacity than small species, but body size is unrelated to killing capacity across species. In contrast, neutrophils, a white blood cell involved in early immune defenses, increased disproportionately with body size in >200 species of mammals. Combined, these results suggest that large and small mammals might utilize different strategies of immune defenses. Scaling of early, broadly-acting immune defenses provides novel perspectives on the ecology of host-pathogen interactions and on their co-evolutionary dynamics. These results have direct implications for effectively modeling the evolution of immune defenses and identifying potential reservoir hosts of zoonotic pathogens.
Organizer of Is Bigger Better? Understanding how Body Size Shapes Immune Defenses
Cary Institute of Ecosystem Studies is an independent nonprofit center for environmental research. Since 1983, our scientists have been investigating the complex interactions that govern the natural world and the impacts of climate change on these systems. Our findings lead to more effective resource management, policy actions, and environmental literacy. Staff are global experts in the ecology of: cities, disease, forests, and freshwater.