Event Information
Location
Northwestern University, Hughes Auditorium
303 E Superior Street
Chicago, IL 60611
Refund policy
Contact the organizer to request a refund.
Eventbrite's fee is nonrefundable.
What's the difference between biological age & chronological age? Join C2ST and Northwestern University to learn about the Science of Aging!
About this event
The live-stream portion of the program will run from 5 - 6 pm.
What is the difference between chronological age and biological age? How is biological age measured? Humans have accepted cognitive decline, heart disease, and some cancers as a necessary part of the aging process for generations, but is this really the case? 
Longevity research has been transformed in recent years, identifying genetic variants that protect against aging, developing different ways to measure age, and shifting the focus to prolonging "healthspan," not just prolonging lifespan. With 95 million Americans expected to be 65 or older by 2060 (nearly a quarter of the population), the science of longevity has become more critical to our individual and collective future. 
Join us and hear from the Executive Director of Northwestern's recently announced Potocsnak Longevity Institute, Douglas E. Vaughan, MD. 
Resources to explore (ADD LINKS)
Event Details:
Tuesday, June 14th from  4 - 6 pm CT, C2ST Facebook Live & C2ST TV YouTube Live and in person at Hughes Auditorium
In-person address:  303 East Superior
This program will be hosted in person at the Lurie Research Center on Northwestern's Chicago campus. C2ST will work with our partners to ensure that COVID protocols put in place by the CDC, and the city at large, are followed and well-communicated. COVID protocols, and any other emergent information will be emailed to all registrants the week of the program.
Because this program is in-person, tickets will be limited, so please register early! If you are unable, or decide not to attend, we ask that you let us know so that we can provide the tickets to anyone else who is interested. Thank you for your understanding.
Livestreaming
Make sure to follow C2ST on Facebook and YouTube to receive notifications when the live program starts.
Use our Q&A app to ask live questions during the program or send in your questions in advance! Remember to upvote your favorite questions.
To support STEM programs like this, you can DONATE to C2ST HERE!
We are dedicated to providing an inclusive environment for everyone. Please respect diversity in individuals and in cultures.
Notice 1: As a guest of the Chicago Council on Science and Technology (C2ST), you agree to be photographed, videotaped, or filmed and grant C2ST permission to put the finished footage/photography to any uses that it may deem proper including marketing, advertising (print, radio, and television) and PR-related activities.
Notice 2: if you have unsubscribed from Eventbrite emails in the past, your ticketing information may be sent to spam. Please check your spam folder an hour prior to the program, and if your tickets aren't there, reach out (info@c2st.org). Thank you!
Featured Speaker:
Douglas E. Vaughan, MD; Irving S. Cutter Professor and Chair, Department of Medicine; Director, Potoscnak Longevity Institute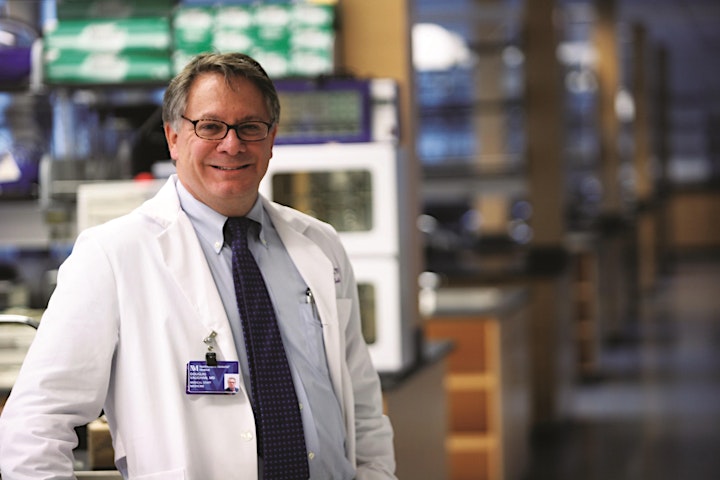 Dr. Vaughan is chairman of the Department of Medicine and the Irving S. Cutter Professor of Medicine in the Division of Cardiology at Northwestern University Feinberg School of Medicine. He is a fellow of the American College of Cardiology and has been elected to membership in the American Society for Clinical Investigation and the Association of American Physicians. 
As a principal clinical investigator, Dr. Vaughan spans the bench to the bedside in his work. His efforts and findings in vascular biology include basic investigations into the regulation of gene expression, genetic models of disease, mechanistic studies in humans, and clinical trials. His primary research interests are in the mammalian plasminogen activator system and the role this system plays in cardiovascular disease and physiological aging.
In 2018, Dr. Vaughan led a study that reported the first genetic variation that appears to protect against multiple aspects of biological aging in humans in an extended kindred of Old Order Amish living in the vicinity of Berne, Indiana. 
Dr. Vaughan now leads the recently launched Potoscnak Longevity Institute, bringing together scientists and experts across many disciplines to study those populations that seem resistant to negative consequences of aging with the goal of discovering what makes them unique. With a deeper understanding of how aging works, the institute aims to expand the health span for all people with future therapies and lifestyle interventions.
This program brought to you in partnership with:
The Potocsnak Longevity Institute at the Northwestern University's Feinberg School Of Medicine
https://www.feinberg.northwestern.edu/
https://www.feinberg.northwestern.edu/sites/longevity/

Date and time
Location
Northwestern University, Hughes Auditorium
303 E Superior Street
Chicago, IL 60611
Refund policy
Contact the organizer to request a refund.
Eventbrite's fee is nonrefundable.