Going to the Irvington Halloween Festival? The best is saved for last at the official After Party in the Ice House!
About this event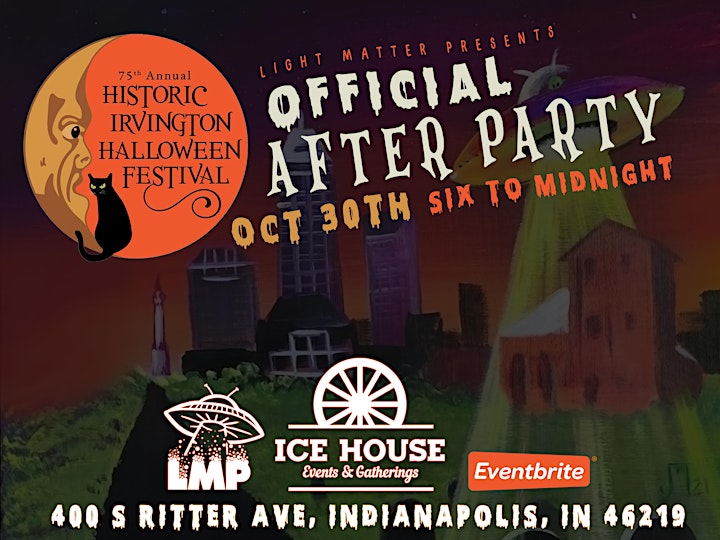 Light Matter Promotions joined forces with the Irvington Halloween Festival and Ice House Coffee Roasters to put on the 3rd Annual Irvington Halloween Festival's Official After Party Saturday, October 30, 2021 7pm - 12am.
The beautiful, historic Icehouse is a perfect location to get spooked, being one of the oldest buildings in Irvington. Celebrate Life by celebrating Death. Embrace the energy of our ancestors with an evening of art, music and indulgence.
Irvington Halloween Fest After Party is indoor / outdoor. Artists will line the walkways as well as henna, tarot card readers and fortune tellers! Get abducted by the Irvington Wellness Center. They will have their own area inside for out of body experiences.
The Operators, Bizarre Noire, Red Squad 100 and Roksteady Panda will be hitting the stage for incredible displays of local talent!
Hotel Tango is providing the cocktails. Chilly Water is serving the brews. Chefski is everyone's private chef for the night! Coffee and wine will be served by the Icehouse.
Costume Contests! Winners will get scary prizes like a free tandem skydive from Skydive Indy. Gifts like full body, deep tissue massages and gift baskets Galore!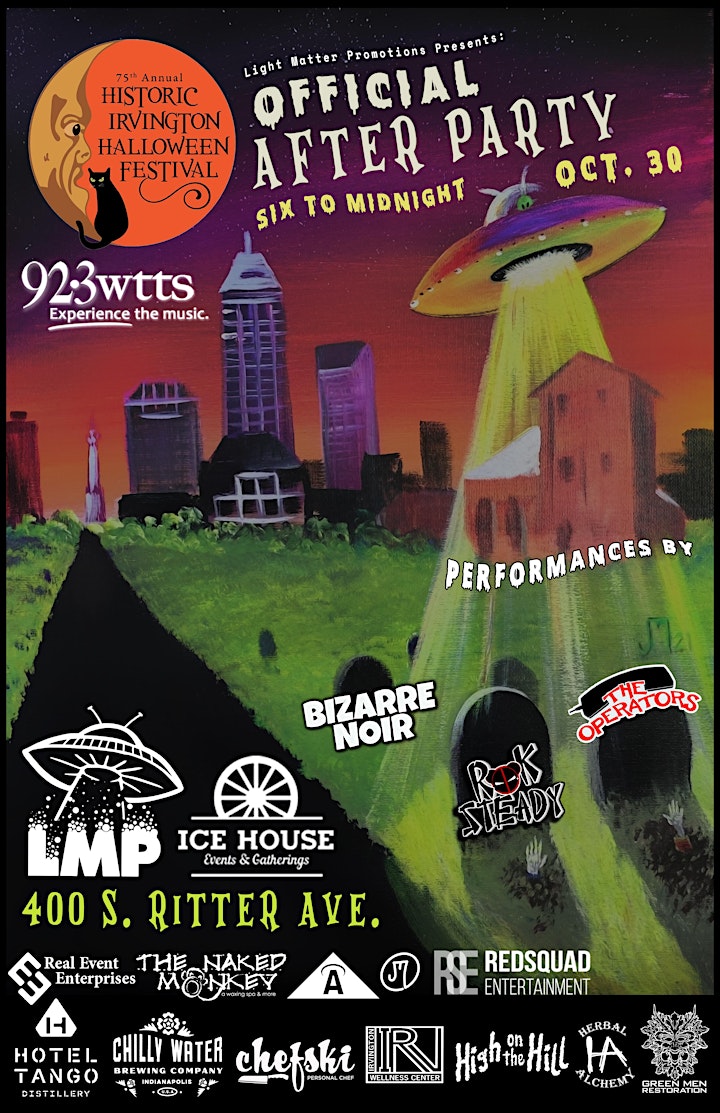 Proceeds from the event go directly to the Irvington Halloween Festival and the community.
Huge Thank You to our sponsors!! We couldn't do this without you. Long Live Halloween. 👻
Ice House Coffee Roasters
92.3 WTTS
Hotel Tango
Chilly Water
Irvington Wellness Center
A's Legit Tires
Chefski
High on the Hill
Real Event Enterprises
Green Men Restoration Group
The Naked Monkey
Herbal Alchemy
Martin Art Studios
Light Matter Promotions
Organizer of Irvington Halloween Festival's Official After Party
At Light Matter Promotions we are dedicated to promoting talented artists, venues and businesses. We provide the tools and arena to be successful in terms of image, marketing, merchandising, promotion and event management. We build booking lists, optimize online presence, document and support shows with high quality photos. Whether you're a local business looking for larger customer base, an artist looking for more exposure or a venue wanting to draw a crowd; LMP will be there to capture your piece of history.