Irvine Rotary - Holiday Fundraiser

Ends Sunday, January 4, 2015 at 10:00 PM
Event Details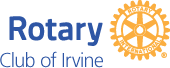 This season tends to be a time of reflection and gratitude. We have so many reasons to be grateful – for loved ones, friends, associates, vendors, great clients, good fortune and new opportunities. But we are also reminded of others much less fortunate. Those who don't have the advantages we do and who face daily challenges to provide for their families. Each year, Irvine Rotary invites the Irvine Community, our friends, clients and family to join us in raising funds to support the work we do at the Irvine Rotary Club.
As members, we strive to help others…both at home and around the world. Rotary is the world's premier and most trusted service organization. We emphasize friendship, ethics and service to others. There are over 1.2 million members in 34,000 clubs worldwide…all dedicated to Service Above Self.
A majority of the funds we raise are spent here in our community; either directly in our projects or in partnership with other organizations. Locally we provide food for the homeless, help for injured service members who have returned from war, maintenance for child care and battered women centers, and scholarships for students.
Each year brings fresh challenges and needs. A portion of our funds are spent on international projects, often via matching grants in partnership with other clubs. Those matching funds further leverage the good we do.
Globally, Rotarians have donated over $1 Billion in the effort to wipe out Polio. In the last 25 years, Rotarians are the boots on the ground volunteers that helped immunize over 2 Billion children against this horrible disease and only 3 countries in the world now have any polio patients.
Also, Irvine Rotary provides free dental care for children in Santa Ana, Mexico and Haiti. Continuing to reach out, we've partnered with Rotary clubs in the U.S. and abroad to provide new prosthetic limbs in Bolivia, corneal transplants and water wells in India, and books and medical equipment in Romania.
The needs are endless and we need your help. Your generosity will not be wasted. Every dollar you give reaches those in need without overhead or fees, and is multiplied by the work of our team of Rotarian volunteers and sometimes by matching funds.
Please donate online or send a check to:
The Irvine Rotary Foundation
P.O. Box 295
East Irvine, CA 92650
The Irvine Rotary Foundation is a 501(c)(3) non-profit organization. Your contributions are 100% tax deductible and 100% of your contribution goes to help others.
Thanks again for your generosity and have a great Holiday.
Organizer
Rotary Club of Irvine
The Irvine Rotary Club is about getting things done! Changing the world. If you have an idea for a project, at the Irvine Rotary Club you can learn how to make it happen. You can change lives. And one life you change will be your own.
Whether it's immunizing over 2 Billion (yes, with a "B") children in the fight against Polio, helping provide clean water and sanitation, education, health services or one of the thousands of small, local projects that can create a better world, Rotary is there.
Rotary is the world's premier service organization. We emphasize friendship, integrity and service to others. There are over 1.2 million members in 34,000 clubs worldwide… all dedicated to "Service Above Self."
Irvine Rotary - Holiday Fundraiser