The Night of Power, Better than 1,000 Months event will be a celebration of the recitation and meaning of the Quran.
About this event
World Renown Quran Reciters come together for ONE NIGHT ONLY. The Night of Power event will be a celebration of the recitation and meaning of the Quran. Come and enjoy 8 reciters, listen to reflections on the ayats, and leave inspired for a night of worship. Join Islamic Relief USA for The Night of Power!
Join our amazing Speakers and Qura'a for a night better than a 1,000 nights!
Speakers:
Yasmin Mogahed
Suhaib Webb
Khalid Latif
Qura'a:
Hassan Saleh
Abdellah Marhoum
Mohamed Al Zahed
Ahmet Babur
Ibrahim Al Dardisawi
Ahmad Siddique
Muhammad Hady Toure
Abdurrahman Sadien
Your support of this Virtual Event will benefit Islamic Relief USA's Africa Projects. Learn more about IR USA's work in Arican Countries by visiting: https://irusa.org/africa/
We Need YOUR Help
The Islamic Relief global family has been providing emergency relief and integrated programming to families in need across Africa since 1984, starting with a call to provide humanitarian aid to Sudan.
Since then, Islamic Relief has established a presence in 16 African countries, with field staff on the ground to address needs quickly, efficiently, and effectively.
From addressing poor water and sanitation access, to providing solutions that tackle food insecurity and malnutrition, to alleviating poverty and difficulties faced by orphans, and to sending urgent aid during emergencies, Islamic Relief donors continue their humanitarian legacy in the service of our sisters and brothers across Africa.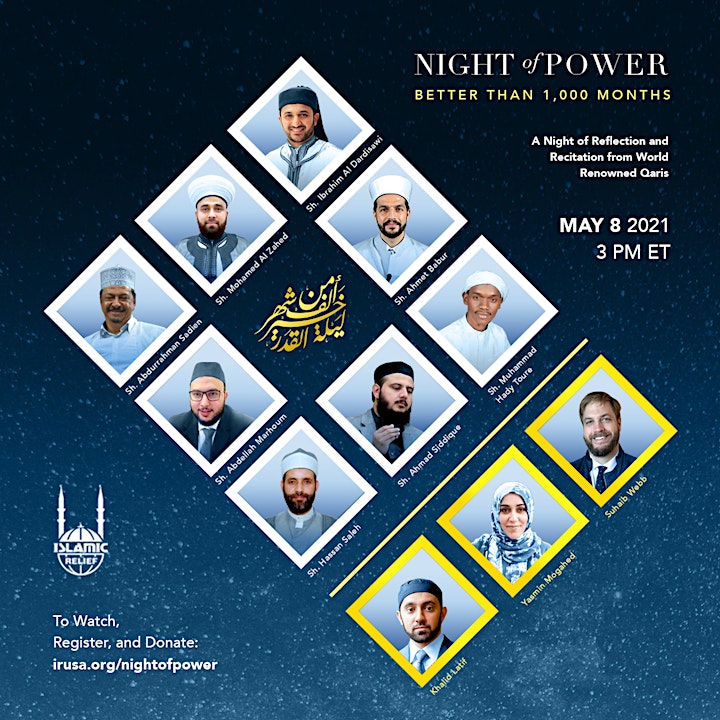 Organizer of IRUSA Night of Power