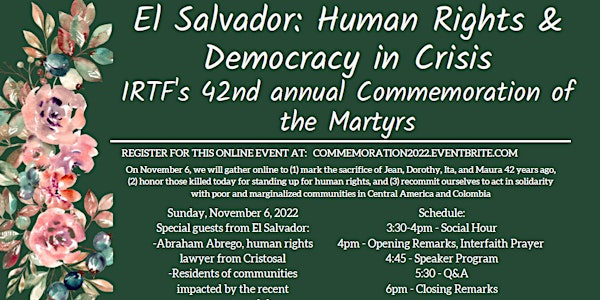 IRTF 42nd Annual Commemoration - El Salvador: Democracy in Crisis
Sunday, November 6, 2022 4-6pm EST (optional pre and post gatherings)
About this event
On Sunday, November 6, 2022, the InterReligious Task Force on Central America & Colombia (IRTF) will hold a special online gathering to mark the 42nd anniversary of the ultimate sacrifice made by two Cleveland women in El Salvador (Jean Donovan and Ursuline Sister Dorothy Kazel), along with Maryknoll Sisters Ita Ford and Maura Clarke. The four women paid with their lives for their decision to stay in solidarity with poor, marginalized victims of the US-sponsored armed violence, which eventually claimed the lives of 75,000 Salvadorans and the led to the mass exodus of 1 million refugees. IRTF was founded by people of faith and conscience to honor their powerful witness and carry forward their legacy of solidarity.
Please join us to celebrate IRTF's four decades of solidarity with the people of Central America and Colombia: promoting peace, justice, human rights, and systemic transformation through nonviolence.
More about the this event
On November 6, we will gather online to (1) mark the sacrifice of Jean, Dorothy, Ita, and Maura 42 years ago, (2) honor those killed today for standing up for human rights, and (3) recommit ourselves to act in solidarity with poor and marginalized communities in Central America and Colombia
SCHEDULE
3:30-4pm social hour: music , social justice art, spoken word, music
4pm opening remarks
4:15pm interfaith prayer service to commemorate the martyrs
This special program commemorates Jean, Dorothy, Ita, and Maura--who were martyred in 1980--along with too many others who have been killed this past year for their witness and actions in defense of human rights.
4:45pm speaker program (simultaneous translation provided: Spanish to English, and English to Spanish)
Our guests from El Salvador are:
-Abraham Abrego, a human rights lawyer from Cristosal, with an overview of the current government's State of Exception (crackdown on crime, suspension of constitutional rights, mass incarceration) and move towards authoritarianism
-residents of communities associated with the CIS (Centro de Intercambio y Solidaridad) speaking on the impacts of the State of Exception on their families and communities
5:40pm - Q&A
6pm closing remarks
6:05pm optional break-out time with your group table
Event tickets
Anyone can sign up for this online event free of charge or by making a free-will offering . In honor of the 42nd anniversary of the sacrifice made by Cleveland's women in El Salvador, we suggest a donation of $42 or more.
Group rates
Attendees have been gathering for many years at tables of eight in the dining hall of Beaumont School in Cleveland Heights for this annual IRTF homecoming. Although we are not able to gather in person this year, we are offering "tables" for your group of eight (suggested: $250). There will be opportunities during the evening to hang out with your group (social hour and post-program break-out session). We hope you'll consider this option as a way of reconnecting with dear friends and showing your support for IRTF's mission: peace, justice, human rights, and systemic transformation through nonviolence.
If you would like to order a group "table," please fill out the form HERE https://forms.gle/RjdX847PrevEYTKx6 or call (216) 961 0003.
Join us this year for our virtual auction and raffle to support our 2022 Annual Commemoration of the Martyrs. Purchase raffle tickets and place auction bids at https://go.rallyup.com/irtfcommemoration2022
Co-Sponsors for program book
We invite our friends to support IRTF's solidarity work by placing a display ad in our program book, which will be available online during (and after) the event. Please ask your community group or congregation to consider supporting IRTF with an ad in the Commemoration program book. Read more about the co-sponsorship levels HERE: https://forms.gle/RjdX847PrevEYTKx6