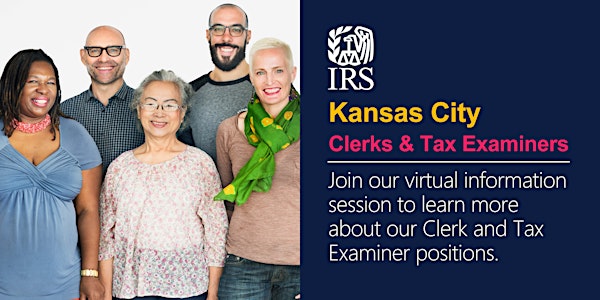 IRS Virtual Information Session for Clerks and Tax Examiners - Kansas City
IRS Virtual Information Session for Clerk and Tax Examiner Positions in Kansas City
About this event
The IRS is hiring Clerks and Tax Examiners for the Kansas City, MO, Service Center. During this virtual information session, we will provide an overview of IRS pay and benefits, explain the required qualifications and jobs duties for the Clerk and Tax Examiner positions, and provide tips for navigating the application process. You will also hear from employees who will provide insights about the work they do day-to-day.
About the Positions:
Clerks and Tax Examiners perform a variety of administrative tasks and duties associated with tax administration. These duties will vary based on the position and may include identifying and reviewing forms, preparing inventory reports, reviewing filed material, transcribing taxpayer documents, responding to taxpayer correspondence, resolving account issues, and reviewing tax returns for errors and missing information. These positions do not require you to have any prior tax experience, as we provide comprehensive training to new hires. They are not telework-eligible and will require you to work at the Kansas City Service Center. Join us!
Event Details:
Date: Friday, July 8, 2022
Time: 1:00 PM – 3:00 PM Central Time
Once registered you will be able to see the ZoomGov link needed for attending this event, and you will also receive an email confirmation with the same link. Don't forget to add this event and link to your calendar.
Register today – we are excited to engage with you!