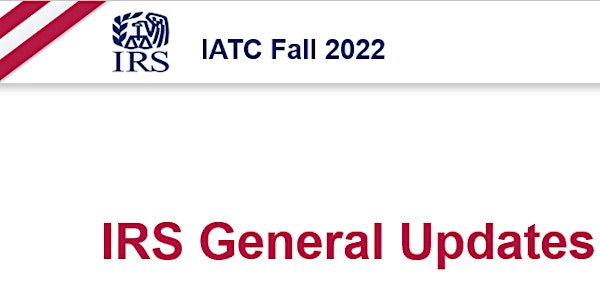 IRS Presents - General IRS Update
IRS Presents this class to you understand various topics of taxpayer representation. Learn them here, and earn 1 CE/CPE hour. FREE.
About this event
This is a live CPE webinar presented via Zoom at 10:00am PDT (1:00pm EDT) on December 12, 2022. There is no cost to attend.
This class is designed to teach the tax practitioner about various topics on what a tax representative needs to know about helping a taxpayer deal with the IRS. This ranges from creating an EIN, using the Tax Pro Account, how to get transcripts of a taxpayer's account, deal with liens and levies, handle cybersecurity threats, and understand when a taxpayer may be entitled to injured spouse relief.
Note: This class is presented via Zoom. You will receive the direct Zoom link upon registration.

Course Objectives
Explain when a taxpayer needs an employer identification number
Understand when a taxpayer needs a new employer identification number
Know how to obtain IRS transcripts
Know how to set up and use a Tax Pro Account
Understand when a taxpayer may be entitled to injured spouse relief
Discuss IRS liens and levies
Know how to help a taxpayer respond to an IRS lien or levy
Recognize current cybersecurity threats for taxpayers and tax practitioners
Understand some sources of income for an influencer or a streamer
Explain the tax obligations for a gig worker
Explain the reporting obligations for a business that makes payments to a gig worker 2
Continuing Education Information
Delivery Method: Group Internet Based
Credit: 1.0 CE/CPE hours for EAs and CPAs
Subject Area: Taxes (IRS: Federal Tax Law)
Program Level: Basic
Prerequisite: Nada
Advance Preparation: Also none -- your current knowledge is all that is needed
IRS Program Number: 4Y1UP-T-00199-22-O
NASBA Registry ID: 149009
Texas State Board of Public Accountancy CPE Sponsor ID 010661
Tax Pro Academy, LLC is registered with the National Association of State Boards of Accountancy (NASBA) as a sponsor of continuing professional education on the National Registry of CPE Sponsors. State boards of accountancy have final authority on the acceptance of individual courses for CPE credit. Complaints regarding registered sponsors may be submitted to the National Registry of CPE Sponsors through its website: www.nasbaregistry.org.
We have registered with the Texas State Board of Public Accountancy as a CPE sponsor. This registration does not constitute an endorsement by the Board as to the quality of our CPE program. Texas CPE Sponsor ID: 010661.
About the Instructor
Jody Stamback is a Sr. Tax Specialist with Stakeholder Liaison in the Communications and Liaison Division of the IRS. Stakeholder Liaison works with Tax Practitioner and other organizations to share information benefiting all different types of taxpayers.
Jody has been with Stakeholder Liaison for over 20 years. Prior to his current position, he worked as a Taxpayer Resolution Representative at the Ogden Taxpayer Assistance Center. He was also a Tax Auditor for 6 years and has worked in IMF Adjustments and wrote training course materials for both Automated Underreporter and IMF Adjustments. With over 33 years at the Internal Revenue Service, his work in Compliance and Outreach has provided valuable experience with an emphasis in individual and business tax law and IRS policies and procedures.
About the Host
Dan Henn, CPA, CTR™ is an entrepreneur, tax education speaker, author of the "No Holds Barred, Candid Talk About Small Business Success In Florida", and "41 Dangerous IRS Tax Red Flags" and tax columnist with Florida Today. With almost three decades' worth of expertise, he currently dedicates his time to assisting business owners in saving on taxes and growing their businesses primarily in the areas of real estate taxes as well as IRS Collection and Exam cases.
For additional resources for growing a successful tax resolution firm, CPE classes, and information on the Certified Taxpayer Representative™ designation, visit https://TaxResolutionAcademy.com.
What Others Are Saying About Our Classes
"I'm a former Revenue Agent (nearly 9 years), and I've recently opened my own practice as a tax resolution specialist. Even though I'm pretty familiar with much of what you talked about, I still learned a LOT from your presentation." -Lori Rodrigues, CPA
"The instructor was knowledgeable and clear." -Natalie Mitchell, EA
"It gave a great overview of representation, showing me just what areas I want to concentrate on learning more. Great presentation." -Marsha Tisdale, EA
"Practical information for our practice future." -Donna Henderson, EA
"Great information source." -Robert Pavicic, EA
"Jassen is very knowledgeable and boils down complicated information into what is applicable, useable and practical." -Karen Stevenson, EA"I like your honesty when presenting the materials such as what works and what doesn't work." -Sharon Ishii, EA
"Excellent... Provided a great deal of useful information and gave me food for thought." -Anthony Nazarowski, EA
"This webinar provided an excellent overview of the tax resolution process. I plan on going deeper for more detailed information as I wish to expand my practice to include tax resolution services." -Rick Jenkins, EA
"I always enjoy and learn a lot in Jassen and Dan's webinars, Thank you!" -Jennifer Ginther, EA
"Now I have an idea in which direction I will turn my career. Thank you!" -Yelena Lipovetsky, EA
Note: This class is conducted via Zoom. Before the class, you are encouraged to try a test session to make sure your system is properly set up.
For additional information about our comprehensive tax resolution training program, learn about becoming a Certified Taxpayer Representative™.