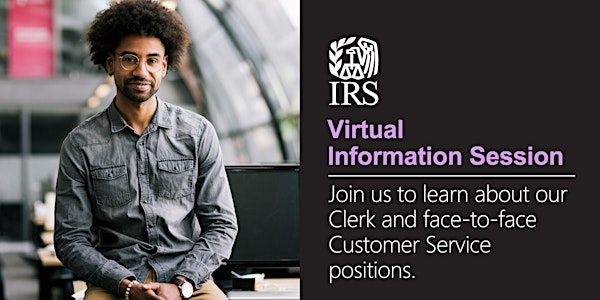 IRS Clerks and Customer Service Positions - Virtual Information Session
Come join us! We are hiring customer service and clerical professionals to provide face-to-face support at IRS Taxpayer Assistance Centers.
By Internal Revenue Service
Date and time
Thursday, February 16 · 12 - 2pm PST
About this event
The IRS is hiring nationwide!
The IRS is committed to serving the needs of taxpayers. We are currently hiring entry-level taxpayer contact and clerical support positions to fill our Taxpayer Assistance Centers (TAC) offices nationwide and we are excited to tell you about it!
During this virtual information session, we will provide an overview of IRS pay and benefits, explain the required qualifications and job duties for the Initial Assistance Representative and Individual Taxpayer Advisory Specialist positions, and provide tips for navigating the application process. You'll hear from employees working in the field to gain a better understanding of the work they do day-to-day.
About the Initial Assistance Representative (IAR) positions:
As an IAR, you will provide administrative support to your team at a Taxpayer Assistance Center in various ways, including examining taxpayer returns, supporting documents, and monetary receipts for completeness and discrepancies. You'll assist taxpayers at kiosk terminals with inquiries on basic tax law, forms, and IRS services.
About the Individual Taxpayer Advisory Specialist (ITAS) positions:
As an ITAS, you will be responsible for providing face-to-face customer assistance and resolving account and notice issues for taxpayers and businesses. Your responsibilities will include resolving missing payments, filing and notice issues, and facilitating the resolution of examination and collection issues.
Prior tax knowledge is not required! We provide comprehensive training to prepare you to be successful in both these positions. These positions are not telework-eligible. The work will be performed at the Taxpayer Assistance Center.
Click the Register button to register today! Once registered, you will be able to see the ZoomGov link needed to attend this event, and you will also receive an email confirmation with the same link. Don't forget to add this event and link to your calendar!