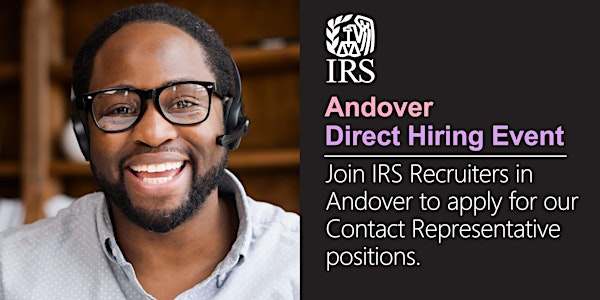 IRS Andover In-person Direct Hiring Event–Contact Representative Positions
Location
Internal Revenue Service
310 Lowell Street
Andover, MA 01810
IRS Andover In-person Direct Hiring Event – Contact Representative Positions
About this event
The IRS is hiring Contact Representatives, also known as Customer Service Representatives, in Andover, MA. During this in-person hiring event, we will be reviewing resumes and education transcripts (if applicable) and offering positions to qualified applicants on-the-spot.
About the Positions:
As a Contact Representative, you will provide over-the-phone technical assistance to individuals and businesses. You will apply the tax code while addressing a wide range of issues to assist taxpayers in understanding and meeting their tax responsibilities. These entry level positions do not require you to have prior tax experience. Our top-notch training programs will teach you everything you need to know to prepare you to be successful in these positions. Full-time seasonal positions will be offered with a 6-8 month season. If seasonal employees are released during the off season, they will be called back at the start of each new season and do not need to reapply. Day shifts, starting at 6:00 AM or 7:00AM, and swing shifts, starting at 4:00 PM, will be offered based on availability.
How to Qualify:
Applicants can qualify for the Contact Representative position based on specialized experience, or by meeting certain education requirements, or with a combination of experience and education. Qualifications include:
• Specialized Experience: Specialized experience includes experience that may have been gained in work with records, documents or financial accounts which involved applying established rules and procedures, or experience gained through work in positions that involved frequent contact with the public researching and responding to non-routine requests for information orally or in writing. The following are examples of specialized experience that may be qualifying and are not all inclusive. Applying laws, rules or regulations and written guidelines; Experience gained in an environment conducting face to face and/or telephone interviews (e.g., collection agency, telemarketing, customer service, sales) resolving problems and issues; Negotiating with others to resolve issues; Performing administrative and technical procedures using a computer to locate and review records and reconcile discrepancies; Experience working with records or financial accounts applying established rules and procedures (e.g., basic accounting, credits and debits, researching and/or adjusting accounts).
OR
• Education: Applicants must have completed at least 4 years of education above the high school level leading to a bachelor's degree. Completion of a bachelor's or higher degree satisfies this requirement.
Event Details:
Date: Wednesday, June 1, 2022
Time: 9:00 AM – 5:00 PM
Note: Please register for a time slot you can attend so we know when to expect you!
Location:
Andover Service Center
310 Lowell Street
Andover, MA 01810
Note: Applicants may be subject to security screening to enter the building.
Note: Masks will be required for this location due to the Essex County COVID-19 community level currently at high.
What to bring:
During this event, we will review/accept resumes and make job offers on-the-spot. Remember to bring the following:
• Resume – Digital copies as attachments or paper copies accepted
• College Transcripts - Applicable if you have completed 4 years of post-secondary education
• Two forms of ID for fingerprinting and access to the service center