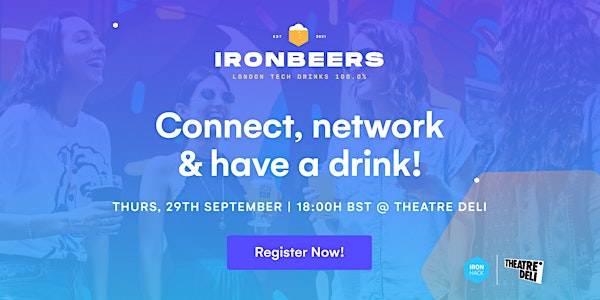 Ironbeers London Tech Drinks
Ironbeers is a gathering of tech enthusiasts & professionals hosted by Ironhack UK!
When and where
Location
Theatre Deli, 107 Leadenhall St, London EC3A 4AF 107 Leadenhall ST London EC3A 4AF United Kingdom
About this event
Welcome to #Ironbeers London!
We are a community of tech enthusiasts and professionals getting together to create meaningful connections. We welcome everyone from different backgrounds and tech careers from the curious to the expert.
At Ironhack we believe that the best way to succeed in tech is learn and connect in real life. So, we're putting on the next generation of London tech community events.
Join us for regular drinks on our monthly mix, and be part of special events full of inspiring guests, tips, hacks and learning. Connect and partner with us for future events!
This event is for you if:
- You are a tech professional (Web Developer, UX Designer, Data Analyst, etc)
- You're a founder
- You work in a startup
- You're recruiting in tech
- You're curious or looking to break into tech
- You're an Ironhack student or alumni
Where: Theatre Deli, 107 Leadenhall St, London EC3A 4AF
When: Thursday 29th September, 18:00H BST
What: Casual Drinks for people in tech!
Please Note:
Drinks will be provided on arrival until the tab runs out. After that, you can purchase drinks at the bar with our 10% discount!