Iron Sharpening Iron Men's Conference 2019 - "Arise! When Men Pray"
Description
Iron Sharpening Iron Men's Conference
Adults ($25.00) and Youth ($20.00 - 17 and under)
*A payment processing fee will be added for online registrations
Friday, September 6, 2019 ~ 7:30pm-10:00pm / Saturday, September 7, 2019 ~ 9:00am-2:30pm
Early Registration Ends August 18, 2019 (Includes lunch and t-shirt)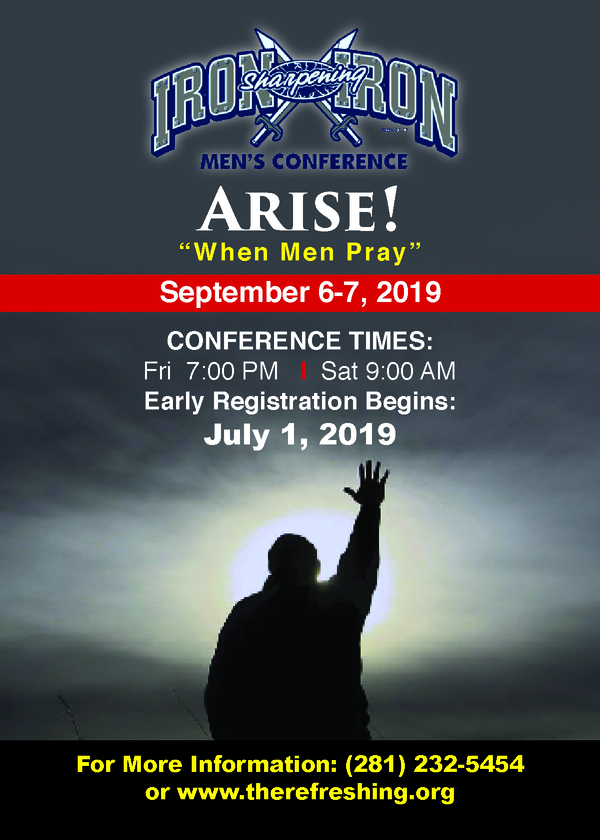 Iron Sharpening Iron Men's Conference (ISI) is a gathering of men across denominational, social, economical and ethnic lines for the purpose of encouraging and empowering men in an atmosphere of faith, acceptance and accountability. ISI serves as a catalyst for unity in the body of Christ and a model for demonstrating "Kingdom Impact" in the community and our society as men gather from churches all over the city, state and nation to experience the life-changing presence and power of God. When men lift up holy hands in prayer and worship together, things happen!
We are gathering this year to experience the power of the Holy Spirit that is manifested when men pray, and to embrace the power discovered in living in and through the GRACE of God...thus displaying confidence and authority as Kingdom men carrying out Kingdom assignments in the earth. We will ARISE to the occasion in this hour and leave this year's gathering refreshed, revived, and renewed in our spirit...ready to fulfill our destiny call as MEN of God.