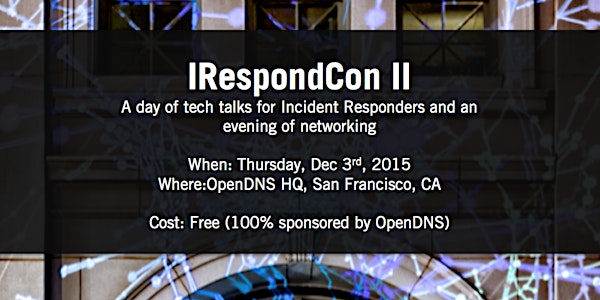 Date and time
Thursday, December 3, 2015 · 8am - 8pm PST
Location
135 Bluxome St San Francisco, CA 94107
Description
What: A day of tech talks and an evening of networking specifically focused on Open Source projects that help make the lives of Incident Responders better.
When: Dec 3rd, 2015
Cost: Free
Why: Why not!
Lining up talks now but have some great ones like last year around:
* Reverse Engineering
* ELK at scale
* Data Viz
* Monitoring and Managing servers and desktops with Open Source
* And more..
For information on last years event:
https://labs.opendns.com/2014/09/23/s4-irespond-con-wrap/
About the organizer
Organized by OpenDNS Security Labs. http://labs.opendns.com