Description
The 2 Johnnies Podcast World Tour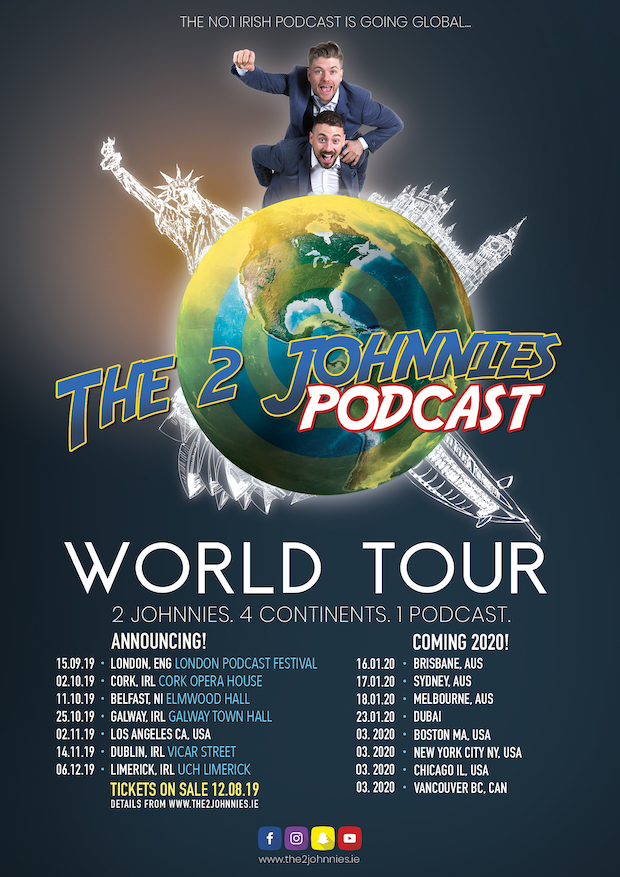 IrelandWeek is thrilled to host these 2 looney legends! As the world's leading podcast covering riding, gaelic games and parish news, the 2 Johnnies podcast is an unlikely global success story but the combination of Johnny B,Johnny Smacks, producer Maura, Lauren and of course Noel Furlong has catapulted them to the No.1 position in Ireland podcast charts every week for over 80 weeks!
Now they take the podcast for a world tour with the whole crew on board, a ton of special surprises and all the madness and mayhem of the world of the 2 Johnnies in a theatre near you!
Kicking of in London and visiting Cork, Galway, LA, Dublin, New York, Belfast, Brisbane, Sydney, Melbourne, Dubai, New York and lots more , the 2 Johnnies take the show on the road to a town near you!
The 2 Johnnies – A bit about
The 2 Johnnies hit the Irish entertainment scene with a bang. It's been a whirlwind journey so far and they are only just getting started. Within an exceptionally short amount of time, they had multiple number one songs on the Irish iTunes charts - it was the kind of success that only George Ezra himself could slow down, but with some perseverance they succeeded in taking Ezra down a peg or two.
With a SOLD OUT nationwide comedy tour under their belts, "GET LOOSE'' blew the roof off some of the biggest venues in Ireland. As a result, Johnny B (O'Brien) & Johnny Smacks (McMahon) have won the hearts of the nation with their hugely popular, hilarious comedy sketches and songs that capture the uniquely funny side of all things Irish.
With over 15,000 Tickets sold for their national Irish tour earlier this year, 6 Irish No.1 singles and their No.1 podcast in the Irish charts in their pocket,
* * * * * * * * * *
If you're not already listening to the Podcast and adding their latest single 'Sinéad to your Spotify or watching the amazing video onyoutube, here's a few more reasons to check them out.
These lads tick all the boxes. Check out these incredible stats:
10 million YouTube views from 80k subscribers

No.1 in the Irish Podcast charts for 81 weeks

185K Facebook followers

90K Snapchat followers

120K Instagram followers
(psst that's a TOTAL of 475k followers !!!)
Check out the 2 Johnnies through the links below