Description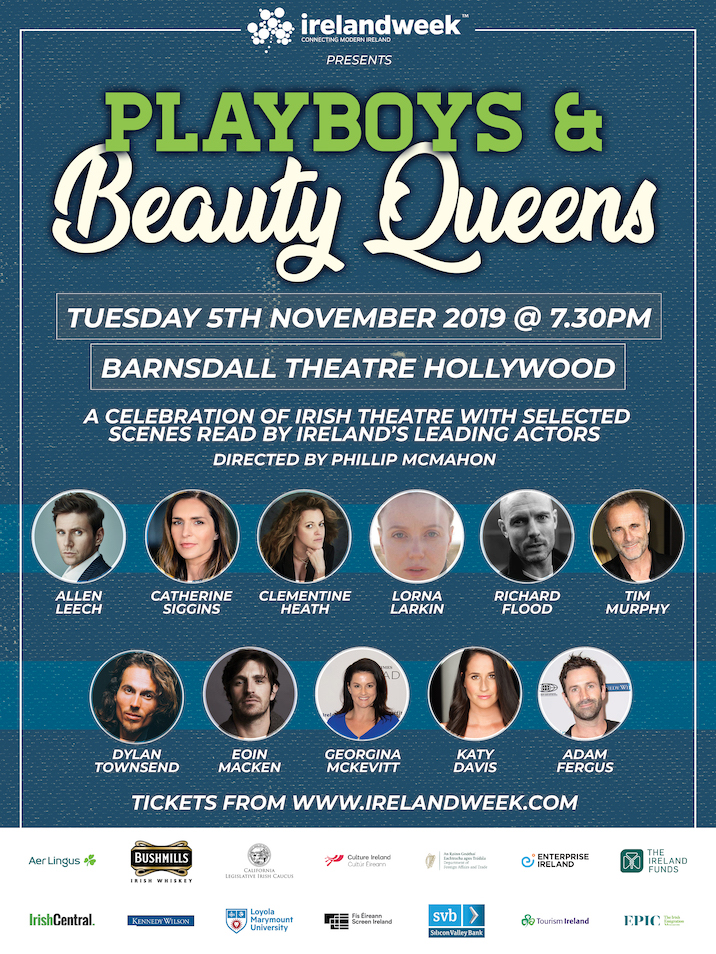 WWW.IRELANDWEEK.COM Presents

PLAYBOYS AND BEAUTY QUEENS.

A celebration of Irish Theatre with selected scenes read by Ireland's leading actors

Directed by Philly McMahon
( Thisispopbaby / Abbey Theatre etc. )

Tuesday 5th Nov 2018 Barnsdall Theatre Hollywood.

TICKETS AVAILABLE HERE

Easily the runaway success story of IrelandWeek in 2018, this inspiring night of classic Irish Theatre interwoven with some of our new modern success stories played to a full house and a standing ovation. Abbey director and playwright Philly McMahon is putting together another stellar cast of Irish and International acting talent, ready to wow another LA Audience this fall.
A fabulous roulette of razor sharp scenes that lays testament to the power of Irish writing and showcases the extraordinary talent of Ireland's actors - reaffirming that our tiny island has an entertainment industry punching well above its weight.

Allen Leech
A Dublin native, Allen Leech is well known for his roles in The Imitation Game (2014), Bohemian Rhapsody (2018) and Downton Abbey (2010)

Catherine Siggins

Catherine has worked in Ireland and the UK in feature length films, theatre, and appeared in lead and guest star roles in national television series including Casualty (1999) and The Last Detective (2003). Film roles include The Suicide Club (2000), Accidental Encounter (2008) and Palace of the Damned (2013).

Dylan Townsend
A writer, director and performer, Townsend has featured in short films such as 'Ignorance is Bliss', web series 'Sláinte' and documentary 'Shadowsmiths', which led to an invitation on RTE Docu-reality series 'Exiles: Vancouver'. WHile on 'Exiles', Dylan was documented as he created the comedy series 'Hipsterverse'

Katy Davis
Katy Davis is known for her work on 'Motherless Brooklyn' (2019), 'Troopers' (2019) and 'Avengers: Age of Ultron' (2015).

Eoin Macken
Eoin is an actor, screenwriter, director & novelist. Co-author of upcoming children's book series 'Lucy & Pete Have An Adventure'. He directed the well-regarded short, 'Dreaming For You' as well as the psychological thriller 'Christian Blake' . Eoin has appeared in the Irish serial drama 'Fair City.'


Georgina McKevitt
An actor, writer and producer, Georgina co-founded, Wicked Angels Productions, with, Jacinta Sheerin. Together they co-wrote, produced and performed in their first play, 'Waiting for IKEA', which ran for over 5 years receiving critical acclaim and 5 star reviews across Ireland, in London and Off Broadway, New York. They also co-wrote and produced, 'Im not A.D.H.D....Im B.O.L.D.', which won The Bewleys Theatre Little Gem Award 2012.

Clementine Heath
A native of Sydney, Clementine has guest starred in many of Australia's top drama series and soaps including 'Home and Away' and 'All Saints'. In 2000, she received national acclaim as one of four recipients of The Australian Theatre for Young People/Lend Lease actor's scholarship. Clementine's career has branched out into screen writing over the last 5 years.


Lorna Larkin
Lorna is an award winning Irish Actress who recently relocated to Los Angeles, in this short time she has already completed work on 4 Features and several shorts. She trained at the Gaiety School of Acting in Ireland before continuing her study at the Lee Strasberg Theatre and Film Institute and Groundlings School in Los Angeles


Richard Flood
Richard Flood is an Irish actor who has just been announced for Grey Anatomy and is also known for roles in Red Rock (2015) Crossing Lines (2013), The Unseen (2017) and Shameless (2011).
Tim Murphy
Murphy began his career in Dublin where he trained in the Focus Theater. He is known for his roles in 'Sons of Anarchy' and 'Criminal Minds'. He is also known for the films; Disney's 'Lone Ranger', 'Appaloosa', 'Macgruber', 'N
ational Treasure: Book of Secrets' and many more. A lifetime member of the Actors Studio, Murphy is an award winning stage actor and was nominated for Best Actor in Martin McDonagh's The Beauty Queen of Leenane. Murphy was voted "Best Villain in American Television" for his work on Sons of Anarchy.
Adam Fergus
Adam studied at the GSA and made his first screen appearance in 2004 on the television series "Proof". Adam swayed evenly between films, film shorts and television appearances. He is know for roles in "Satellites and Meteorites" (2008) and then as regular cast member of the Canadian comedy series "Being Erica" (2010-2011) (TV).