Description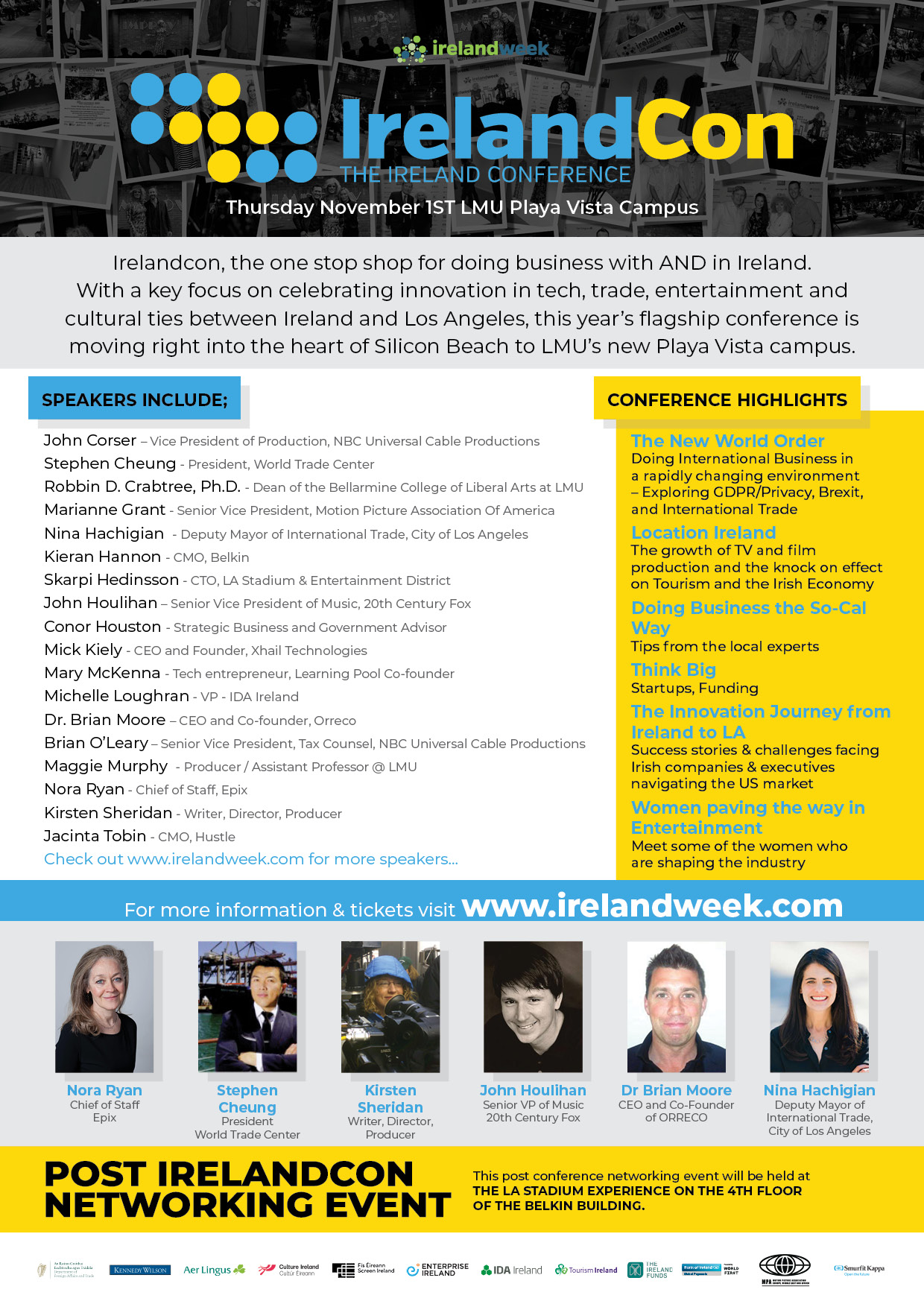 CHECK OUT THE FULL CONFERENCE AGENDA HERE : https://www.irelandweek.com/irelandcon-agenda/

Our major event At Irelandweek this year once more is our IRELANDCON conference on Thursday November 1st, to be held at the new LMU Graduate school of Film and TV
Irelandcon, the one stop shop for doing business with AND in Ireland.
With a key focus on celebrating innovation in tech, trade, entertainment and cultural ties between Ireland and Los Angeles, this year's flagship conference is moving right into the heart of Silicon Beach to LMU's new Playa Vista campus.
Immediately following the conference there will an excellent opportunity to connect with other makers and shapers at a B2B reception kindly hosted by LA Stadium & Entertainment District at the Belkin building next door to the conference.
This must not miss conference was a sell out last year, and we expect the same this year.
See our list of speakers: https://www.irelandweek.com/irelandcon-event/#Speakers
"Conference Highlights include..
The New World Order: Doing International Business in a rapidly changing environment - Discussion on GDPR/Privacy,Brexit and International Trade
The Innovation Journey from Ireland to Los Angeles - Success stories & challenges facing Irish companies & executives navigating the US market
LA as a leader in International Trade
Think Big - Funding - Expert's take on funding on a world stage
Disrupt, Scale, Globalize - How start-ups cultivate rapid success
Connecting Modern Ireland: an IrelandWeek success story - CWB's Joe Clarke on how IrelandWeek networking led to a 2018 success story
Featured conversation on Ireland's production tax incentives in the Film Industry
Location Ireland - The growth of tv film production and the knock on effect on tourism and the economy
Keynote Interview: Where music meets Film and TV
Celebrating Creativity and Innovation
Women in Entertainment - Clearing The Hurdle: Successful women in Entertainment and their journeys
Admission to the conference also includes admission the post conference networking event nextdoor at The Belkin building.
This post conference networking event will be held on the top floor of the Belkin building and co hosted by LA Stadium and Entertainment District, the newest technologically advanced large scale development in Los Angeles.
This event will be attended by IrelandCon attendees along with members members of Los Angeles Trade and Entertainment organisations, local business organisations, city leaders and Silicon Beach companies.