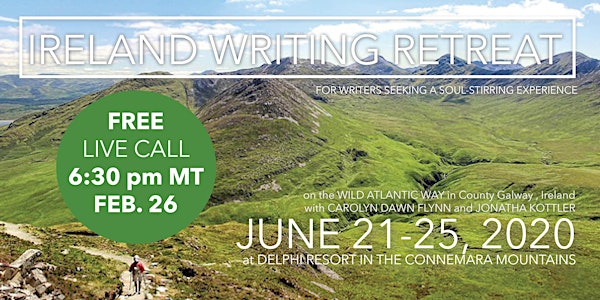 Ireland Writing Retreat - Live Call
Join award-winning writers Carolyn Flynn and Jona Kottler for a live call at 6:30 p.m. MT Feb. 26 to learn about Ireland Writing Retreat.
About this event
Is this you, or someone you know?
You wrote a book and put it in a drawer. Now you wonder what delusion came over you, that you would spin straw into such gold but leave the gold in a drawer.
You wrote half a book...years ago. But the ideas seem more relevant than ever. Hardly a week goes by that you don't see something happening in our culture that resonates with your ideas. It burns you. You just wish you could finish the book.
You wrote 60 pages once and sent them to an agent or two or five. The result? One of these scenarios:
> Three agents never responded at all, but you've heard since that one of them isn't an agent anymore and one doesn't even take new clients. That felt like pouring precious water into a bucket with a hole in it.
> One agent rejected it but gave you no clue as to why. You told yourself not to feel the sting of rejection and let one person stop you, but now it's years later, and that's exactly what happened—you rejected yourself.
> One agent did respond and asked for the full manuscript. You haven't written that yet. You just don't have the time.
You really are a storyteller at heart, and everyone tells you so. All the people who believe in you say, "You should write a book someday." You know this, and you know you're good at it. But your life is just too crowded.

You love to write. You just don't have time.
So your life is too frenzied, too crowded with other stuff.
Your mind is too easily populated with self-doubting thoughts.
Sometimes you think you simply don't know enough about the book business to crack the code.
Sometimes you question your talent.
You need encouragement. And escape.
If this is you, feel this: How magical it would be to escape to Ireland!
I'm co-leading the Ireland Writing Retreat on the Wild Atlantic Way this summer—June 21-25, 2020—at Delphi Adventure Resort, which offers hiking trails and spa treatments at a pristine and inspiring location in the Connemara mountains.
Join award-winning author and TEDx speaker Carolyn Flynn and novelist/poet Jona Kottler for a live call at 6:30 p.m. MT Wednesday, Feb. 26 to find out more!
Find out about the retreat here, where you'll find answers to Frequently Asked Questions.