About this Event
Doors at 5:00pm
Slowdown - Outside
Rain or Shine
$25 Advance/$30 Day of Show
$119 Heatseekers VIP Package
All ages show. Check entry requirements at http://theslowdown.com/All-Ages
About Iration
Website | Facebook | Twitter | YouTube
Iration is an alternative/reggae group of musicians formed in Isla Vista, CA. A deep-rooted reggae influence is fused with elements of rock and pop to create smooth original sounds – "We're all about luv", states the band. The group is made up of members Joseph Dickens (Drums), Cayson Peterson (Keyboard/Synth), Micah Pueschel (Guitar/Lead Vocals), Adam Taylor (Bass), and Micah Brown (Guitar/Vocals). All of the members of Iration met while growing up in Hawaii but formed the band after reconnecting in Santa Barbara, CA - the exception being Micah Brown who officially joined the group in 2014.
Iration has been touring nationally since 2008, performing at national festivals like Lollapalooza, Outside Lands, Hangout, and many others. These Hawaiian-bred musicians look forward to spreading their original sound and Aloha spirit all the while never forgetting to get a surf in when possible.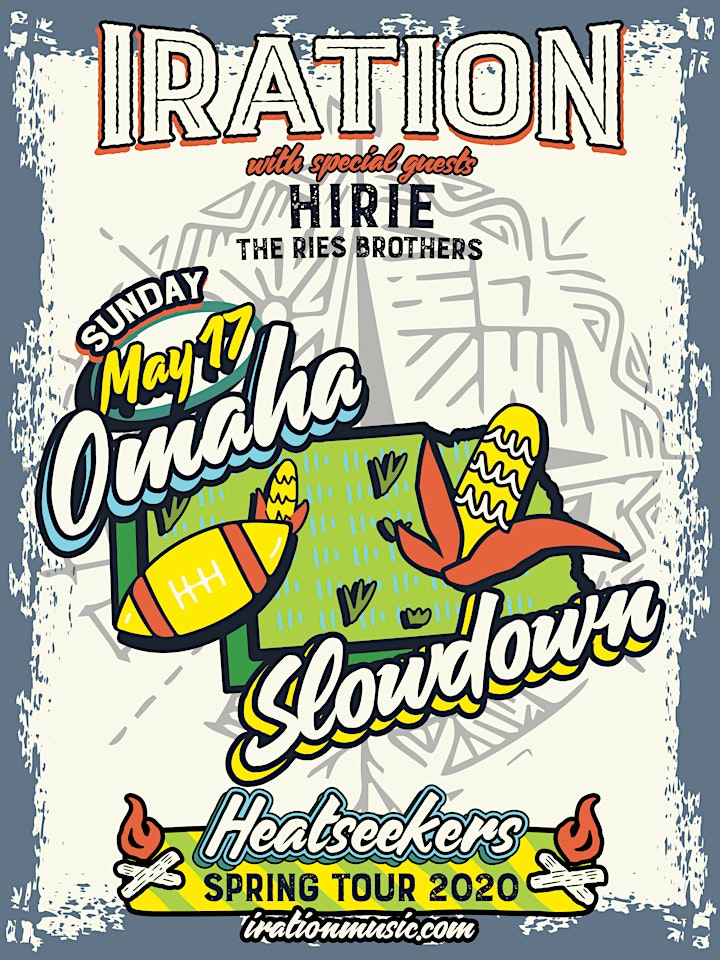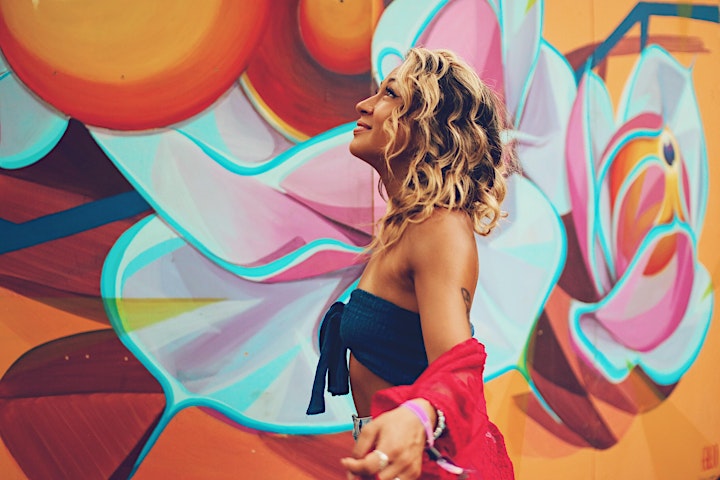 About Hirie
Website | Facebook | Twitter | Spotify
Hirie­­ -- the frontwoman of the exhilarating reggae band HIRIE­­ -- grew up a global citizen. Her father worked for the United Nations and she was born in the Philippines, spent years in Italy, before her family settled in Hawaii, which became her spiritual home.
While in Hawaii, Hirie fell in love with reggae music, and took to the culture naturally. On the radio, and in conversation, she would hear the exclamation "iris." The popular reggae term is derived from a Jamaican patois, and it encompasses warmth and positivity -- it's a greeting, an affectionate term of approval, and a mindset. In these painfully complex times, we could all use some irie in our life.
San Diego's seven­-piece band HIRIE is ready to offer a global spiritual uplift. Melding the balmy island touches of its singer's beloved home -- as symbolized by its moniker's first letter, a "H" for "Hawaii," with that feeling of irie, the award­-winning group offers a soundtrack of hope. Now, with its masterful new album, Wandering Soul, brimming with invigorating female-­fronted shamanistic reggae an oasis of positivity is just an album away.
"Hirie is a lifestyle choice, it's about healing the body, the mind, and the spirit. Our fans and our band are always saying 'let's get HIRIE,' it's a way to detach from the painful complexities of the world, and bask in joyous energy," says the band's lead singer and sage who has taken the band's namesake for her own.
HIRIE is poppy and purposeful, harnessing the power of accessible songcraft, social consciousness, world class musicianship, and the disarming and spellbinding qualities of reggae, the band exudes mainstream appeal without diluting its artistic vision. HIRIE is Hirie lead vocals, guitar, uke; Chris Hampton saxophone, flute, melodica, and accordion; Andrew McKee trombone, guitar, didgeridoo, and percussion; Andy Flores bass; Blaine Dillinger lead guitar; and Joey Muraoka on drums.
The mission to spread HIRIE began in 2013, and, since then, the septet has garnered some high watermarks. HIRIE was nominated as San Diego's Best World Music Award, and its video for the hit "Sensi Boy" has accrued over 545,000 views. The group has received airplay nationally and internationally, with strongholds in Hawaii, Guam, New Zealand, and Tahiti, and in the college market. Its self­-titled album debuted at #4 on the iTunes Reggae chart and rocketed to #9 Billboard Reggae chart. For three years, the group toured tirelessly, building a robust and highly dedicated fanbase. Select live performance highlights, past and present, include nationwide tours with Tribal Seeds, Iration, J Boog, and The Rebelution Tour. In the fall of 2016, HIRIE will tour with Nahko & Medicine for the People.
Onstage, the band is comprised of formidable performers. A collective of virtuosic musicians united in the selfless power of serving the reggae skank. At the center of it all, leading the way to spiritual musical enlightenment, is Hirie. Her signature aesthetic conjures the seductive expressiveness of divas like Mariah Carey and Whitney Houston, the raw emotionality of Lauryn Hill and Tanya Stephens, and the mystic sensuality of Enya. Together, HIRIE put on a polished show complete with choreography that offers big ­production entertainment and big­ heart transcendence.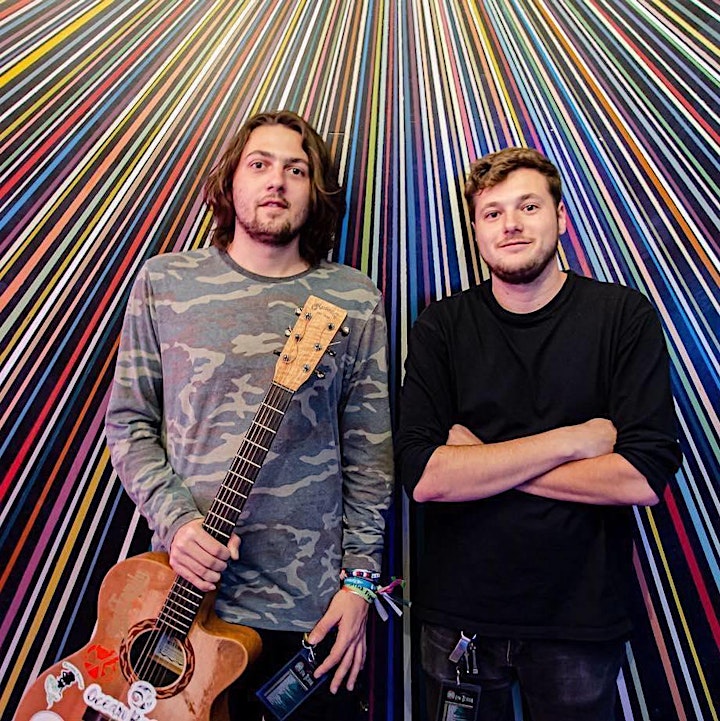 About Ries Brothers
Website | Facebook | Twitter | Spotify
The Ries Brothers (pronounced "Rees"), a duo from Clearwater, FL, blend rock, blues, funk, and reggae into a soulful-sophisticated sound. Older brother Charlie (24) sings lead vocals while simultaneously playing drums and keyboard bass giving the band it's unique and full sound. Younger brother Kevin Jordan (20) completes the band's "sonic creativity" on guitar and provides background vocals and co-writes many of their songs. The band started playing the Florida bar circuit as young teenagers where they were discovered by the band Chicago and taken out on two tours prompting them to leave school and focus on music full time.
The Brothers inimitable live performances have captured fans across the musical landscape leading to marquee support slots and major festival bookings. After Supporting a G Love & Special Sauce tour in 2018, G Love asked the brothers to tour as his backing band and open his solo tour. They repeated that feat again in 2019. In between the brothers completed their own solo tours in addition to supporting major artist like Stick Figure, 311, Ballyhoo, Pepper, Galactic, Stephen Marley, and playing major festivals Rootfire, Cali Roots, Gasparilla, Sun Fest, and Summer Camp.
The duo recently completed their second full-length album, "Paint Your Emotion," produced by John Agnello (Screaming Trees, Dinosaur JR, Patti Smythe.) The new record leans towards alternative rock showcasing the energy one would find at a Ries Brothers live show. A live streaming only EP of the group's Sugar Shack Sessions was released in the Fall of 2019 on Ineffable Records to accompany their current national tour with Iya Terra while the new album will be released in early 2020.
The Ries Brothers have been named as a breakout artist by Creative Loafing, a favorite band by The Tampa Bay Times, and were two out of 25 selected from the state of Florida to participate in the exclusive Los Angeles Grammy Museum's Music Revolution Project. There is truly something going on here. Come on down to a live show to see for yourself.
Performers
Date and Time
Location
Refund Policy