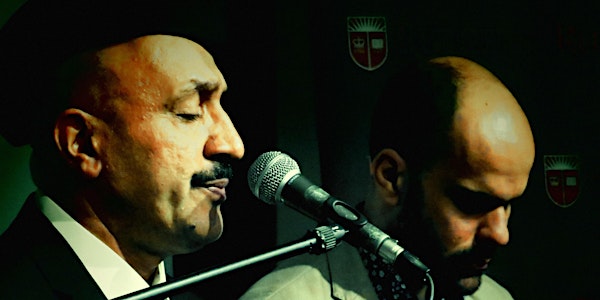 Iraqi Maqam and Religious Rituals with Hamid Al-Saadi & Amir Elsaffar
When and where
Location
Dana Room John Cotton Dana Library 185 University Avenue Newark, New Jersey 07102
Description
This lecture-performance explores the relationship between the centuries old Iraqi maqam tradition and religious rituals in Judaism, Christianity, Islam and beyond.
Hamid Al-Saadi is the leading expert and practitioner of the centuries old, now endangered, Iraqi maqam tradition. A disciple of Yousef Omar, Iraq's famous and prolific maqam reciter, Al-Saadi is deeply immersed in the Iraqi maqam tradition and its different schools. His knowledge of the repertoire is unmatched by any other reciter and his singing technique captures the nuances and richness of Iraqi maqam vocal performance. His book on Iraqi Maqam is one of the most comprehensive accounts and is a reference for any scholar or musician who intends to study this tradition. He is an Artist Protection Fund Fellow.
Amir Elsaffar is a composer, trumpeter, santur player, and vocalist. He has been described as "uniquely poised to reconcile jazz and Arabic music," (the Wire) and "one of the most promising figures in jazz today" (Chicago Tribune). A recipient of the Doris Duke Performing Artist Award and a 2018 US Artist Fellow, ElSaffar is an expert trumpeter with a classical background, conversant not only in the language of contemporary jazz, but has created techniques to play microtones and ornaments idiomatic to Arabic music that are not typically heard on the trumpet. As a composer, ElSaffar has used the subtle microtones found in Iraqi maqam music to create an innovative approach to harmony and melody.
Glance at Hamed Al-Saadi and Amir Elsaffar at the Lincoln Center Atrium last spring: https://www.youtube.com/watch?v=hhf8fMj5M-E
Food will be served after the event :)