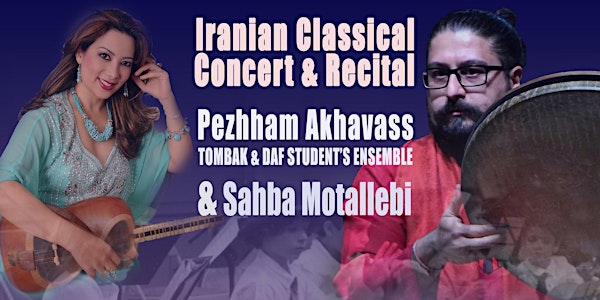 Iranian Classical Concert & Recital
Location
Noe Valley Ministry
1021 Sanchez Street
San Francisco, CA 94114
Refund policy
Contact the organizer to request a refund.
Eventbrite's fee is nonrefundable.
Join us for an evening of Iranian Classical Music concert and a short student recital.
About this event
Join us for an evening of Iranian Classical Music concert and a short student recital of Pezhham's Tombak and Daf Students. The concert will be in two parts, featuring a student recital and Iranian traditional music.
The Pezhham Akhavass students appearing in this concert are ages four and above. This event will be the second opportunity after our last concert on August 24, 2019. This event strives to showcase Iran's rich history, culture, music, and art and support the next generation of artists living in the United States.
Pezhham Akhavass, Tombak, Daf, Music Direcor
Sahba Motallebi, Tar
Pezhham's Tombak and Daf Students
This event is a community-based celebration featuring some of the foremost artists in the U.S. today. Thank you for supporting this wonderful evening of music and art.
The concert starts at 7 pm and the doors open at 6:30 pm.
A few tickets will be available at the door for $50 CASH ONLY.
For more information about joining our next concert as part of the Tombak and Daf Ensemble, please contact us at www.Pezhham.com.
Wearing a mask is required during the show, and Do Not forget to bring your proof of vaccination.
About Musicians
Pezhham Akhavass, is a world-class percussionist, music director, instructor, and modern-day virtuoso of Persian percussive instruments Tombak and Daf. He is well known for his unique technique and approach to rhythm and has been termed one of the most capable artists of his generation. Born in 1980 in Iran, Pezhham began learning music theory and tombak at the age of 5. With the support of his father, Pezhham studied Persian classical music and many different instruments with the great masters of traditional Persian music. He earned a bachelor's degree in Music from the Su‌reh University of Tehran in 2005, a second bachelor's degree in World Music from San Francisco State University (SFSU) in 2016, and a Master's degree at SFSU in Music History in 2019.
He began working professionally in his 20s with the renowned vocalist Shahram Nazeri from 2000-2007 where he traveled the world and has had the honor to perform in some of the most prestigious venues. Pezhham has recorded and performed with many master world-class musicians including Hossein Alizadeh, Aliakbar Moradi, Hossein Omoumi, Saeid Farajpouri, Masoud Shoari, and has also performed with YoYo Ma, Zakir Hussain, and many great world musicians from different cultures. Pezhham was also the featured percussionist on the 2010 Masters of Persian Music tour of the United States. In addition to Tombak and Daf, Pezhham is knowledgeable about Persian instruments Setar, Tanbour, and Oud and has studied other percussion instruments including Indian Tabla with the guidance of legendary Ostad Zakir Hussain, kanjira, and gatam. Pezhham is part of the extremely artistic Akhavass family; his father Mostafa is an award-winning classical Persian artist granted a doctoral degree by Iran. Pezhham now lives in the Bay Area, where he teaches, performs, and produces concerts.
Sahba Motallebi, is recognized internationally as a modern virtuoso of the tar and setar, lute-like stringed instruments central to one of the world's great musical traditions. She began studying music as a young girl in Sari, a small seaside city in the north of Iran.
In 1993, at the age of 14, her talent garnered her an invitation to begin studies at the Tehran Conservatory of Music. She flourished there and was recognized as Best Tar Player at the Iranian Music Festival for four years running (1995-1998). After graduating from Conservatory in 1997, she helped found the groundbreaking women's music ensemble Chakaveh, and in 1999 she was invited to join the Iranian National Orchestra, thus beginning her career as an international performer.
For the past decade, Sahba Motallebi has lived near Los Angeles, She continues to perform worldwide, and has released a series of noted books and recordings, the latest of which is 2014's A Tear at the Crossroad of Time. Sahba is also recognized as an innovator in the teaching of Persian music; her pioneering efforts to put instructional materials on the internet and to teach students online have inspired something of a renaissance in the transmission of this ancient art form, and reflect her abiding commitment to bring the gift of music to her community and the world.