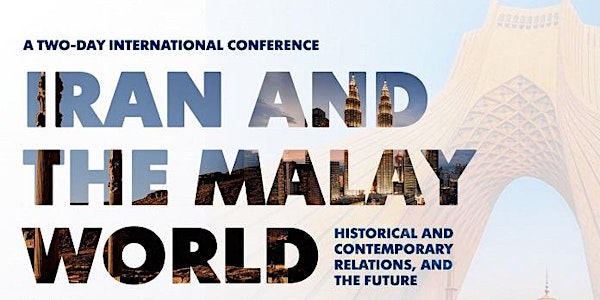 Iran and Malay World: Historical and Contemporary Relations, and the Future
A Two-Day International Conference "Iran and the Malay World: Historical and Contemporary Relations, and the Future"
When and where
Location
Universiti Nottingham Teaching Centre 3 Jalan Conlay Kuala Lumpur, Wilayah Persekutuan Kuala Lumpur 50450 Malaysia
About this event
About this event
This conference offers an occasion for experts, academics, and researchers alike to come together to consider pressing issues in an open forum; seeking to define questions, pursue answers, search for research synergies, and more; to both reflect on the recent past, and look forward to the future; to exchange ideas and findings in a congenial atmosphere.
There has been little research on the historical, economic, and cultural connections between Iran and the Malay World. While a few publications in the last decades on these topics had appeared, much more research needs to be done that makes use of the variety of sources and data available. Also of interest is the role of Iran in the development of civilization and culture in the Malay World, as well as the Malay World's influence in Iran, especially during the last decades.
To discuss these issues, the International Conference on "Iran and the Malay World: Historical and Contemporary Relations, and the Future" is being organized and will take place in Kuala Lumpur on 29 and 30 October 2022.
The presentation will focus on the main theme and the following sub-themes:
• History of relations between Iranians and the Malay world
• Current political, economic, and cultural relations between Iran and the Malay world
• Scientific, cultural, and religious interactions between Iranians and the Southeast Asians
• Influence of Iranian thinkers on Malay World thought
• Academic interaction between Iran and the Malay world, past and present
• Commonalities and differences between the Iranian and Sufism in the Malay World
• Influence of the Persian language and literature on the Malay language and culture

Tentative Program
Saturday, 29 OCTOBER 2022
0930 – 1000: Arrival of guests
1000 - 1005: Welcoming remarks :Ms. Haniss Haidi, Bait Al Amanah
1005 – 1020: Welcoming speech :Prof Syed Farid Alatas, Chairman of ASIA WE
Welcoming speech:Dr. Abdul Razak Ahmad, Director of Bait Al Amanah Centre
1020 – 1050: Speech by Guest Speaker :Yang Amat Mulia Tunku Zain Al'Abidin ibni Tuanku Muhriz, Founding President and Chairman, Board of Directors, IDEAS
1050 – 1115: Coffee break
1115 – 1200: Session I:Speaker: Dr. Bahareh Sazmand, Tehran University
Globalization and Science Diplomacy: Iran and Southeast Asian Countries
Moderator: Dr. Mandana Barkashli, UCSI University Malaysia
1200 – 1245: Session II :Speaker: Dr.Azhar Ibrahim, National University of Singapore
From Reception to Aversion: The Dissemination of Iranian Intellectual Thought in the Malay-Indonesian World
Moderator: Dr. Nur Dayana Mohamed Ariffin, University Malaya
1245 – 1400: Lunch
1400 – 1445: Session III:Speaker: Prof. Dr. Henelito A. Sevilla, University of Philippines
The State of Contemporary Philippine-Iran Bilateral Relations, Maximizing Values, Human Potentials, and Shared History
Moderator: Mr. Haziq Hakimi,
1445 – 1530: Session IV:Speaker: Dr. Olsi Jazexhi, International Islamic University Malaysia
Hybrid Warfare: How Israel is waging War against Iran from Europe to Southeast Asia
Moderator: Mr. Tayfun Akgün, International Institute of Islamic Thought and Civilization
1530 – 1545: Tea break
1545 -1630: Session V:Speaker: Dr. Maziar Mozaffari Falarti, University of Tehran
Iran's Critical Role in the Shaping of Traditional and Contemporary Islam, Society, and Political Systems across the Malay World
Moderator: Mr. Soheil Marjani, University of Malaya
1630-1715: Session VI:Dr. Husain Heriyanto, Paramadina University
The Uniqueness of Iranian Scientific Development in the Post-Colonial Secular World and Its Relevance to Indonesia
Moderator: Farah Ilyana Mohd Anuar, Bait Al Amanah
Sunday, 30 OCTOBER 2022
1030 – 1115 Session VII:Speaker: Tia Mariatul Kibtiah, Bina Nusantara University
Religious Ideology through social media and Its Impact on Iran-Indonesia Economic Cooperation during President Jokowi's Administration
Moderator: Ms. Nabiela Ismail, Bait Al Amanah
1115 – 1200 Session VIII:Speaker: Prof. Dr. Amir H. Zekrgoo, University of Melbourne & Dr. Lila Tajer, Research fellow at Webster University, Vienna Campus, Austria
Spiritual Symbolism in Hamzah Fansuri's Writings: An Analytical Investigation
Moderator: Dr. Nurul Ain Norman, International Institute of Advanced Islamic Studies
1200 – 1245 Session IX:Speaker: Dr. Esmaeil Zeiny, Xiamen University, Malaysia
Traveling of Theories: Syed Hussein Alatas in Iran and Ali Shariati in the Nusantara
Moderator: Ms. Sharifah Afra Alatas, ISEAS-Yusof Ishak Institute
1245 – 1400 Lunch
1400 - 1445 Session X:Speaker: Dr. Teo Lee Ken and Hiral Sanghvi,
Youth as a Social Class: Generational Politics in Iran and Malaysia
Moderator: Dr. Abu Hanifah Haris, University of Malaya
1445 - 1530 Session XI:Speaker: Dr. Ramin Hajianfard, Sultan Idris University, Malaysia
Reflecting Peace and Violence in the Visual Arts: A Comparative Study of Artworks from Iran and Malaysia
Moderator: Mr. Muhammad Adib Mohd Faiz, University of Malaya
1530 – 1615 Session XII:Speaker: Prof Syed Farid Alatas, National University Singapore
Alatas and Shariati on Stupidity
1615 – 1620 Closing remarks