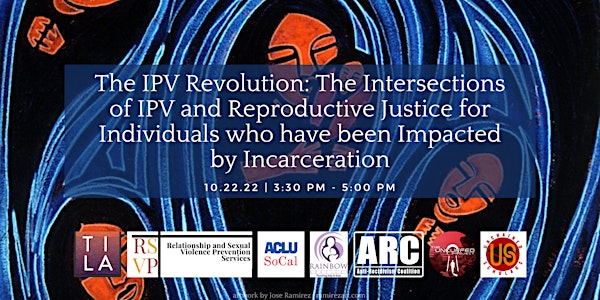 IPV Revolution: Reproductive Justice for those Impacted by Incarceration
Join us for an evening of community healing through the exploration of IPV and reproductive justice for those impacted by incarceration.
Refund Policy
Contact the organizer to request a refund.
Eventbrite's fee is nonrefundable.
About this event
EVENT DESCRIPTION
Trauma Informed LA is hosting our 6th annual event The Revolution of Intimate Partner Violence in partnership with USC Keck School of Medicine Relationship and Sexual Violence Prevention and Services, and sponsored by Anti-Recidivism Coalition, Rainbow Services, Unchained Scholars, The Uncuffed Project, and ACLU SoCal.
Women that are incarcerated are and have been historically impacted by reproductive oppression. Recent events such as the Supreme Court Decision (Dobbs vs. Jackson Women's Health Organization) to overturn Roe v Wade, further inflicts limitations on women and pregnant individuals to have bodily autonomy and control over their own lives. It is an attack on human rights and a war on women. Join us for a dialogue that will foster community power and explore systems of oppression that have historically been affecting women. Our conversations will be shared through storytelling and analysis of the oppressive systems that impact individuals, families and our community.
TILA Table is a "roundtable" format that will empower and provide a brave space for attendees and guests. There will be a discussion about the intersectionality of intimate partner violence, incarceration, the structural systems of oppression, and lived experiences that highlight fear, despair and uncertainty for women. These systems of oppression can be dismantled through community engagement and action, speaking up in the face of injustice, sharing resources, and showing support to those who have experienced marginalization.
Art by Jose Ramirez ramirezart.com
Be sure to follow us on Instagram: instagram.com/traumainformedla
TILA TABLE FEATURED GUESTS
The Anti-Recidivism Coalition's (ARC) Associate Director of Women and Non-Binary Services, joined ARC in March 2016 as a Life Coach after nearly five years working in the criminal justice reform and nonprofit sector. As a formerly incarcerated woman, Norma has firsthand experience in the many challenges of reentry, making her a compassionate and effective guide for young people learning to navigate society after coming home from prison.
Norma is a fierce advocate for incarcerated women and girls. She has traveled to the California State Capitol to educate legislators, spoken on panels, and presented in numerous classrooms in order to affect change for women, mothers, and girls who were formerly incarcerated and to create a fairer justice system for all. In 2019, she co-designed and launched ARC's first Women and Non-Binary Services department to better serve the needs of 1,300+ formerly incarcerated members, as well as 50+ incarcerated women through inside programming at the California Institution for Women in Corona, CA. In all of her work, Norma seeks to carve out spaces to ensure that everyone's voices are heard and valued.
Summer is the Criminal Justice Director at the ACLU of Southern California. Before joining ACLU of Southern California, Summer worked as Senior Legal Counsel at The Justice Collaborative (TJC). Prior to joining TJC, Summer worked as a Deputy Federal Public Defender at the Los Angeles Office of the Federal Public Defender. Summer represented indigent clients accused of committing diverse federal crimes, mentored new attorneys, trained legal interns, and facilitated at a national training on impactful sentencing advocacy.
Before joining the Federal Public Defender's Office, Summer began her legal career at Brooklyn Defender Services, where she advocated on behalf of clients facing felony and misdemeanor charges for three years. During law school, Summer worked on racial justice related litigation with the ACLU and advocated for children's rights with DITSHWANELO, a human rights organization in Botswana. Summer received a BA in Communications from UCLA and a JD from New York University School of Law.
Keeaira Dashiell currently serves as a Community Health Worker for Black Women for Wellness. She is passionate about social justice, women's rights, and prison reform. Keeaira strives to be impactful and to motivate people to be the best version of themselves.
Dr. Ramona Merchan, (she/her/ella)(moderator)
Dr. Ramona Merchan is a compassionate leader with over 20 years of experience in Los Angeles County public service as a trainer, coach, advocate, and administrator. She earned her MSW and DSW from the USC Suzanne Dworak Peck School of Social Work. Ramona is a Licensed Clinical Social Worker, using her skills to dismantle oppressive systems and assist communities in achieving authentic community care and equitable systems of care.
Ramona channels her passion to develop innovative ways to support vulnerable and marginalized communities. She currently assists in creating community and cross-sector partnerships to address issues of equity, disproportionality, and disparity for children, youth, and families of color impacted by the child welfare and carceral systems.
Ramona volunteer work includes serving as a member of the Los Angeles County District Attorney's African American Advisory Board and the Executive Director for Trauma Informed LA. Ramona has lectured and trained on various topics in the areas of child welfare, racial equity, leadership, and trauma.
Afia Anim (she/her)(special guest)
Afia Anim is an actress, singer-songwriter and motivational speaker. She grew up in a cult in The Netherlands, experienced severe racism throughout her life and was chronically sick for years. Having to heal from these hardships (and many more) she started researching trauma healing and actively taking steps to better her life. She escaped the cult, decided that nobody makes decisions for her but herself and healed from endometriosis without surgeries. She now writes and speaks about how to actually release trauma from your system, stop the suffering and start living a life from bliss. Because you simply deserve it too.
EVENT DETAILS
This is a free event with a suggested donation of $15. Registrants will receive a follow-up email with logistical information.