IPSim workshop - Simulating IP Commercialisation

Wednesday, 15 October 2014 from 10:30 to 15:00 (BST)
Event Details
IPSim - Simulating IP Commercialisation
Some people believe Intellectual Property (IP) commercialisation is a matter of Profit and Loss.  
It's not, it's much more important than that.  
IPSim is an instructional work-based tool that will teach the basics of IP and then take you on an intensive, practical and engaging simulation of IP backed tech commercialisation.  We deliver IPSim as a half day workshop for up to 24 people. 
This is a series of workshops being held around the world in 2014: Cranfield Univeristy, England; Imperial College London, England; Auckland, New Zealand; Nottingham University, England and Dublin, Ireland.
Who's IPSim for?
- Science and Technology developers and Creative innovators looking to gain tech commercialisation experience first-hand in a risk-free environment
- Academic technology transfer professionals wishing to expand their knowledge, engage with tech developers and learn new techniques such as IP valuation
- Chartered IP and Accounting professionals wishing to learn more about IP commercialisation and engage directly with tech developers
- Students studying business, science, medicine, creative arts, music or technology wishing to learn more about tech commercialisation and make some great contacts.
The real experiential learning is in interactions between attendees and the insights you glean regarding your own tech and IP while having discussions.
Timings for workshop
1 week prior 
You'll be emailed an IPSim Briefing Pack in preparation for IPSim
On the day
10:30am - Arrive / Welcome / IP Briefing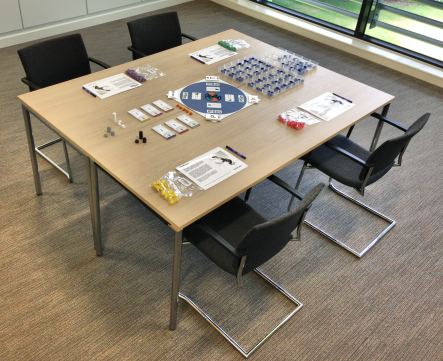 11:30am - IPSim briefing and kick-off
12pm - Lunch
12:30pm - 2:30pm - IPSim session
2:30pm - Innovation Bridge - what's this?
3:30pm - Winners announced, IPCalc access and IPSim network
Objective of IPSim
You assume control as CEO of a knowledge-based company that develops technologies and
commercialises IP in return for IP royalty incomes.  The object of IPSim is to commercialise as much tech in as many territories as possible whilst minimising the risk of being sued for infringement and maintaining a competitive IP advantage over other companies – ultimately being able to create an exit at the end of the simulation.  A successful and strategic company amasses securely protected IP tech that's commercialised in all territories as well as IP that's used for blocking or trading purposes.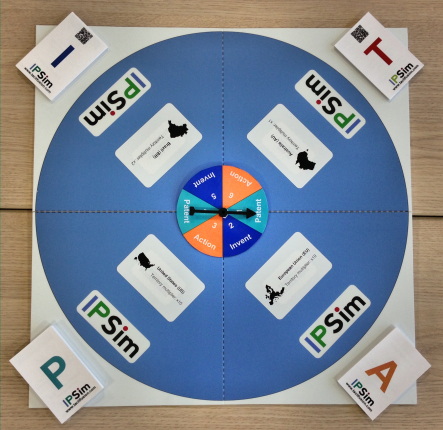 Selected Learning objectives
- Experience of IP portfolio management as a CEO
- Patent rights are territorial
- You can sell or license intellectual property rights
- Examples of patentable and non-patentable tech
- IP trading considerations
- Negotiation scenarios
- Live IP valuation using IPCalc our on-line valuation tool
- Offensive and Defensive use of IP
- Implications of open source commercialisation
- Infringement consequences

Bigger picture - better strategies
IP knowledge is often held by a select few in an organisation.  IP related decisions aren't always as aligned as they should be to organisational goals.  IPSim is a safe way to explore and experiment with IP strategies enabling your organisation to make better decisions about IP.  Creating an IP strategy requires a big picture perspective of innovation, markets and human relationships.  IPSim helps you grasp and apply some of the important elements of IP that can impact tech commercialisation strategies. 
Where could IPSim be used?
IPSim can be used in a variety of settings.  It could be a lunch hour session in a break room within your organisation, in a conference room as part of a larger training experience for professionals or as a workshop for students majoring in business, science/tech or law.
The simulation is designed to allow for some noise tolerance from other users at other tables.  In a training room setting or classroom setting, multiple copies of the simulation would be running simultaneously.  IPSim does not require participation from experts in IP, strategy or commercialisation in order to make it work; but a trainer or teacher would be present to facilitate more informed use.
Testimonials
IPSim is both great fun and a great way to train and to test-out one's ability to use all the elements of a sound IP strategy for growth. The simulation replicates our work in one of the most important aspects of successful innovation and commercialisation.
Nick Gough, Head of Business and Commercial (Cranfield University, Cranfield Health)
Playing IPSim was a great experience as I managed to put into practice some business related IP concepts. The tool is suitable for a broad range of players, helping beginners learn about IP concepts and is equally exciting for people with deep IP knowledge. It boosted my competitive spirit and was absolute fun. I would love to play it again.
Elena Andonova, Consultant, ISIS Enterprise (ISIS Innovation Limited)  
Attendee List
Sort by:
Date
When & Where

Tacit Fusion
Cranfield University
MK43 0AL Cranfield
United Kingdom


Wednesday, 15 October 2014 from 10:30 to 15:00 (BST)
Add to my calendar
Organiser
Tacit Fusion is a commercially focused Innovation and Business consultancy that supports tech & IP organisations to grow. Tacit was founded in 2009 as an IP valuation company serving small and large healthcare companies. Our existing clients asked us to deliver IP audits, market landscaping, commercial & strategic advice as well as off-the-shelf products so we did!