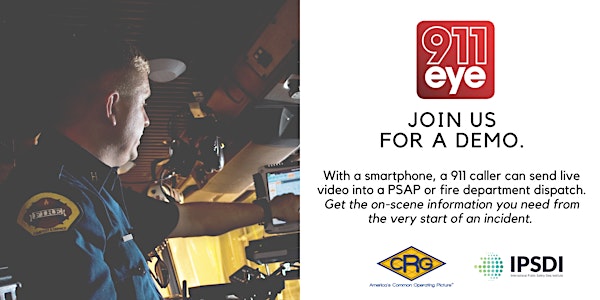 Multiple dates
IPSDI/CRG 911eye Demo
Join IPSDI and Critical Response Group (CRG) for a one-hour live demo of 911eye.
Date and time
July 16, 2020 · 10am - October 29, 2020 · 11am PDT
About this event
As an Incident Commander, have you ever wished that you had eyes on an emergency from the very beginning? With 911eye, fire departments can gain situational awareness and on-scene information from the very beginning of an incident.
Join us for a one-hour live demo on 911eye.
911eye creates a single-use link that is sent to a 911 caller. There is no app required and no data is stored on the caller's phone. Any user with a smartphone can send live video into a PSAP or fire department dispatch. The video footage can be shared, in real-time, to mobilized firefighters, providing better situational awareness prior to and after arrival, helping your agency to quickly dispatch appropriate resources
Data received is securely catalogued and stored in the Microsoft Azure cloud, allowing fire departments to easily retrieve the information for later use. 911eye is also a perfect solution to fire-based EMS telemedicine needs.
Don't forget to check out our demo on Collaborative Response Graphics® (CRGs®)!
***
About International Public Safety Data Institute (IPSDI): The IPSDI is a 501(c)(3) nonprofit organization formed by a collaboration of fire service, research, policy, and academic organizations. The IPSDI mission is to enhance public safety resource deployment and operations by using data analytics to provide actionable life-saving insights. The expert team at the IPSDI includes fire service leaders, researchers, developers and data scientists who have combined more than 200 years' experience in their fields. IPSDI data tools include FireCARES and NFORS Analytics and NFORS Exposure Tracker. Learn more: www.i-psdi.org
About Critical Response Group (CRG): CRG's team is a mix of decorated and combat-tested United States Military Special Operations Force (USSOF) officers and senior public safety executives committed to providing non-theoretical perspectives and emergency response solutions. Learn more: www.crgplans.com
FAQs
How can I contact the organizer with any questions? Email info@nfors.org and we'll help you out!