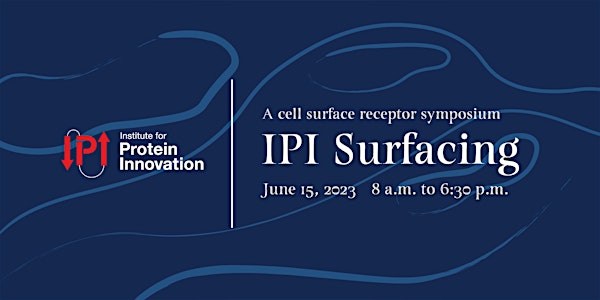 IPI Surfacing: A cell surface receptor symposium
IPI's first full-day in-person symposium featuring leading experts, a panel discussion and a poster session.
By Institute for Protein Innovation
Date and time
Thursday, June 15 · 8am - 6:30pm EDT
Location
Joseph B. Martin Conference Center 77 Avenue Louis Pasteur Boston, MA 02115
About this event
10 hours 30 minutes

Mobile eTicket
IPI Surfacing is a free, one-day symposium, hosted on the Harvard Medical School campus. This in-person event will convene the leading experts on cell surface receptors and antibodies, as well as a panel discussion on the future of synthetic antibodies. The event also includes a poster session and networking opportunities with colleagues and top experts in protein science.
Symposium speakers will include:
Christopher Garcia, Stanford University
Yvonne Jones, University of Oxford
Debora Marks, Harvard Medical School
Andreas Plückthun, University of Zurich
Junichi Takagi, Osaka University
Panel discussion:
"The promise of synthetic antibodies and challenges to universal access"
A discussion on the biomedical applications of synthetic antibodies, barriers to competing with animal-derived antibodies and universal access to quality protein tools within the research community.
Panel speakers will include:
Errik Anderson, Alloy Therapeutics
Aled Edwards, University of Toronto & Structural Genomics Consortium
Andrew Kruse, Harvard Medical School
Rob Meijers, Institute for Protein Innovation
Andreas Plückthun, University of Zurich
Meghan Rego, Addgene
Poster session & abstract submission:
The IPI Surfacing poster session is an opportunity for researchers to showcase work on cell surface receptor biology and network with speakers and panelists. The in-person poster session will run from noon to 1:30 p.m. and 5 p.m. to 6:30 p.m. on the day of the symposium. Posters will be displayed from 8 a.m. until 6:30 p.m.
Abstract submission is now closed. If you have questions about poster, please email us at info@proteininnovation.org.
About the organizer
The Institute for Protein Innovation (IPI) is pioneering a new approach to scientific discovery and collaboration. As a nonprofit, we provide academia and industry with synthetic antibodies and deep protein expertise, empowering researchers to unlock the most elusive mysteries of biology. Our mission is to advance protein science to accelerate research and improve human health. For more information, visit proteininnovation.org/ or follow us on social media, @ipiproteins.