Description
IPA Annual Best of Show
Curated by Catherine Edelman, Catherine Edelman Gallery

Participating Artists Include:
Ana Palacios, Aitor Garmendia, Al Lapkovsky, Alain Schroeder, Alexander Vinogradov, Anton Unitsyn, Barry Salzman, Basilio Sepe, Benjo Arwas, Carol Allen Storey, Cornelia Hediger, David Burdeny, Donna Pinckley, Giles Clarke, Hardijanto Budiman, K M Asad, Lopez Moreno Eduardo, Marzena Kolarz, Melissa Cormican, Mia Collis, Onni Wiljami Kinnunen, Peter Svoboda, Randal Ford, Sam Barker, Sandro Miller, Santiago Martinez de Septien, Sebastian Droemer, Shuangyin, Steven Boniface, Swan Gavileño, Tariq Zaidi, Tom Atwood, Tom Putt, Viktoria Sorochinski, Wei, Wentao Wei, Xuehua Jiang, Yi Sun, Yona Eligoulachvili, Zach Lowry, and Zay Yar Lin.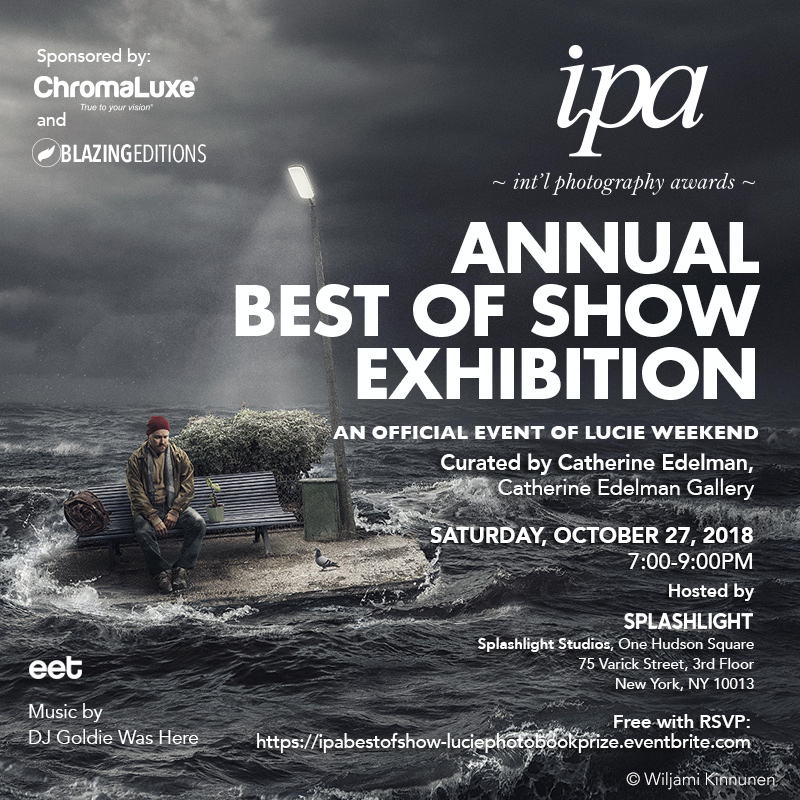 ---
The Second Annual Lucie Photo Book Prize
The Lucie Foundation is dedicated to celebrating all forms of photography, in print and online and is pleased to announce the second edition of the Lucie Photo Book Prize. This program is a juried competition open to a diversity of book submissions- from traditionally published to prototypes, hand-made books to zines. The awards will be presented to photographers, editors, curators or publishers who have created such projects anywhere in the world within the last 24 months of our public call, starting July 25. The Lucie Foundation is proud to offer two cash prizes to the top two finalists for their outstanding work - one Traditional $3,000 cash prize and one Independent $2,000 cash prize.
The top 30 finalists will have their work displayed at Splashlight Studios in New York City on October 27, 2018.
Learn More: http://www.luciephotobookprize.org/



---


Venue: Hosted by Splashlight Studios
One Hudson Square
75 Varick Street, 3rd Floor
New York, NY 10013
Click here for directions