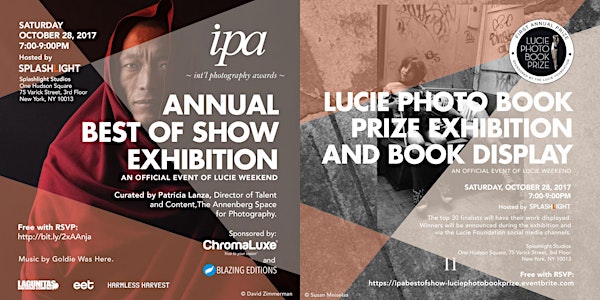 IPA Annual Best of Show + First Annual Lucie Photo Book Prize Exhibitions
When and where
Location
Splashlight 75 Varick Street New York, NY 10013
Description


RSVP's ARE NOW CLOSED.


---


IPA Annual Best of Show
Curated by Patricia Lanza, Director of Talent and Content, The Annenberg Space for Photography
The 2017 Best of Show photographers are:
Alain Schroeder, Alex Timmermans, Alice van Kempen, Andrea Francolini, Andrea Fremiotti, Andy Yeung, Anya Anti, Argus Paul Estabrook, Arjun Mark, Bart Heynen, Chris Gordaneer, Christiaan van Heijst, Christian Vizl, Christopher Morris, Claudia Hans, Clyde Butcher, Diana Bagnoli, Divyakant Solanki, Dag Ole Nordhaug, Danny Yen Sin Wong, David Bacon, David Zimmerman, Finistre, Frederic Aranda, Ilaria Magliocchetti Lombi, Jonathan Bachman, Karen Divine, Kate Geraghty, Leslie Hall Brown, Manel Quiros, Marcin & Sylwia Ciesielski (Quality Pixels), Marcin Boruń, Maurice Ressel, Onni Wiljami Kinnunen, Pinch / Martin Tremblay, Paolo Marchetti, Pistolwish, Placido Faranda, Renee Capozzola, Rob Gregory, Sandro, Tam Ming Keung, and Ulla Lohmann.
---


The First Annual Lucie Photo Book Prize
The Lucie Foundation is dedicated to celebrating all forms of photography, in print and online and is pleased to introduce the Lucie Photo Book Prize. This program is a juried competition open to a diversity of book submissions- from traditionally published to prototypes, hand-made books to zines. The awards will be presented to photographers, editors, curators or publishers who have created such projects anywhere in the world within the last 24 months of our public call, starting July 25. The Lucie Foundation is proud to offer two cash prizes to the top two finalists for their outstanding work - one Traditional $3,000 cash prize and one Independent $2,000 cash prize.
The top 30 finalists will have their work displayed at Splashlight Studios in New York City on October 28, 2017.
Learn More: http://www.luciephotobookprize.com/
---


Venue: Hosted by Splashlight Studios
One Hudson Square
75 Varick Street, 3rd Floor
New York, NY 10013
Click here for directions
---