IP Pathways Afterhours Event at Coal Vine's

Thursday, April 18, 2013 from 5:00 PM to 7:00 PM (CDT)
Event Details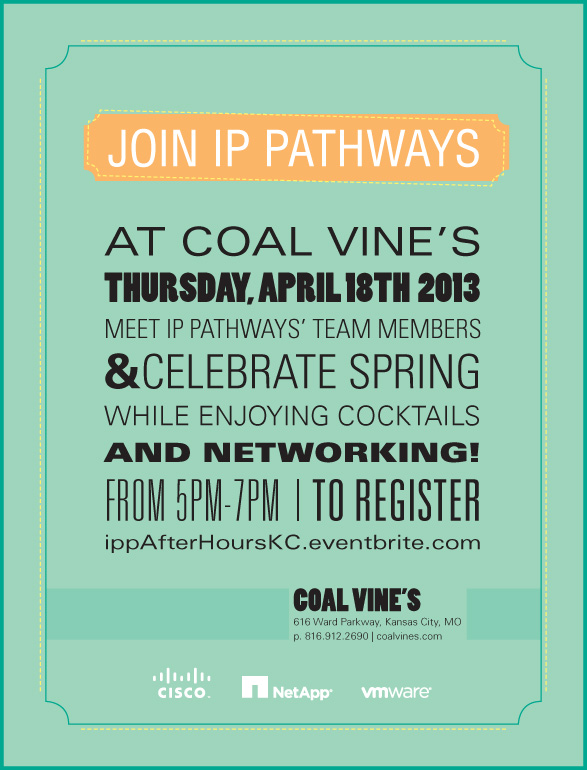 **This event is by invitation only and requires registration. IP Pathways reserves the right to decline or cancel registration to persons outside our intended audience. This includes other VARs and storage manufacturers outside of NetApp.
---
Imagine Virtually Anything™
Collaborating to Deliver the Dynamic Data Center

VMware, Cisco and NetApp have announced an alliance to tackle the complexity that virtualization has brought to the data center. They have teamed up to offer the industry's first end-to-end secure multi-tenancy solution for virtual environments.

Server and desktop virtualization has changed everything and the data center is transforming. We all remember the old distributed computing model with one server per application and desktops and laptops housing critical sensitive data and even applications. The IT infrastructures architected for this old model was built around heterogeneous silos of servers and storgage systems and this resulted in poor utilization and isolated resources.

VMware, Cisco and NetApp now TOGETHER are able to redefine the data center futher by offering a complete end-to-end solution to virtualize the data center. Virtual infrastructure software from VMware, unified storage from NetApp and unified computing solutions from Cisco have come together to deliver more efficiency and reduce costs even further.
Cisco Unified Computing System (UCS) reduces the number of network switches and integrates compute resources around a unified I/O fabirc.

NetApp

®

unified storage architecture supports multiple protools (CIFS, NFS, iSCSI, FC and FCoE) as well as primary, secondary and archive storage with a single platform.

VMware vSphere™ and View 4 provides the platform for infrastructure and desktop virtualization. VMware vCenter™ provides the universal hub to centrally manage all virtualized server, network and storage resources.


This all comes together into a single unified architecture of dynamic resource pools. This unified virtualized architecture allows organization to effectively run everything form mission-critical applications to enterprise-wide desktops.
Virtualization of everything allows for consolidation of servers by a 10-to-1 ratio, eliminate 90% of network ports and cables and use up to 50% less storage through NetApp's data deduplication techonogy.

End-to-end Ethernet reduces complexity and cost with a tested and proven 10GbE virtualized data center solution. SAN, NAS and LAN traffic can all be supported on a "single wire" without compromising performance or security.

Centralized management of server, network and storage resources from a "single pane of glass" within VMware vCenter reduces complexity.


To learn more about the Cisco, NetApp, VMware Alliance, email IP Pathways at sales or call 877.363.3895.

General Contact
www.ippathways.com | Email Us! | 877.363.3895

Des Moines Office
2550 73rd Street | Urbandale, IA 50322 | 515.422.9300

Omaha Office
6410 S 118th Street | Omaha, NE 68137 | 402.408.0581

Kansas City Office
9393 W 110th Street, Suite 500 | Overland Park, KS 66210 | 816.423.8048

When & Where

Coal Vine's
616 Ward Pkwy
Address Line 2
Kansas City, MO 64112


Thursday, April 18, 2013 from 5:00 PM to 7:00 PM (CDT)
Add to my calendar
Organizer
IP Pathways provides IT hardware and software, data center, cloud, security, professional and managed services to commercial and government customers throughout the Midwest. With offices in Des Moines, Omaha and Kansas City, and data centers in Des Moines and Omaha, IP Pathways' award-winning engineering team architects, implements, monitors, supports and manages IT solutions for more than 400 customers. For more information visit 
www.ippathways.com
.