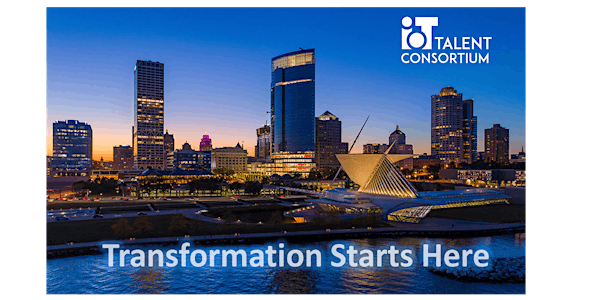 IoTTC Annual Members Meeting
When and where
Location
Milwaukee University of Wisconsin - Milwaukee Rockwell Automation Global Headquarters Milwaukee, WI 53204
Description
Limited Tickets Available - Suggested Donation $250
Join IoTTC members and other invited guests for 2 days of knowledge sharing, networking, discovery, and innovation. Held jointly at the University of Wisconsin - Milwaukee and Rockwell Automation Global Headquarters, we have assembled a world-class agenda featuring leaders from some of the most adminred and forward thinking businesses and academic organizations that is not to be missed.
June 24, 2019
Day 1 - Annual Internet Of Things Talent Consortium Members Meeting
LOCATION: Lubar Entrepreneurship Center, UW-Milwaukee campus - Located at 2100 E. Kenwood Blvd. Milwaukee, WI 53211
Parking- on campus- suggested parking at the UWM Student Union garage- 2200 E Kenwood Blvd, Milwaukee, WI 53211, Lot #22
1:00-1:30 PM Registration at Lubar Entrepreneurship Center - 2100 E. Kenwood Blvd.
1:30-2:00 PM Opening remarks – UWM, Rockwell Automation, IoT Talent Consortium
2:00-2:45 PM MIT – John Carrier - Winning the Fire Drill: How Not to Lose the IoT Game
2:45-3:00 PM 15 Minute break
3:00-3:45 PM Keynote Speaker – Brad Smith, Microsoft President and Chief Legal Officer
3:45-4:30 PM Cisco – Andy Norhana - Orchestrating Transformation
4:30-5:30 PM Rockwell Automation – Bob Murphy, SVP Connected Enterprise - The Digital Journey
5:30-7:00 PM Networking social – Light Wisconsin snacks and beverages at the Connected Systems Institute
June 25, 2019
Day 2-Annual Internet Of Things Talent Consortium Members Meeting
LOCATION: Rockwell Automation, 1201 S Second Street, Milwaukee WI 53204, Customer Experience Center. Enter at main entrance. Visitors Parking south off Second St.
8:00-8:25 AM Registration at Rockwell Automation visitors entrance - 1201 S. Second street
8:30-9:15 AM Rockwell Automation, Digital Manufacturing Talent
09:15-09:30 AM 15 Minute Break
09:30-10:15 AM Pivot Factory – Michael Leadbetter - Managing Through Exponential Change
10:15-11:00 AM Pearson – Leah Jewell - Pearson Global Employer Research- How Internal Policies, Culture, and Skills Signaling Impact Effective Learning and Development.
11:00-11:45 AM Rockwell Automation & Manpower, Veterans Advanced Academy of Automation
11:45-1:00 PM Lunch – Guest Dining Room and Clock Tower Tour
1:15-2:00 PM MIT – George Westerman - The Future of the Chief Learning Officer
2:00-2:45 PM CertNexus – The Missing Investment of IoT
2:45-3:10 PM MIT – Peter Hirst - Wrap up Workshop – The 3 R's: Reflect, React and Resolve
3:10-3:15PM IoTTC – Trent Salvaggio - Closing Remarks
*Agenda subject to change