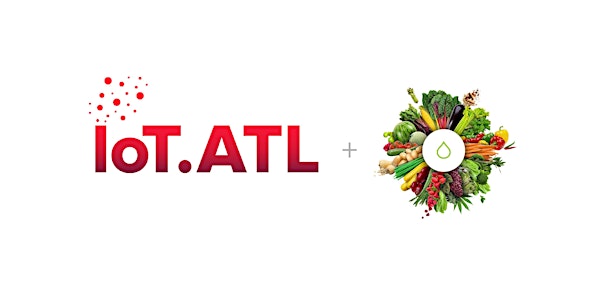 IoT.ATL + Ponix Farms Living Labs Launch
When and where
Date and time
Tuesday, September 10, 2019 · 4 - 7pm EDT
Location
725 Ponce De Leon Ave NE Atlanta, GA 30306
Description


Join IoT.ATL, Ponix, & New City Properties to help revolutionize the future of food | Tuesday, September 10th | 4 -7 pm | 725 Ponce De Leon
---
IoT.ATL is proud to take the next step in building resilient communities by connecting people, companies and technology to forge a stronger path for the future. On September 10th, partners from IoT.ATL, leaders in smart city technology, and community mavericks will converge at 725 Ponce in Atlanta to celebrate the innovation of Ponix Farms and the opening of the first IoT.ATL Living Lab!
Ponix, a winner of the IoT.ATL AgTech Challenge, is identifying scalable AgTech solutions to address the need for resilient food systems and illuminate how technology can be used to solve the pressing social issues of our time. Through this lens, they will change the future of food and urban agriculture to benefit communities across the globe as the world urbanizes. Ponix is developing end-to-end local food ecosystems focused on reclassifying food as a utility, much like water or electricity.
Join us in celebrating this monumental occasion on the eve of Smart City Expo Atlanta at 725 Ponce, just steps off the Atlanta Beltline - across from Ponce City Market. Thank you to our core partners; New City Properties, Georgia Power, Invest Atlanta, AGCO, Metro Atlanta Chamber, City of Atlanta, and the Atlanta Beltline for their tremendous support and sponsorship.
Event will occur rain or shine & Public transit is encouraged
BeltLine access - MARTA access from North Avenue Station - Parking is a $7 flat rate
---
According to the UN, two-thirds of the global population will live in urban areas by 2050 and food resilience and urban sustainability are global challenges. The IoT.ATL AgTech Living Labs will help identify new resilient solutions to food production for urban environments and are focused on themes of: 1) education 2) equitable and inclusive community engagement 3) urban economic development and 4) future farming and IoT technology.
---
Please join us to celebrate the first Ponix harvest!
Tuesday | 09/10/2109 | 4-7 pm
725 Ponce Amphitheatre & Parking Lot | Next to Atlanta BeltLine + Ponce City Market
NOTE: This event is in no way affiliated with Kroger
---
FAQs
Have questions about IoT.ATL Living Labs? Contact IoT.ATL
Have questions about Ponix? Visit them at Ponixfarms.com