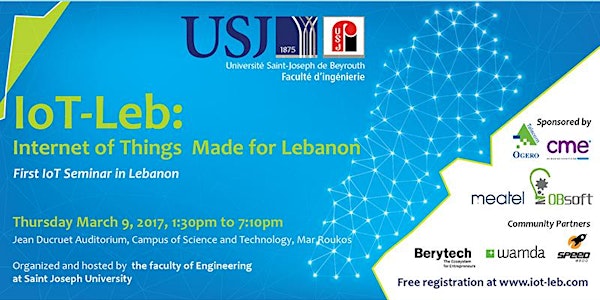 IoT-Leb: Internet of Things Made for Lebanon
When and where
Location
USJ - ESIB CST Campus Mar Roukos
Description
N.B. Registration ends on Tuesday March 7, 2017, at 6:00pm
---
IoT-Leb is the first seminar on the Internet of Things in Lebanon. It aims to foster multi-stakeholder collaboration by bringing together Lebanese institutions, universities, funding and incubating partners, and industrials who are involved in IoT.
---
Venue
IoT-Leb will be held at ESIB, CST campus, Mar Roukos (location on map).
---
Website
---
Seminar Program (
1:30 pm - 7:00 pm

)
Keynotes
IoT Components and Challenges, by Rabih Nassar, Founder and CEO at Scriptr.

IoT Infrastructure and Regulation in Lebanon, by Antoine Aoun, Chief of national exploitation services at the Lebanese Ministry of Telecommunications and chief of switching department at OGERO.
Exhibition
Open exhibition on IoT products and services
CME Offshore, MEATEL, Data Consult, SMG-Energy, Scriptr, Sigfox, Smart Sustainable Systems, ESIB, Students projects
Panels
1- IoT Applications and Opportunities, with a focus on Lebanese potential to deliver high quality products for agriculture, industry, radio navigation, health and more.

[Moderator] Nicolas Rouhana: General Manager - Insure & Match Capital

Ramy Boujawdeh: Deputy General Manager at Berytech

Rani Azzi: Vineyard Manager at Château Kefraya

Fares Kikano: Co-founder & General Manager at SMG-Energy

Elias Bechaalany: Partner & Director at Automatix

Walaa El Kerdy: Product Specialist at CardioDiagnostics
2- IoT Enablers, from data collection to data management and analysis.
[Moderator] Imad Abou Rached: Procurement Director at OGERO Speakers

Marc Nader: COO at Data Consult

Paul Ghobril: Head of Electrical Department Joseph Tehini & Fils

Samer Lahoud: Associate Professor at Saint Joseph University

Tony Feghaly: Managing Partner at Potech Consulting

Frederick Wardini: co-founder and a board member of Lebanese Canadian Tech Hub
Connection Dinner

---
Steering Committee
Fadi Geara: Dean of the faculty of Engineering – USJ
Chafic Jaber: Application Engineer – ANSYS Inc.
Samer Lahoud: Associate Professor at ESIB – USJ
Marc Ibrahim: Associate Professor at ESIB – USJ
Organizing Committee at ESIB-USJ

Maroun Chamoun : Professor

Rima Kilany : Associate Professor

Tony Nicolas: Associate Professor

Melhem El Helou: Assistant Professor

Fatima Layla: Student

Joe Saad: Student

Nawal Sahyouni: Student

Elissar Khatib : Student

Marianne Mahfouz : Student

Reine Moussa : Student

Rudy Attieh: Student

Lucien Dagher Hayeck: Student

Alain Ghoussoub: Student


Jean-Marie Bacha: Student