Description
Join IoT Fest Zagreb and awaken the potential of the Internet of Things in Croatia!
The IoT Fest Zagreb, which will be on 27 May 2017 in Technology Park Zagreb (TPZ), is a one-day event organized by the community of IoT creators supported by hub:raum Kraków and Hrvatski Telekom. It brings together IoT companies and startups, universities and students, hardware geeks and every IoT creator to share knowledge, experience and visions about technological and business opportunities of the Internet of Things in Croatia.
VISIT EVENT WEBSITE AND REGISTER NOW!
IoT Fest Zagreb consists of 3 streams:
IOT SHOWROOM
It is a great chance for startups, students and hackerspaces to show their IoT projects and prototypes to wider audience.
If you have an IoT startup or a project and want to become a NarrowBand IoT pioneer, then apply to IoT Fest Showroom! It's a unique chance to find more about the NB-IoT Prototyping Program powered by hub:aum and develop your IoT solution together with Deutsche Telekom.
PRESENTATIONS
The main part of the IoT Fest are presentations provided by experts in the field of the Internet of Things. The lectures answer the hard questions that IoT businesses ask every day. The speakers say about difficulties, problems, challenges, successes and failures in their IoT business and how they dealt with them.
IOT WORKSHOPS
Workshops give the possibility to gain some practical knowledge in the field of the Internet of Things. Turn your visions into reality under the watchful eyes of our specialists!
For Whom?
For IoT startups on different stages of business and product development.

For those who would like to learn more, verify their ideas on their projects, share thoughts and experience, and to meet people who have common interests.

For scientific circles and students of technical studies who would like to verify their knowledge and ideas or to show their projects to wider audience on fairs.

For IoT companies looking for new business opportunities and contacts.

For hardware geeks and everyone who just wants to learn more about the Internet of Things and connectivity.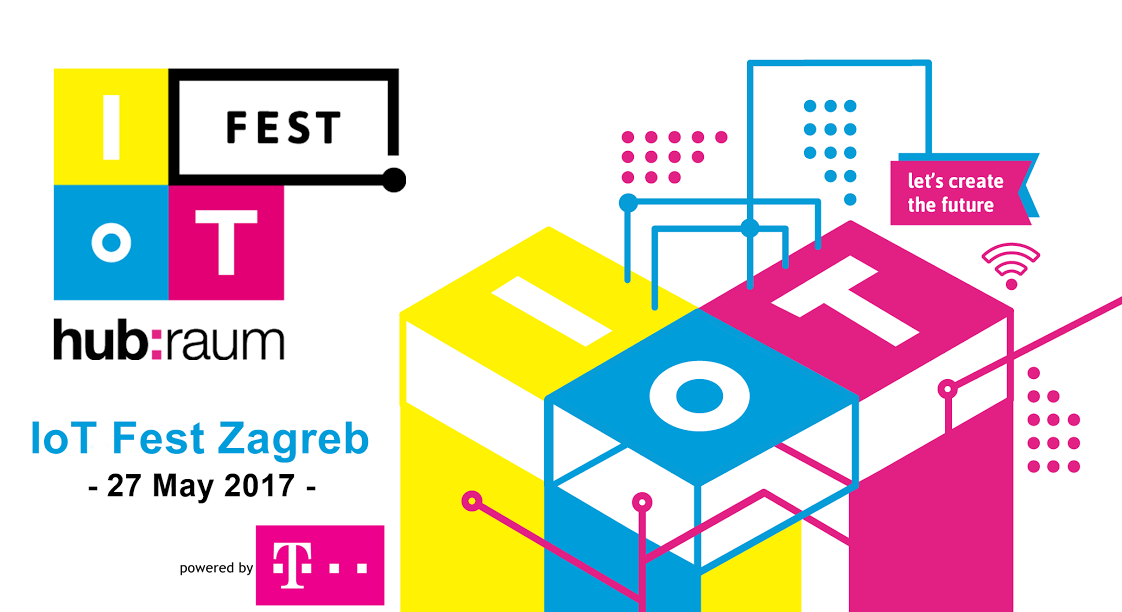 Clear your calendars, save the date and join IoT Fest in Zagreb. IoT creators, hub:raum Kraków and Hrvatski Telekom invite all IoT enthusiasts, startups, companies and students to celebrate this important day together!
VISIT EVENT WEBSITE AND REGISTER NOW!
IMPORTANT: We do not register via Eventbrite, go to: www.iotfestzagreb.splashthat.com to register.
If you have any questions, want to give a presentation or show your products at IoT Showroom, do not hesitate to contact us: natalia.sokal@comecreationsgroup.pl
See what happened at the previous IoT Fest in Kraków