iOS vs Android Hackathon - Melbourne

Saturday, November 19, 2011 at 9:00 AM

-

Sunday, November 20, 2011 at 7:00 PM (AEDT)
Event Details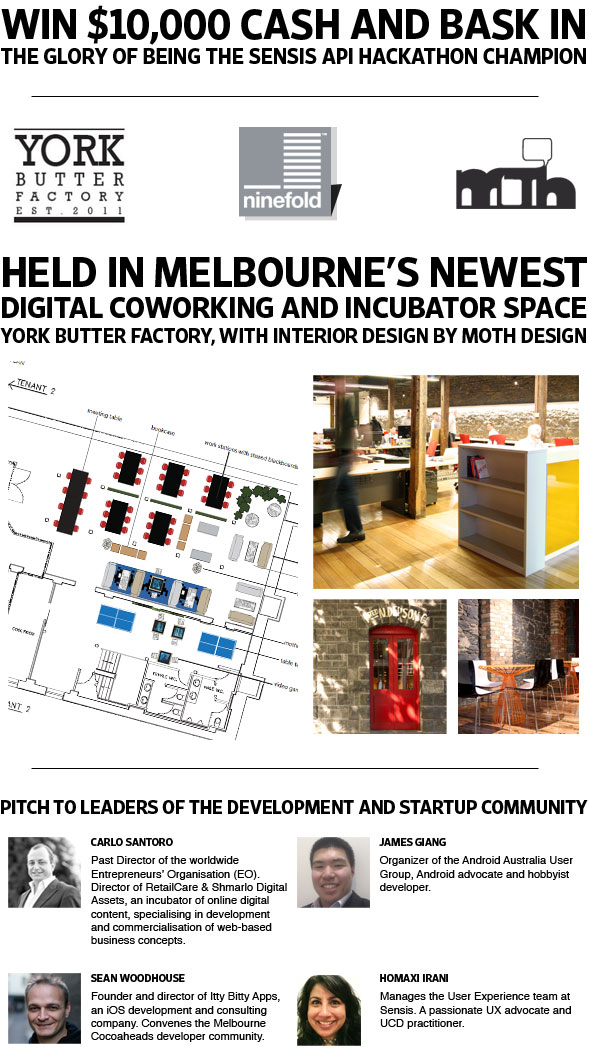 ---

All code remains intellectual property of developers.
Build the best MVP (Minimum Viable Product) that leverage SAPI.

Winning team receives $10,000 cash prize & two full days of product design support from Sensis Head of UX & Design & promotional support through the Sensis Developers Centre API gallery.
Further spot prizes will be announced - stay tuned!
Teams compete on SAPI Code Juicer for 1st selection of a unique business category (ex. Entertainment, Hair & Beauty, Home and Garden, Mobile Businesses, etc.) around which to develop  app concept.
It is mandatory for teams to use SAPI in some capacity, it does not have to be the only service or even the primary service to power the app.
Mash-ups with other API services are encouraged to create truly innovative product concepts.
Note: The event is open to Sensis developers however they & their teams are ineligible for prizes. 
---

SATURDAY
9am - 10:30am
Welcome & Introduction
10:30am – 12:00pm
Categories announced
Brainstorm
12:00pm – 12:30pm
Lunch is served
12:30pm – 7:00pm
Work
7:00pm – 8.00pm
Dinner: Beers & pizza
8:00pm – 10:30am
Work
SUNDAY
10:30am – 11:30am
Code Freeze
Brunch: Brekky burritos & muffins
11:30am – 3:30pm
Work
3:30pm – 4:30pm
Pitch / Presentation Preparation
4:30pm – 6:00pm
Pitch / Presentation
Awards Ceremony
---

1. (20%) Depth of integration with the Sensis API:
Does the application take advantage of the unique functionality & geo-location features offered by the Yellow Pages & White Pages Business Directories?
2. (20%) Utility:
Is the application useful to a consumer or businessperson?
Does it help businesses & customers connect?
3. (20%) User experience:
Is the application easy to use?
Is the information easily accessible?
4. (20%) Level of innovation:
Does it solve a business and/or customer problem?
Does it satisfy an unmet or unrealized need?
Is the application unique or innovative?
5. (20%) Build quality:
How robust is the application?
How far developed is the application?
We welcome teams of all sizes and will take into account how many people worked on an application when judging results.
---

1.Time: The event runs from 9am Saturday 19th November to 6pm Sunday 20th November. Idea brainstorming runs 10:30 – midday Saturday. Coding may begin from midday onwards. All coding & development will be halted at 3:30pm SHARP on Sunday 20th. Pitch preparation & presentations will follow with judging and awards to end the event.
2. Prior Work: applications in development prior to the Hackathon are allowed, if this is declared when presenting to judges.
3. Registration: all Hackathon participants must register HERE before Monday 14th November 2011
4. SAPI: The development tools and frameworks are entirely up to the participants but they must be built using the Sensis API. Participants are not restricted to only using the Sensis API, but in fact are encouraged to mash-up our content with other 3rd party APIs wherever possible.
5. Tools: Participants are expected to BYO tools & software necessary to build their entry.
6. IP: Participants will retain ownership of all intellectual property in any code developed by them during the course of the Hackathon.
7. Prizes: Winning team will receive a $10,000 cash prize & two days of product design support from Sensis Head of UX and Design & promotional support through the Sensis Developers Centre API gallery. Further prizes will be announced - stay tuned!
8. Participation: Employees, contractors and partners of SAPI are welcome to participate in the Hackathon but are not eligible to receive prizes.
9. Presentation: Participants must present their applications to the judging panel at 4:30pm on Sunday 20th November 2011.
10. Liability: to the maximum extent permitted by law, Sensis is not liable to participants whether in contract, tort (including negligence), statute or otherwise for any liability (including for any indirect, special or consequential loss or damage) arising out of or in connection with the Hackathon or these rules.
11. Awards: Prizes will be awarded by 6pm on Sunday 20th November 2011.
12. Rules are subject to change if necessary at the discretion of SAPI.

Have questions about iOS vs Android Hackathon - Melbourne?
Contact Sensis
When & Where

The York Butter Factory
66 King St
Melbourne, Victoria 3000
Australia

Saturday, November 19, 2011 at 9:00 AM

-

Sunday, November 20, 2011 at 7:00 PM (AEDT)
Add to my calendar
Organizer
The Sensis® Business Search API (SAPI) puts powerful tools in the hands of developers, allowing them to search & publish Yellow Pages® & White Pages® Directory Listings.