Multiple Dates
IODA virtual gathering - 15,16, 17 October 2020
IODA invites you to a free festival, a journey across the OD world over 3 days to refresh, reconnect and reflect.
About this event
We've missed you this year! We may not be able to gather in person, but we would love to be with you through this virtual festival. In the great tradition of IODA gatherings, there will be local hosts, cultural experiences, sharing, music and dancing. The event is open to all, those in the OD field and beyond. You can join one, two, or all three of the three-hour sessions, it is up to you.
Day 1. 15 October 9am-12 noon New York time. We wake up our senses the Americas. Your hosts include Claudia Raffo from Chile and Karen Davis, Jen Freeman, and Kris Lea from the US.
Day 2. 16 October, 2pm-5pm CET / South Africa time. We travel to Africa and Europe and reflect on our role as OD in these times of systemic change. Your hosts include Michelle de Bruyn from South Africa, Noble Kumawu, Gloria Sarku Kumawu and Emmanuel Goodglory from Ghana, Ulla Nagel and Silke Haebold from Germany, with a special guest appearance by Alfredo Mazive from Mozambique.
Day 3. 17 October, 6pm-9pm Bangkok time. We celebrate in Asia and Pacific, and think "where to now?" for our IODA community. Your hosts include Vinaya Chetty from India, Ken Nishikawa from Japan, Glenda Hutchinson and the team from Australia, and the ODWS Thailand team.
You may not have to be at the airport 4 hours before or experience jet lag, but you still need to deal with times zones. Don't forget to click on the calendar invite in your confirmation mail to have the correct time in your time zone. You can also click on the links below to check.
Day 1: 15 October: https://www.timeanddate.com/worldclock/fixedtime.html?msg=IODA+virtual+festival+day+1+&iso=20201015T09&p1=179&ah=3
Day 2: 16 October: https://www.timeanddate.com/worldclock/fixedtime.html?msg=IODA+virtual+festival+day+2+&iso=20201016T14&p1=56&ah=3
Day 3: 17 October: https://www.timeanddate.com/worldclock/fixedtime.html?msg=IODA+virtual+gathering+Day+3&iso=20201017T18&p1=28&ah=3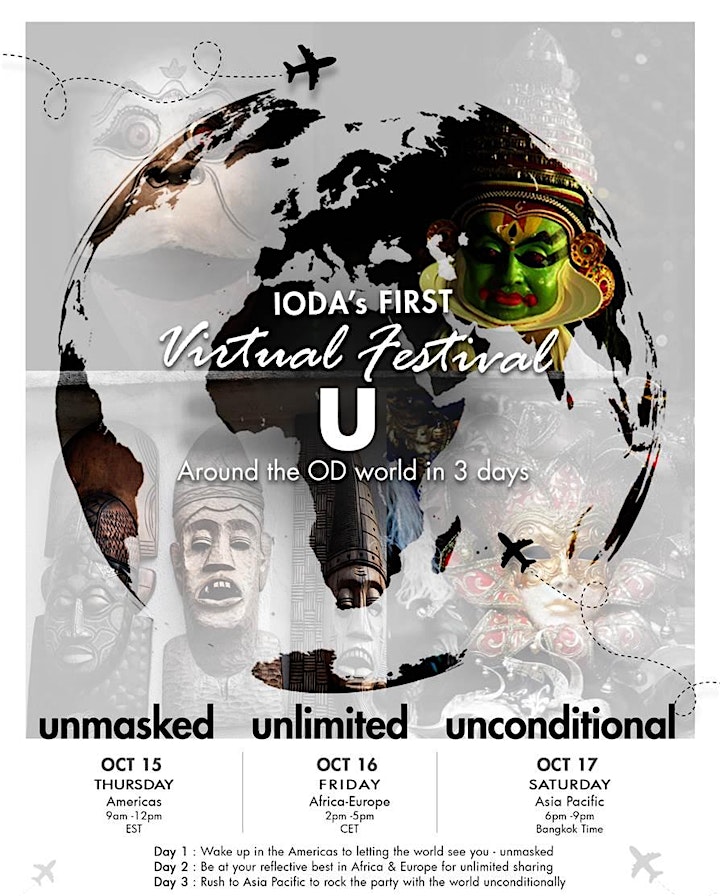 Organizer of IODA virtual gathering - 15,16, 17 October 2020