IOC Stars in Concert: Afternoon Romances - Songs & Preludes by Rachmaninoff
Independent Opera Company continues its IOC Stars in Concert series with a stunning selection of songs & preludes by Sergei Rachmaninoff
About this event
Independent Opera Company is proud to present as part of their 2021 season IOC Stars in Concert, a series of six beautifully produced concerts that showcase some of the great soloists who have appeared in IOC productions over the years.
In this, the fifth concert in this exciting new series, IOC presents a stunning selection of songs and preludes by Sergei Rachmaninov showcasing the talents of baritone Aaron Ball, soprano Brooke Iva Lohman, tenor Luke Norvell, and pianist Galina Barskaya, all whom audiences have enjoyed as featured soloists in prior installments of the IOC Stars in Concert series. These exciting artists will be joined by the wonderful mezzo-soprano and IOC veteran Alexis Welsey who sang in IOC's very first production (Eugene Onegin, 2012) and has appeared regularly on the IOC stage since.
This exciting concert premieres with a livestream on Sunday, April 25 at 2:00pm (PST). The concert will remain on-demand for ticket holders for two weeks after the livestream until May 9 at 2:00pm.
ABOUT THE PROGRAM
Sergey Rachmaninov was the last great figure of the Russian Romanticism tradition and a leading piano virtuoso of his time. Rachmaninov's music is well known and admired for its lush melodies and harmonies, as well as emotional intensity and power.
Just like all of Rachmaninov's music, his vocal works reflect on a wide range of emotions. They explore many attributes of human love: devotion, passion, tenderness, betrayal and loss, to name just a few. Also, some of the works are dedicated to the beauty of nature ("Lilacs") and the arts ("Music"). Rachmaninov was a deeply spiritual and religious person, as is reflected so well in his great choral works. While this program doesn't showcase his works dedicated to scripture, the spiritual and mysterious aspects of his compositions are undeniably present throughout.
The program will also include two preludes for solo piano performed by IOC founding artistic director & CEO, Galina Barskaya, who also serves as pianist and music director for the entire IOC Stars in Concert series.
This all-Rachmaninoff program is performed in the original Russian language and includes English-language translations in closed caption.
ABOUT THE SERIES
Independent Opera Company's IOC Stars in Concert series is graciously sponsored by the Los Angeles-based performing arts production and consulting firm Command virFormance. The first five concerts in this six-concert series are stylishly directed by Aaron Ball and filmed at the beautiful Brentwood Presbyterian Church in Los Angeles under strict COVID safety protocols. The sixth and final concert in the series, Prokoviev's Visions Fugative, is directed by the wonderful dancer, choreographer and stage director Liza Barskaya.
Independent Opera Company is supported, in part, by the Los Angeles County Board of Supervisors through the Los Angeles County Arts Commission.
Follow IOC on Facebook
Please consider making a tax-deductible donation to IOC to help us continue to produce quality programming like the IOC Stars in Concert series. Donations can be made on IOC's website at independentoperacompany.org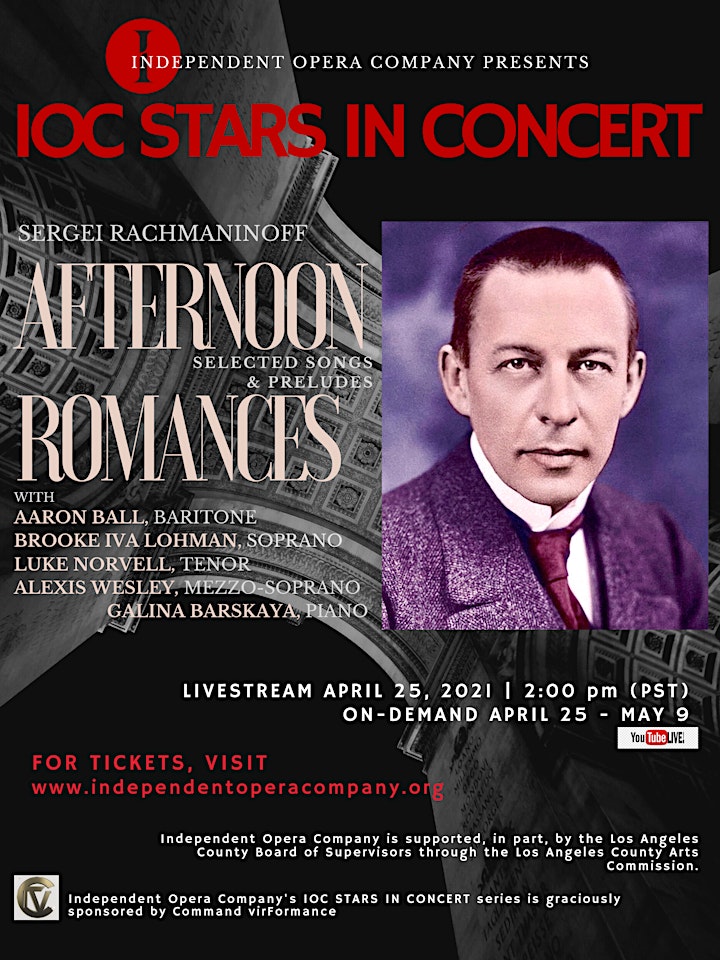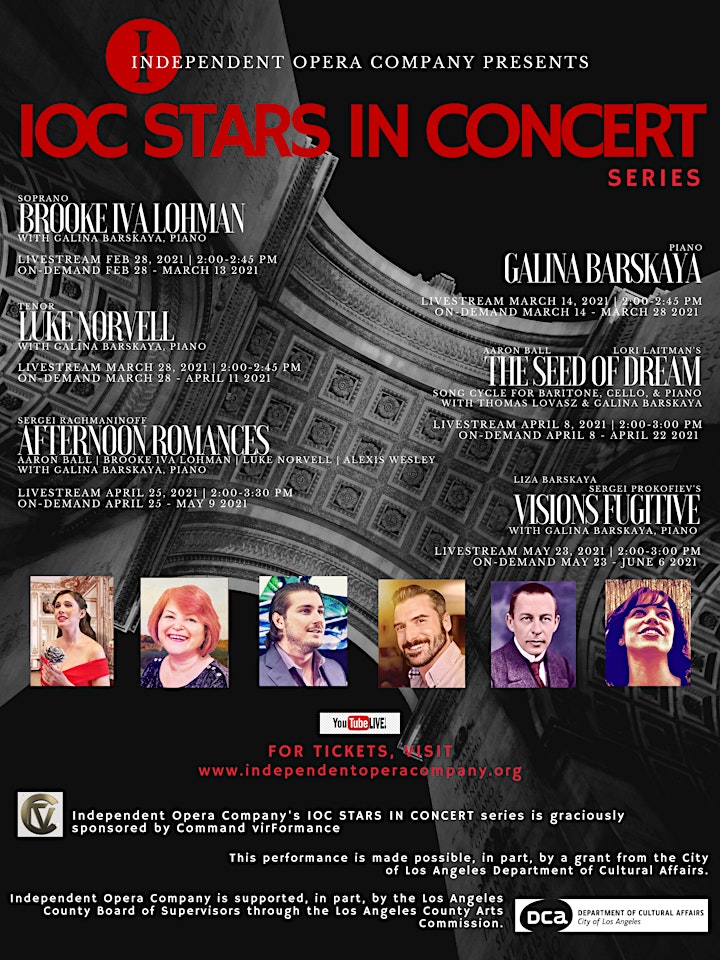 Date and time
Location
Refund policy