Description
ioby invites you to join us for our first Supper Club of 2012
Pinot en Blanc
at
iCi Restaurant
Fort Greene, Brooklyn
~white attire requested~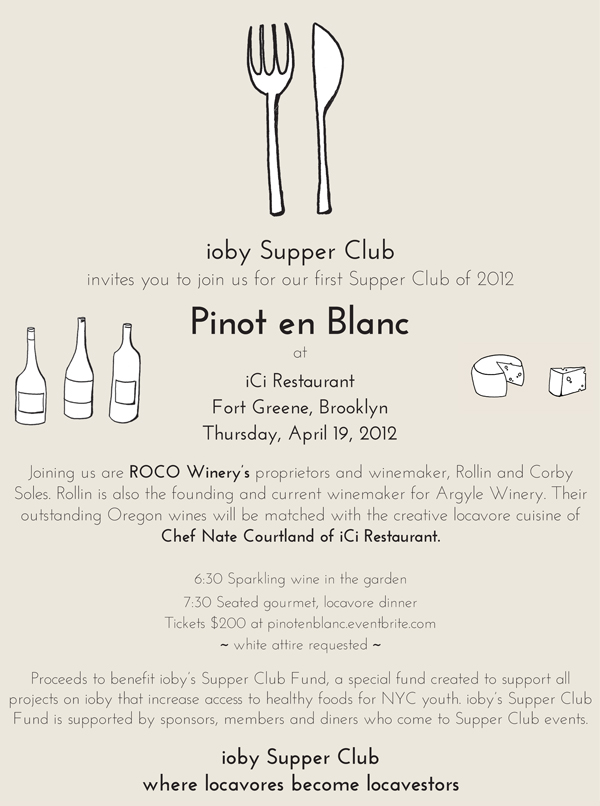 ROCO Winery's proprietors and winemaker,
Rollin and Corby Soles.
Rollin is also the founding and current winemaker for Argyle Winery.
Their outstanding Oregon wines will be matched with the creative locavore cuisine of
Chef Nate Courtland
of iCi Restaurant
Thursday, April 19, 2012
6:30 Sparkling Argyle wine in the garden
7:30 Seated gourmet, locavore dinner
$200 per person
Proceeds to benefit ioby's Supper Club Fund, a special fund created to support all projects on ioby that increase access to healthy foods for NYC youth. ioby's Supper Club Fund is supported by sponsors, members and diners who come to Supper Club events.
Stacey Ornstein, the project leader of one such project, Allergic to Salad, will be joining us for the dinner.
Since 2007, Stacey Ornstein has developed curriculum, recipes, and taught healthy, international cooking classes in NYC public school after-school programs, summer camps, gardens, ESOL classes, libraries, the Institute of Culinary Education, and at various "pop-up" locations -- many free to the public -- for kids ages 2 to 16. Current free cooking classes are funded through the Allergic to Salad program (www.allergictosalad.com) with help from ioby.org. Stacey also works with the non-profit Spoons Across America, now as Director of Programs. With Spoons, she coordinates and implements free food and nutrition curriculum into New York City public elementary schools. With this organization, my programming efforts have reached over 30,000 NYC public school students. She has developed recipes with New York Times' Mark Bittman on his cookbook, Kitchen Express, the Food Network t.v. show, Cooking for Real (Sunny Anderson), and recipe tested for Body and Soul Magazine (Martha Stewart Omnimedia). Her writing and recipes have appeared in numerous print and online publications, including a current partnership with Sustainable Table and the Kids Cook Mondays Campaign. Stacey has a Masters in History of Education from New York University.
At ioby Supper Clubs, locavores become locavestors.