Description
Whet your whistle in your finest duds at ioby's Second Annual Brooklyn Brewery Benefit In Our Backyards.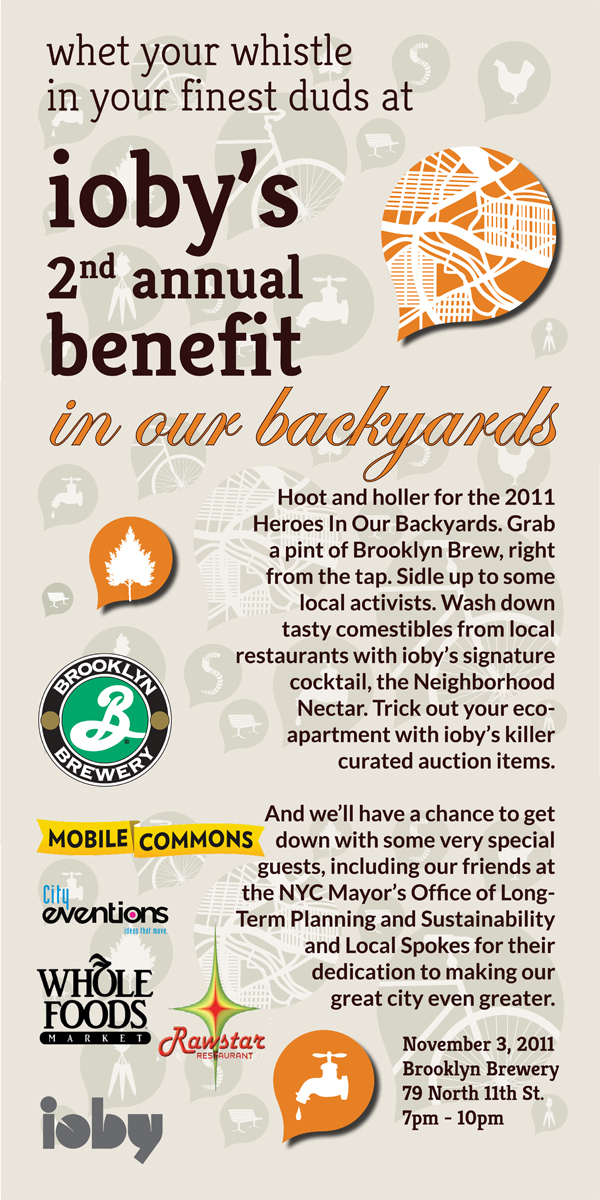 Grab a pint of Brooklyn Brew, right from the tap. Sidle up to some local activists. Wash down tasty edibles from local restaurants with ioby's signature cocktail, the Neighborhood Nectar. Trick out your eco-apartment with ioby's killer curated auction items.
And you can get down with some very special guests, and help us hoot and holler for the 2011 Heroes In Our Backyards, the ioby project leaders that exemplify the ioby spirit of dedication to community, environmental innovation and tireless dedication.
This year we are honoring the following Heroes In Our Backyards:

Bk Farmyards
Velo City
Sustainable Flatbush
The Community Association of Tompkinsville Park Promoting Arts and Fun (CATPAF)
Dred Scott Bird Sanctuary
Jackson Heights Green Alliance
Prospect Farm
Astoria Park Alliance
In addition, we have a great respect and would like to officially honor the great work of our dear friends at Local Spokes, a coalition of nine organizations brought together to make safer streets for pedestrians and cyclists in the Lower East Side and Chinatown, as well as our dear friends at the NYC Mayor's Office of Long-Term Planning and Sustainability for their dedication to making our great city even greater.
Come Join Us!

This event is put on by
ioby's fabulous Host Committee
Allison Bobman
Alyssa Arcaya
Antonia Bowring
Arif Ullah
Benjamin Shepherd
Ben Stein
Bethany Wall
Bill Browning
Brandi Colander
Brandon Whitney
Cameron Tonkinwise
Cassie Flynn
Charlotte Kaiser
Christine Rico
Devin Mathis
Devona Sharpe
Dylan House
Eric Ng
Erin Barnes
Irene Nielson
Helen Ho
Jennifer Harris-Hernandez
Jessie Singer
Joanna Micek
Kwaku Aning
Lourdes Hernandez-Cordero
Karen Washington
Kate Zidar
Matt Leiker
Max Joel
Nate Storey
Rachel Bogin
Sara Pesek
Soren Meischeid
Tal Bar-Zemer
Organizer of ioby's 2nd Annual Benefit In Our Backyards