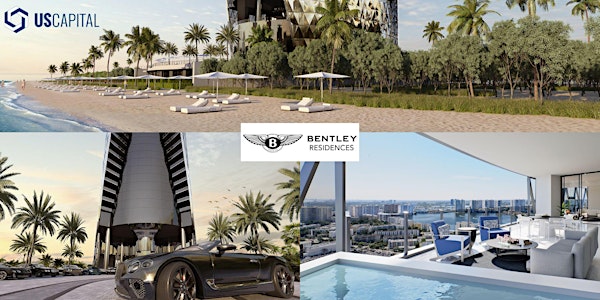 Invite Only - US Capital Global's Mixer at The Bentley Residences Miami
INVITE ONLY - US Capital Global's Mixer at The Bentley Residences Miami
Date and time
Thursday, February 2 · 6 - 8pm EST
Location
Bentley Residence Miami 18325 Collins Ave Sunny Isles Beach, FL 33160
Refund Policy
Contact the organizer to request a refund.
Eventbrite's fee is nonrefundable.
About this event
- INVITE ONLY -
Please join US Capital Global on Thursday, February 2nd for cocktails, canapés, and cars!
We are honored to host a cocktail party for the premiere of the Bentley Residences Miami.
About: BentleyResidencesMiami.com
BENTLEY RESIDENCES MIAMI CELEBRATES A CENTURY OF INNOVATIVE LUXURY — CREATING EXTRAORDINARY HOMES DESIGNED TO A LEVEL OF FINISH AND CRAFTSMANSHIP THAT HAVE FOREVER DEFINED THE BENTLEY MARQUE.
THE COMPANY - Formed in 2015, Hover Energy, LLC, (the "Company") aims to provide distributed energy solutions in the built environment. The Company's proprietary Wind-Powered MicrogridTM is an economical, low maintenance, advanced system engineered for rooftop installation on new or existing commercial and industrial buildings. The Company has partnered with several large commercial firms and international partners to refine its design, initiate manufacturing, and to perform installations. This month, the Company announced it would scale production with its long- time manufacturing partner, Jabil, Inc.
The Company's value proposition is far more than just wind energy. The Company enables clients to build onsite energy independence and energy security, which in turn positions them as an energy transition leader, using its wind technology as a launching point. The Company is in final discussions to acquire a commercial scale in-house solar solutions provider, further expanding the solutions for their clients.
THE TECHNOLOGY - The Hover Wind-Powered MicrogridTM combines wind, solar, electronic controls, and battery storage to deliver a reliable, high volume of power. The proprietary, patented design also maximizes aerodynamic and power generation performance. The microgrid consists of three distinct blocks:
• Wind/Solar Arrays, which generate energy from wind and sun and integrate with a building's energy system. The Company's unique, wind-flexible technology results in laminar air flow, which allows it to operate safely in urban areas and bypass the installation of costly transmission lines. Solar arrays generate energy during daylight, peak hours for electricity use.
• Integrated Energy Management System (IEMS) connects with each component (wind, solar, other) of the microgrid and directs the most efficient energy usage allowing more than one energy source to be utilized simultaneously to maximize onsite power creation. It includes the charge controller, generator, inverter, and regenerative drives.
• Battery Bank stores energy generated by the system. It is essential due to the intermittent nature of renewable energy and ensures islanding can be achieved.
Executive Summary: uscapitalglobal.docsend.com/view/s/ceunvse4z92yswp5
(For qualified investors only)
SPONSOR:
Experience Innovation + Excellence
Halloran Farkas + Kittila LLP is a law firm focusing on corporate, regulatory, and complex commercial matters, regularly serving as counsel for companies and individuals.
REPRESENTING CLIENTS IN: Corporate, Litigation, Intellectual Property, Regulatory, Real Estate,Arbitration, and Mediation
Our Vision - HFK Law leverages our combined experience to provide clients with the expertise of a large firm, but with the nimbleness and efficiency of a boutique shop.
Company Contact:
Mark D. Hobson . Partner - Miami, FL - mdh@hfk.law
About the organizer
The US Capital team offers you unique synergy across its expanding spread of financial products and services, under a single flagship brand with international reach, US Capital Global. We have provided asset management and corporate finance services to our clients for over 20 years. Our integration of client services across investment banking and wealth management enables an overall strategy of maintaining consistent balance across asset classes, risk profiles, and liquidity goals. We can serve you internationally with relationships in most global financial centers. 

The US Capital Global brand includes US Capital Global Investment Management, US Capital Global Securities, US Capital Global Wealth Management, US Capital Global Realty, and our Corporate Finance division.