Sales Have Ended
Registrations are closed
Please register for our waiting list if you have not yet been able to RSVP.
Sales Have Ended
Registrations are closed
Please register for our waiting list if you have not yet been able to RSVP.
Description
TEL AVIV INTERNATIONAL SALON
Top Decision Makers Speaking With TLV Young Professionals
The Great Debate Series Presents:
"Avoda vs. Likud"
with
Merav Michaeli (Avoda Party)
&
Tzipi Hotovely (Likud Party)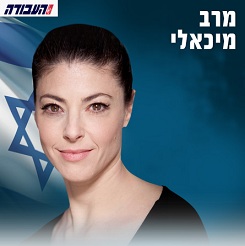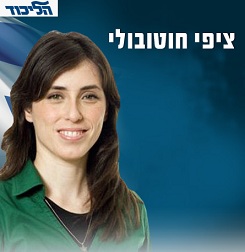 Date: Tuesday, January 15th, 2013
7:30pm-10:00pm
Venue: Federation Hall at Hangar 11, Namal Tel Aviv
Cost: 20nis
Payment will be made at the door
Attendance is strictly limited, RSVP above now
To request "on the record" press access, email Press@TLVSalon.com with your credentials
About the Debaters:
Merav Michaeli
Merav Michaeli, born 1966 in Petach Tikva, is an Israeli journalist, TV anchor, radio broadcaster and left-wing activist. In October 2012, she announced her that she was joining the Labor Party, and intended to run for in the 2013 general election. On November 29th, Michaeli won a realistic fifth place on the Labor Party's roster.
Merav is an outspoken feminist and often speaks out against the institution of marriage which she sees at manipulating women's role in society. She has also called to cancel the drafting of women into the IDF because she claims that military service ingrains in Israeli society the status of inferiority and subordination of women. In celebration of sixty years of Galgalatz radio, she called on mothers to not send their children to serve in the IDF, due to "the ongoing occupation for over 40 years and the Israeli government's lack of making a real effort to solve it." Merav is a board member of the "Israeli Peace Initiative" organization, which aims to turn the Saudi Initiative (normalization with all of the Arab states and an agreement with Palestinians) into a reality.
Tzipi Hotovely
Tzipi Hotovely, born 1978 in Rehovot, is an Israeli politician, lawyer, and a doctorate student at the Faculty of Law in Tel Aviv University. Tzipi graduated from Bnot Akiva, a national-religious high school for girls in Tel Aviv. She subsequently served two years of national service with the IDF as an instructor in Beit HaRav Kook in Jerusalem, and in the USA for the Jewish Agency.
Tzipi practices Orthodox Judaism and is a member of the Knesset as a self-described "religious right-winger" for the Likud party. When first elected at the age of 30, she was the Knesset's youngest ever member, and today she is 9th on the Likud list for elections. She has been described as the "ideological voice" of the Likud Party. She regularly campaigns for improved women's rights, and serves as the head of the Knesset Committee on the Status of Women. Tzipi has advocated for a "one-state solution", with Israeli sovereignty from the Jordan to the Mediterranean.
About the Moderator: Lahav Harkov
Lahav Harkov, the Knesset reporter for The Jerusalem Post, has interviewed major figures across the Israeli political spectrum and is well-connected to the country's top lawmakers.
Harkov is often invited to lecture on Israeli government and politics, and international news outlets, such as the BBC, France 24 and Sky News seek her insights and analysis about breaking news. She has published articles in The Jewish Week and the Hebrew-language newspaper Makor Rishon, as well as Jewish culture website Jewcy.
Harkov grew up in New Jersey, making aliyah at age 17, where she did two years of National Service (Sherut Leumi) at museums dealing with Jewish and Israeli history. Harkov has a degree in Political Science and Communications at Bar-Ilan University, where she is currently pursuing a Master's degree in Creative Nonfiction Writing.
About the Organization: Tel Aviv International Salon
The Tel Aviv International Salon was established in 2009 to provide a challenging, thought-provoking and intellectual discussion forum for the young Tel Aviv international and Israeli community. There are an increasing number of motivated young professionals who are choosing to make Tel Aviv their home. The Salon provides this community a unique forum to learn about, debate and discuss Israeli, Jewish and global politics, history, economics, media, social, cultural and environmental issues with the top leaders in these fields.
Like the Salons on Facebook: www.facebook.com/TelAvivInternationalSalon
For more information please email us at: Info@TLVSalon.com
This event is co-sponsored by Olim outreach organizations for both parties;
Avoda Internationals & Likud Internationals