INVITATION: Slideluck- Celebration of Food & Art, Thurs. Sept. 13th, 6:30pm...
Description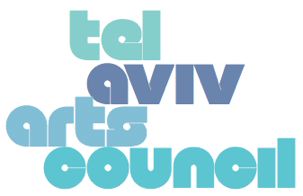 Tel Aviv Arts Council
with Ari Fruchter & Ili Cohen
Presents:
Slideluck TLV II
A Celebration of Food & Art for the New Year
Date: Thursday, September 13th, 2012
Opens 6:30pm, 7:00pm Dinner, 9:30pm Show

Venue: Hangar 11, Namal Tel Aviv

Cost: 40nis (with your own potluck vegetarian dish)
60nis (without bringing food)
85nis (at the door if tickets are still available)

Payment can be made above with Paypal.
Tickets are limited, reserve today
Free Brooklyn Brewery beer, Namal restaurants tastings, and vegetarian potluck buffet included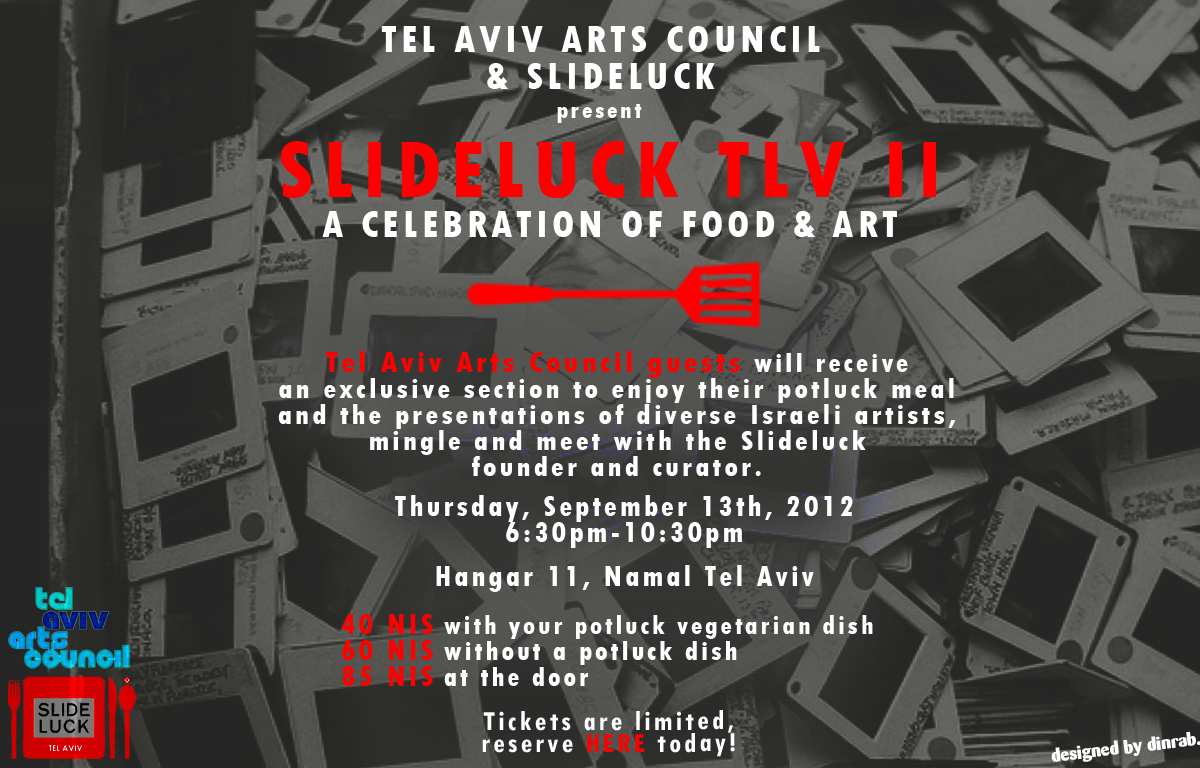 About the Event: Slideluck TLV
New York, London, São Paolo, Milan, Los Angeles, Barcelona, Nairobi, Chicago, Mexico City, Copenhagen, Toronto, Seville, Rome, Bogotá, San Francisco, Madrid, Amsterdam, Stockholm, Bucharest, Berlin, Panama City, Montrèal, New Orleans, and once again Tel Aviv.
You are invited to join us for the 2nd Israeli edition of Slideluck. What are we talking about? This unique event is an opportunity to enjoy great art, delicious food, and amazing people. The evening begins with a two hours of mingling and dining on the home-cooked vegetarian delights (kosher options will also be available) of those who attend, and then the lights are dimmed, the crowd is hushed, and a spectacular art slideshow commences with the works of 20 Israeli and International artists. The potluck dinner begins at 7:00pm and at 9:30pm the art slideshow commenses. www.facebook.com/SlideluckTLV
Slideluck is a New York City-based, non-profit arts organization that provides an opportunity for artists and arts-appreciators to gather around food, friends, and artwork for an unforgettable night. This event, which began in a Seattle backyard over twelve years ago, regularly draws crowds of over a thousand people and is finally returning to Tel Aviv. www.slideluckpotshow.com
Slideluck TLV II will be co-curated by Vardit Gross and Casey Kelbaugh. Vardit is an art critic and curator based in Tel Aviv. She worked as a curator of public art at Creative Time in New York and is the resident art columnist at Yedioth Aharonot newspaper. Casey is an NYC-based photographer and the founder and director of Slideluck. He has curated more than 100 slideshows around the world.
About the Organization: Tel Aviv Arts Council

The Tel Aviv Arts Council celebrates the creative culture of Tel Aviv by providing a venue for young professional creatives and lovers of the arts to gather while attending lectures and demonstrations by world class artists, performers, and technologists.
The common theme in our events is a playful exploration of the world around us and the search for something unique that expands our vistas and leaves one with a sense of wonder. All of our private events are non-profit, but professionally produced to provide attendees with a comfortable environment to engage with the arts community, and take place in various venues throughout our great city. (www.TelAvivArts.com) "Without vision a people perishes" - King Solomon
Like Us On Facebook: www.facebook.com/TelAvivArtsCouncil