INVITATION: "Night in the House of Fashion" Gala Opening Event, March 14, 8pm-11pm

Thursday, March 14, 2013 at 8:00 PM (IST)
Event Details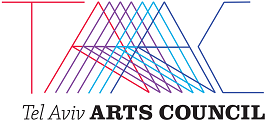 Tel Aviv Arts Council, TLVstyle, and Lilly & Bloom
Present:
 A Night in the House of Fashion : Gala Opening Event
"The Cutting Edge of Israeli Fashion, Art & Design"
- Discover sixteen of Israel's top emerging designers 
- Curated presentations by cutting edge designers & artists
- Quickie 1-On-1 stylings with experts (for men & women)
- Explore the newly renovated Lilly & Bloom House
- Multiple floors filled with innovative art, fashion, music & cocktails
Date: Thursday, March 14th, 2013
8:00pm-11:00pm

Venue: Lilly & Bloom
13 Lilienblum Street, Tel Aviv

Cost: 45 NIS Pre-Sale, 70 NIS At the Door
Drinks & Eats included

Payment can be made above with a credit card. 
Tickets are limited, reserve today
This private event is for young professoinals only
For all media requests, please email Press@TelAvivArts.com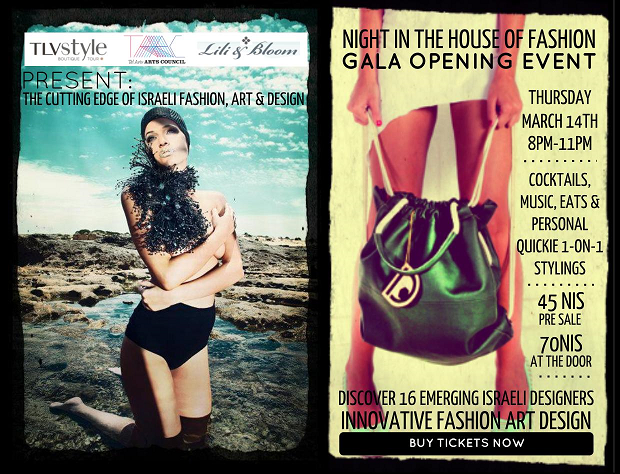 Shop Fashion & Discover Art:  
TLVstyle will be holding a weekend sale at Lilly & Bloom with our sixteen designers and various young artists starting on March 15th from 10am.   More info here.
About the Venue: Lillly & Bloom
The vision in establishing Lilly & Bloom was to create a wellbeing and development centre in the heart of Tel Aviv so people could find inner peace and contentment. We are a bilingual open centre with many different activities such as body work, dance, art, yoga, meditation, lectures on Judaism, spiritual events, workshops & classes, featuring local and international teachers.  Our preservation building at 13 Lilienblum Street was one of the first homes in the White City of Tel Aviv, built by the founder of Eden Cinema, the first cinema in Israel. Throughout its history, it has been used as a family home, a court house, a medical clinic, and a tax office. www.liliandbloom.com
About the Organization: Tel Aviv Arts Council 
"Young Patrons of the Arts Celebrating Israeli Creative Culture"
The Tel Aviv Arts Council celebrates the creative culture of Israel by providing a venue for young professional creatives and lovers of the arts to gather while attending lectures and demonstrations by world class artists, performers, and technologists. 
The common theme in our events is a playful exploration of the world around us and the search for something unique that expands our vistas and leaves one with a sense of wonder. All of our private events are non-profit, but professionally produced to provide attendees with a comfortable environment to engage with the arts community, and take place in various venues throughout our great city. (www.TelAvivArts.com)  "Without vision a people perishes" - King Solomon

For More Information: Events@TelAvivArts.com
Like Us On Facebook: www.facebook.com/TelAvivArtsCouncil

Have questions about INVITATION: "Night in the House of Fashion" Gala Opening Event, March 14, 8pm-11pm?
Contact the organizer
When & Where
13 Lilienblum
Tel Aviv
Israel

Thursday, March 14, 2013 at 8:00 PM (IST)
Add to my calendar
INVITATION: "Night in the House of Fashion" Gala Opening Event, March 14, 8pm-11pm