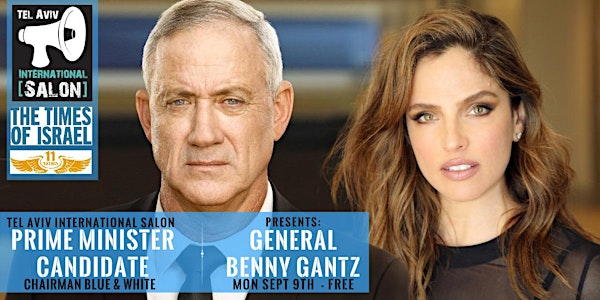 INVITATION: General Benny Gantz, Prime Minister Candidate, Mon Sept 9, 830pm
When and where
Location
Hangar 11 Tel Aviv Port Tel Aviv Israel
Description
Tel Aviv International Salon
*Top Decision Makers Speaking With TLV Young Professionals
presents the Election Series with the Times Of Israel:

Blue and White Chairman & Candidate for Prime Minister

Lt. General (res.) Benny Gantz
20th Chief of Staff of the Israel Defense Forces

In conversation with actress, producer & activist, Noa Tishby
Event will be held in-English + Q&A moderated by TOI's Raoul Wootliff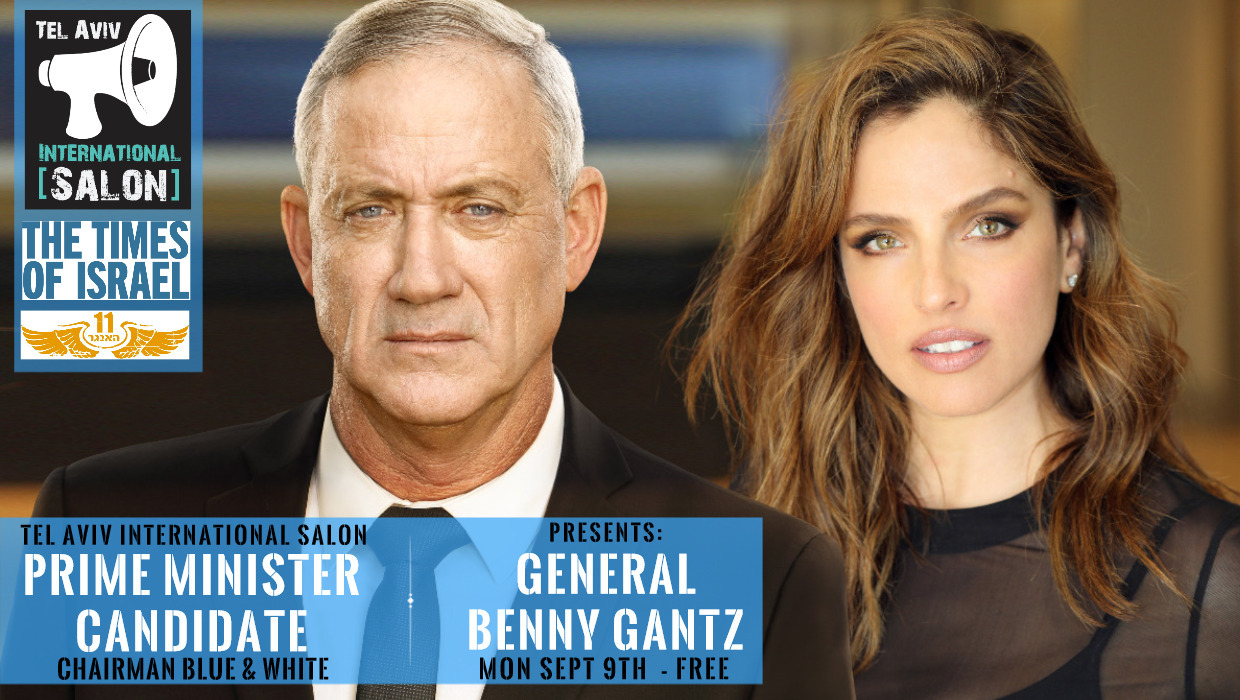 RSVP: Register Above
Date: Monday September 9th, 2019, Doors open 8:30pm

Venue: Hangar 11, Tel Aviv Port

Cost: FREE

Media welcome; but please contact press@tlvsalon.com

About Our Speaker: General Benny Gantz

Lieutenant General (Res.) Benjamin "Benny" Gantz has had a distinguished military career that included all command echelons, from platoon leader to becoming the 20th Chief of the General Staff of the Israel Defense Forces.

During his tenure, Lt. Gen. Gantz was responsible for ensuring the security of the State of Israel amidst the ever-changing realities brought about by the Arab Spring: shifting regional powers, civil war in Syria, the Iranian nuclear threat, and the rise of ISIS. In the context of a drastically changing Middle East, Gantz improved the IDF's future military capabilities on all geo-political fronts. In addition to supervising ongoing operational activities and covert Special Forces operations, he led the IDF through three major Israeli campaigns in Gaza, which threatened Israel on both the civilian and military fronts.

Lt. Gen. Gantz has the breadth of leadership experience in strategy and crisis management enabling him to speak with authority on a wide range of issues, including global security challenges, geopolitical trends, US-Israel relations, cyber-security and the changing nature of warfare in the age of Islamic terrorism.

In January 2019, Gantz established the Israel Resilience Party, and is currently running in the upcoming Israeli Elections as a Prime Ministerial candidate with the Blue & White Party in partnership with Yair Lapid, Bogie Yaalon and Gabi Ashkenazi, aiming to establish a national government on September 17th.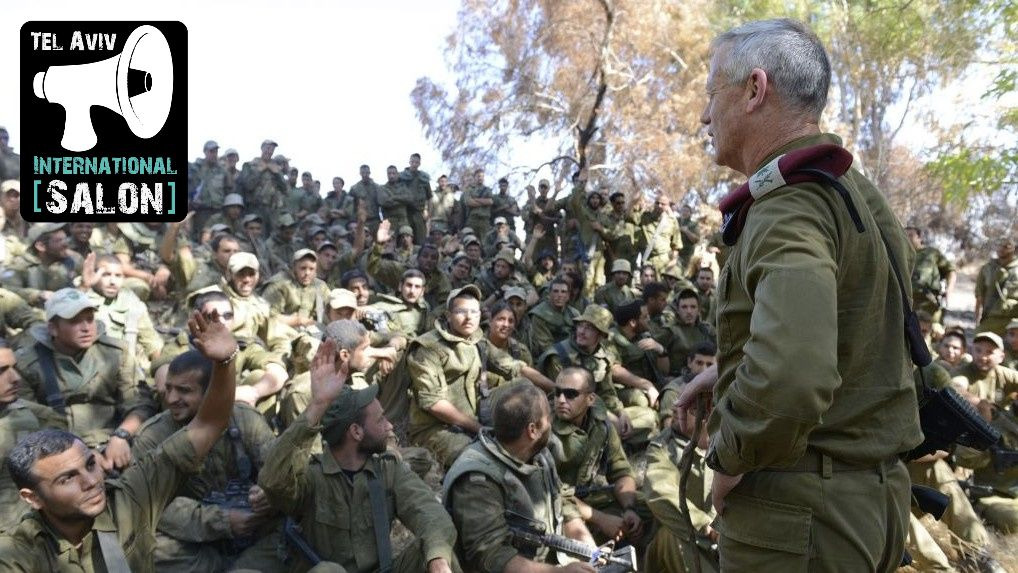 (Photo:IDF Spokesman Unit)
Noa Tishby was born and raised in Tel Aviv. Beyond her illustrious career as an accomplished actress and producer, she is a mentor for Women In Film, and is a member of AIPAC (the American Israel Public Affairs Committee). Noa has traveled to Washington, D.C. to lobby on Capitol Hill as a member of The Israeli Consulate Speakers Bureau and the ILC (Israeli Leadership Council). Socially and politically passionate, in 2011 Tishby founded the first online advocacy and rapid response organization Act For Israel and became a powerful voice for the Middle East. She travels the world on speaking engagements, is a contributor to publications such as The Huffington Post, The Jewish Journal, and Ynet, was recognized as one of the 50 Most Powerful Jews in the World and was on Hollywood Reporter's Women in Power list of international executives.

In 2014 Noa initiated and co-created the partnership between The Schusterman Foundation and Summit Series Organization "Reality" which is responsible for bringing over 1500 young professionals in tech, music, arts and science to Israel. She was also honored to speak at the United Nations General Assembly raising awareness against BDS. Noa served in the Israeli army for two and a half years, and now lives between Israel and LA.

The BLue and White party is asking that if our event attendees would like, they can submit in advance an answer to this simple question. "Why does Israel come first for you?" The five most inspiring reasons will be read on stage by Noa Tishby at our Salon event. If you would like to submit an answer, please click here: http://bit.ly/kKLevents.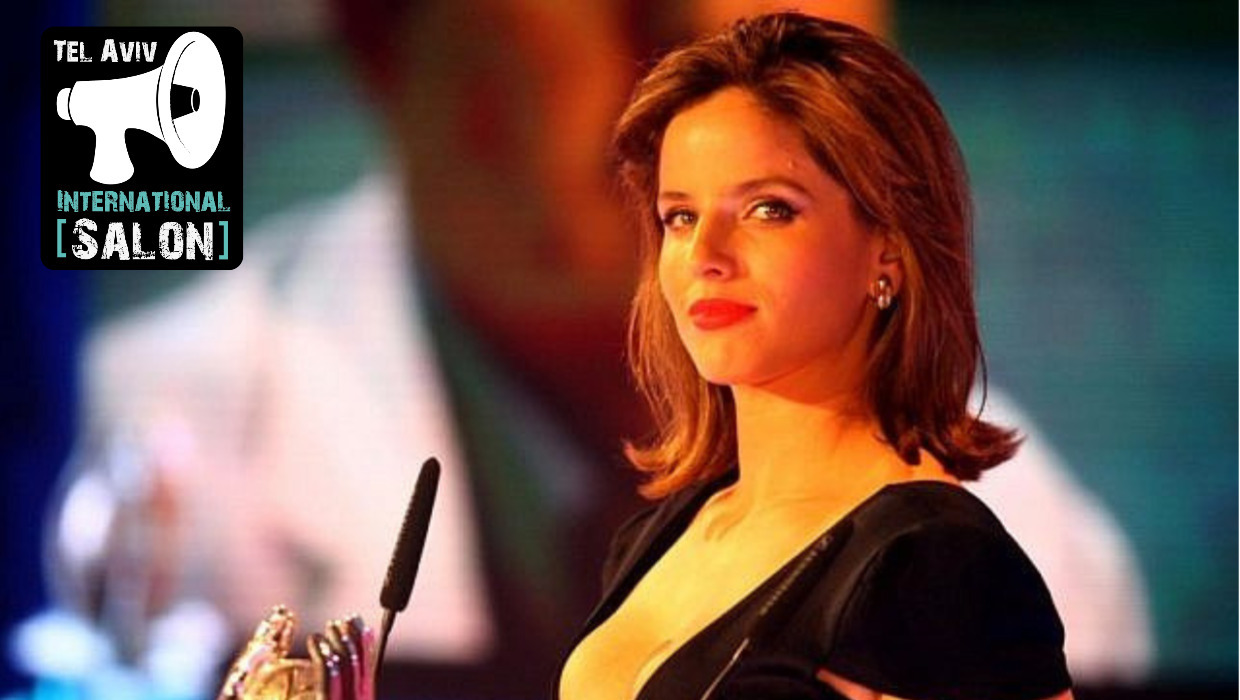 (Photo:Abir Sultan/Flash90)
About Our Partner: Times Of Israel
The Times of Israel is the market leader in independent English language journalism from Israel. Based in Jerusalem and covering news and views from across the region and the Jewish world, The Times of Israel has a readership of over four million (and rising) worldwide, with an average of over 25 million monthly page views. Committed to fair-minded, non-partisan reporting, recognized for hard-hitting investigative journalism, and celebrated for its diverse and vibrant blog platform, The Times of Israel, uniquely, also publishes in French, Arabic and Persian. Launched just six years ago, The Times of Israel has established itself as the indispensable source of credible reporting on Israel. www.TimesOfIsrael.com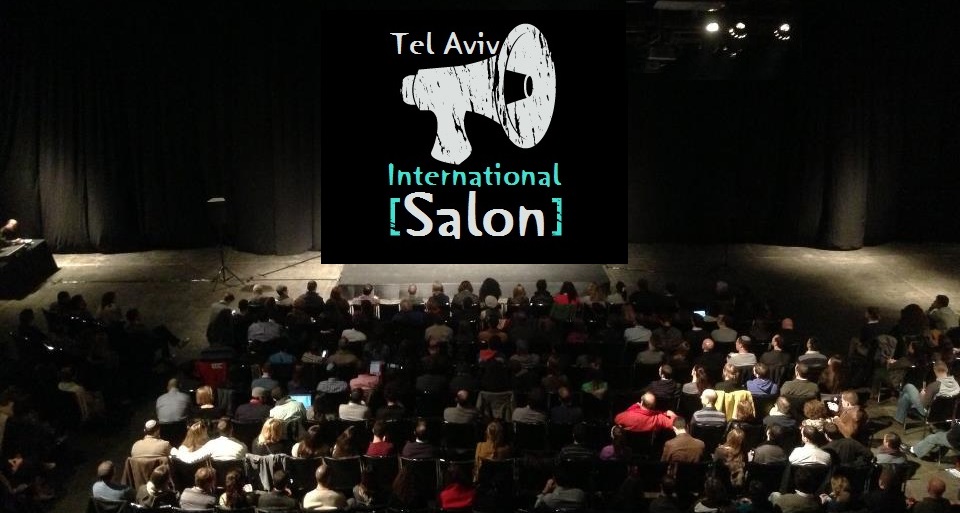 About Our Organization: Tel Aviv International Salon

ELECTIONS NOTICE: The Salons are a politically unaffiliated, honest-broker organization and as such we do not support any candidate or political party. We are proud to have a long tradition of hosting the leading candidates from all sides of the political spectrum during local and national elections to speak, debate and discuss the important issues that our entire community cares about. And no matter whom you support, don't forget to vote September 17th!

The Tel Aviv International Salon is the largest speakers forum in Israel. Our nonprofit organization was established in 2009 to provide a challenging, thought-provoking and intellectual discussion non-partisan platform for the young adult Tel Aviv International and Sabra community. There are an increasing number of motivated young professionals who are choosing to make Tel Aviv their home. The Salon provides this community a unique forum to learn about, debate and discuss Israeli, Jewish and world politics, history, media, economics, social, cultural and environmental issues with a diverse range of engaging international decision makers and the leading influencers on our society.
LIKE: www.facebook.com/TelAvivInternationalSalon
EMAIL: Info@TLVSalon.com
WEB: www.TLVSalon.com