INVITATION: British Ambassador Matthew Gould, Tues. March 27th, 7:30pm

Tuesday, March 27, 2012 from 7:30 PM to 10:00 PM (IST)
Event Details
-  TEL AVIV INTERNATIONAL SALON -
Top Decision Makers Speaking With TLV Young Professionals
Presents:
Ambassador Matthew Gould
British Ambassador to Israel
Date: Tuesday, March 27th, 2012
7:30pm-10:00pm

Venue: Heseg House
46 Rothschild Boulevard, Tel Aviv
Entrance from the side of the building on Shadal Street
 Sherut buses 4 & 5 pass close to the venue

Cost: 20nis
Payment will be made at the door.
All proceeds go towards the wine, drinks, and snacks
Both the venue and speakers are provided gratis
Patrons must register above to attend
About the Speaker: Ambassador Matthew Gould
Matthew became the British Ambassador to Israel in September 2010 at the age of 39. He is the first Jewish Ambassador that Britain has sent to Israel.
Since arriving in Israel he has travelled extensively around the country, set up the UK-Israel Life Sciences Council, launched a major push to promote UK-Israel high-tech links, and hosted numerous top level British visitors. He is also learning Hebrew, slowly.
He previously served as Principal Private Secretary (Chief of Staff) to the Foreign Secretary (both David Miliband and William Hague). Before that he worked briefly as Private Secretary for Foreign Affairs for Tony Blair and then Gordon Brown in Downing Street. He was Robin Cook's speechwriter from 1997 to 1999. He has done four diplomatic postings overseas:
- In Washington he was Foreign Policy counsellor and representative of the Joint Intelligence Committee
- He was the Deputy Head of Mission at the British Embassy in Iran (2003-5), and spent five months as Acting Ambassador
- He spent a year in Pakistan just after 9/11 heading up the Embassy's political section
- As the political officer at the British Embassy in Manila (1994-7), he was awarded the MBE for setting a programme of co-operation on tackling child abuse between British and Philippine police
Matthew attended Cambridge, spent a year teaching English in Zimbabwe, is an enthusiastic show jumper, skier and scuba diver, and owns a horse, stabled just outside of Netanya.  He lives in Ramat Gan with his wife Celia, daughter Rachel Elizabeth who was born in Tel Aviv, two labradors, and three cats.
About the Venue: Heseg House 
The HESEG Foundation provides full academic scholarships and living expenses to former Lone Soldiers from all over the world who have completed their service in the Israel Defence Forces (IDF) and have chosen to make Israel their home. These remarkable individuals leave their families and friends behind, and are driven by their ideals and commitment to Israel's security and future. HESEG (which means "achievement" in Hebrew) was established as a way to honor the contribution of Lone Soldiers to Israel, by providing them with an opportunity, through education and career development, to start a life in Israel.
Like the Salons on Facebook: www.facebook.com/TelAvivInternationalSalon
For more information please email us at: TLVInternationals@gmail.com
When & Where

Heseg House
46 Rothschild Blvd.
Tel Aviv, Tel Aviv
Israel

Tuesday, March 27, 2012 from 7:30 PM to 10:00 PM (IST)
Add to my calendar
Organizer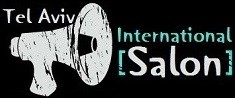 The Tel Aviv International Salon is the largest speakers forum in Israel. Our nonprofit organization was established in 2009 to provide a challenging, thought-provoking and intellectual discussion non-partisan platform for the young adult Tel Aviv International and Sabra community. There are an increasing number of motivated young professionals who are choosing to make Tel Aviv their home. The Salon provides this community a unique forum to learn about, debate and discuss Israeli, Jewish and world politics, history, media, economics, social, cultural and environmental issues with a diverse range of engaging international decision makers and the leading influencers on our society.
Former speakers at the Salon have included CIA Director James Woolsey, NYC Mayor Rudy Giuliani, Alan Dershowitz, Meir Dagan, Benny Gantz, Boujie Herzog, Ayelet Shaked, Yair Lapid, Naftali Bennett, Tzipi Livni, Bogie Yaalon, Avigdor Liberman, Chief Rabbi Yisrael Meir Lau, Natan Sharansky, Dr. Ruth Westheimer, UK Ambassador Matthew Gould, & US Ambassador Dan Shapiro.
For more information:
Email: Info@TLVSalon.com
Web: www.TLVSalon.com