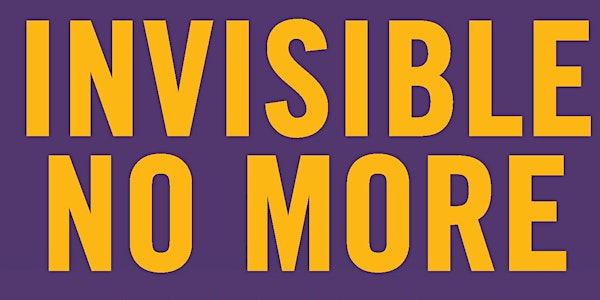 Invisible No More: Resisting police violence against Black women and women...
Location
Barnard College
3009 Broadway
New York, NY 10027
Description
Featuring Barbara Smith, Kimberlé Crenshaw, Reina Gossett, Mariame Kaba & Robyn Maynard
As the pendulum swings toward intensified immigration enforcement, discredited drug war tactics, expansion of "broken windows" policing, rampant Islamophobia, and attacks on gender, sexual and reproductive liberation, the current political climate fuels police violence against Black women and women of color on every front. In this context, women of color's experiences of policing – often invisible in broader debates – must in turn fuel our resistance.
Join activists and scholars including Barbara Smith, Kimberlé Crenshaw, Reina Gossett, Mariame Kaba & Robyn Maynard for a two day conference exploring and building on the themes, trends, and organizing strategies outlined in the recently released Invisible No More: Police Violence Against Black Women and Women of Color by BCRW Researcher-in-Residence Andrea J. Ritchie. Through strategic discussions, participants will not only delve into the multiple forms and contexts of police violence against women of color, but will also work to collectively identify strategies to challenge the conditions that produce them, and thus begin to radically re-envision our approaches to violence and safety.
ASL and Spanish language interpretation will be provided on Friday.
This venue is accessible to people with mobility disabilities. For additional accessibility requests, please contact bcrw@barnard.eduat your earliest convenience.
NOTE: This event is free and open to the public. However, the event is closed to the media in order to create an environment where participants are able to more freely share their personal experiences and perspectives. Due to high levels of interest in the conference and limited space, priority will be given to individuals who have RSVP'd to the event. At the beginning of each session, once everyone who has RSVP'd has been accommodated, remaining seats will be made available on a first come first served basis.
PROGRAM
FRIDAY, NOVEMBER 3
4 PM – 8:30 PM
4:15 – 5:45 PM – Policing Gender and Sex
6 - 6:30 – Honoring Women We Have Lost to Police Violence
6:30 – 7:30 PM – Evening Roundtable Discussion
Panelists: Kimberlé Williams Crenshaw, Reina Gossett, Mariame Kaba, Robyn Maynard & Barbara Smith
7:30 – 8:30 PM – Reception
Books will be available for sale during the reception
SATURDAY, NOVEMBER 4
9 AM – 6 PM
8 AM – 9 AM – Registration and breakfast
9 AM – 10:30 AM Policing Motherhood
10:30 AM – 10:45 AM – BREAK
10:45 AM – 12:15 PM – Police Responses to Violence
12:15 PM – 1 PM – LUNCH
1 PM – 2:30 PM – Policing Girls
2:45 – 4:15 – Criminalizing Webs
4:15 – 4:30 – BREAK
4:30 – 6:30 – Resistance Roundtable
About the Speakers
Barbara Smith earned her B.A. from Mount Holyoke College in 1969 and her MA in 1971 from University of Pittsburgh. She completed all but the dissertation (ABD) in her doctoral studies at the University of Connecticut (1981).
Smith co-founded the Combahee River Collective in Boston, Massachusetts in 1974. The organization was best known for its Combahee River Collective Statement (1977), which she co-authored with her twin, Beverly, and with Demita Frazier. This document became one of the earliest explorations of the intersection of multiple oppressions, including racism and heterosexism, critiquing both sexual oppression in the black community and racism within the wider feminist movement. For the first time, according to the Statement, black women openly and unapologetically communicated their sexual orientations in the midst of their social justice work.
The Collective disbanded in 1980. Around this time, Smith realized that very few publishing opportunities existed for female scholars of color. She and colleagues founded Kitchen Table: Women of Color Press in 1980, the first U.S. publisher of books for women of color. One of the books edited by Smith, Home Girls: A Black Feminist Anthology (1983), broke new literary ground by integrating black lesbian voices with those of other black women. Kitchen Table's success spurred the mainstream press to begin publishing these scholars.
Smith taught her first class on black women's literature in 1973 at Emerson College. She has been visiting professor, writer in residence, freelance writer, and lecturer at numerous other universities and research institutions, including Schomburg Center for Research in Black Culture (1995-1996). She entered politics in the early 21st century and was elected to the Albany, New York Common Council (city council) in 2005, where she focused on community efforts to prevent youth violence.
Among other honors, Smith received the Stonewall Award for Service to the Lesbian and Gay Community (1994). She was also nominated for a Nobel Peace Prize in 2005.
Kimberlé Crenshaw teaches Civil Rights and other courses in critical race studies and constitutional law. Her primary scholarly interests center around race and the law, and she was a founder and has been a leader in the intellectual movement called Critical Race Theory. She was elected Professor of the Year by the 1991 and 1994 graduating classes. She now splits her time each year between UCLA and the Columbia School of Law.
At the University of Wisconsin Law School, where she received her LL.M., Professor Crenshaw was a William H. Hastie Fellow. She then clerked for Justice Shirley Abrahamson of the Wisconsin Supreme Court.
Professor Crenshaw's publications include Critical Race Theory (edited by Crenshaw, et al., 1995) and Words that Wound: Critical Race Theory, Assaultive Speech and the First Amendment (with Matsuda, et al., 1993).
In 2007, Professor Crenshaw was awarded the Fulbright Chair for Latin America in Brazil. In 2008, she was nominated an Alphonse Fletcher Fellow. In the same year she joined the selective group of scholars awarded with an in-residence fellowship at the Center of Advanced Behavioral Studies at Stanford.
Reina Gossett is an activist, writer, and filmmaker. Along with Sasha Wortzel, Reina wrote, directed and produced Happy Birthday, Marsha! a short film about legendary trans activist Marsha P Johnson starring Independent Spirit Award winner Mya Taylor.
As the 2014-2016 Activist-In-Residence at Barnard College's Center for Research on Women (BCRW) Reina produced and directed No One Is Disposable, a series of cross media platform teaching tools used to spotlight the ways oppressed people are fighting back, surviving and building strong communities in the face of enormous violence. She is currently working on the short animated film The Personal Things about iconic black trans activist Miss Major.
A long time community organizer, Reina worked as the membership director at the Sylvia Rivera Law Project from 2010 to 2014 to lift the voice and power of trans and gender non conforming people and helped lead the successful campaign to end healthcare discrimination against low income trans and gender non conforming New Yorkers. She also worked at Queers for Economic Justice where she directed the Welfare Organizing Projected and produced A Fabulous Attitude, documenting low-income LGBT New Yorkers surviving inequality and thriving despite enormous obstacles. Prior to her work at Queers for Economic Justice Reina worked with Critical Resistance organizing with low income LGBTGNC New Yorkers in a campaign that successfully stopped NYC's Department of Corrections from building a $375 million new jail in the Bronx.
Reina is a 2007 Soros Justice Fellow, a 2009 Stonewall Community Foundation Honoree, and the recipient of the 2016 Ackerman Institute Community Award. Her work has been supported by the Open Society Foundation, Art Matters Foundation, and the Astraea Foundation's Global Arts Fund. She was a 2012-2013 fellow of filmmaker Ira Sach's Queer/Art/Mentorship. Along with Eric Stanley and Johanna Burton, Reina is an editor of the forthcoming New Museum anthology on trans art and cultural production to be published by MIT Press in 2017.
Mariame Kaba is an organizer, educator and curator. Kaba's work focuses on ending violence, dismantling the prison industrial complex, transformative justice and supporting youth leadership development. After over 20 years of living and organizing in Chicago, Kaba recently moved back to New York City.
Kaba is the founder and director of Project NIA, a grassroots organization with a vision to end youth incarceration. Prior to starting NIA, Kaba worked as a program officer for education and youth development at the Steans Family Foundation.
Kaba has co-founded multiple organizations and projects over the years including the Chicago Freedom School, the Chicago Taskforce on Violence against Girls and Young Women, the Chicago Alliance to Free Marissa Alexander and the Rogers Park Young Women's Action Team (YWAT) among others.
Kaba has extensive experience working on issues of racial justice, gender justice, transformative/restorative justice and multiple forms of violence, and has been active in the anti-violence against women and girls movement since 1989. She coordinated emergency shelter services at Sanctuary for Families in New York City, served as the co-chair of the Women of Color Committee at the Chicago Metropolitan Battered Women's Network, worked as the prevention and education manager at Friends of Battered Women and their Children (now called Between Friends), served on the founding advisory board of the Women and Girls Collective Action Network (WGCAN), and was a member of Incite! Women of Color Against Violence. She currently organizes with the Survived and Punished collective and is a founding member of the Just Practice Collaborative.
Kaba served as a member of the editorial board of Violence Against Women: An International and Interdisciplinary Journal from January 2003 to December 2008. Kaba is the co-editor (along with Michelle VanNatta) of a special issue of the journal about teen girls' experiences of and resistance to violence published in December 2007. She has written and co-authored reports, articles, essays, curricula, zines, and more. Currently, she is an active board member of the Black Scholar, and runs blog Prison Culture.
She was a member and co-founder of We Charge Genocide, an inter-generational effort which documented police brutality and violence in Chicago and sent youth organizers to Geneva, Switzerland to present their report to the United Nations Committee Against Torture. She is an advisory board member of Chicago Torture Justice Memorials, a group (along with Project NIA and WCG) that worked to get the Chicago City Council to pass a reparations law providing restitution to the victims of Jon Burge, a police commander who tortured more than 200 criminal suspects, most of them black men, from the 1970s through the early 1990s.
Currently she is a founding advisory board member of the Chicago Community Bond Fund. The CCBF pays bond for people charged with crimes in Cook County, Illinois. Through a revolving fund, CCBF supports individuals whose communities cannot afford to pay the bonds themselves and who have been impacted by structural violence. She is also a member of Critical Resistance's community advisory board. Critical Resistance's vision is the creation of genuinely healthy, stable communities that respond to harm without relying on imprisonment and punishment.
She is a 2016 Soros Justice Fellow, focusing her work to end the criminalization of survivors of violence.
Kaba studied sociology at McGill University, City College of New York, and Northwestern University, and has taught high school and college students in New York and Chicago, and sociology and Black studies courses at Northeastern Illinois University, Northwestern University, and Columbia University.