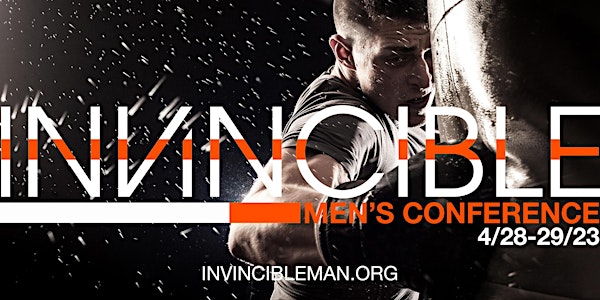 Invincible Men's Conference 2023
hosted by Brightmoor Men's Ministry
When and where
Location
Brightmoor Christian Church 40800 West 13 Mile Road Novi, MI 48377
About this event
2023 Invincible Men's Conference
Guest Speakers: Derwin Gray of Transformation Church & Mike Burnette of LifePoint Church
Website: www.invincibleman.org
Frequently Asked Questions
Is this event for men only?
Yes. This event is for men only.
Can my son come with me?
Absolutely! We recommend that you bring your son(s) to the conference! Our recommended age for boys attending the conference is 12 years and older. Student registration rates are available online.
Do I have to bring my printed ticket to the event?
Yes. Upon registration, Eventbrite will email you your ticket that gives you admittance into all the conference sessions. Please print or have your ticket available on your phone.
Can I register for just part of the conference?
The conference price includes the whole conference. There is not a one day only price. You will not want to miss any part of it.
Are group rates available?
Yes. Group rates are available for those purchasing 10+ tickets. Churches have the option of setting up a group to receive a discounted rate. Establishing a group allows a church's members to register and pay individually within that group. To set up a group, email tickets@brightmoorcc.org.
Who do I contact if I have questions about the event?
For ticket questions or general questions, email tickets@brightmoorcc.org and note MEN'S in the subject line.
What is the schedule?
April 28 @ 7 PM and April 29 @ 9 AM
Refund / Cancellation Policy
All tickets are non-refundable.
Area Hotels:
Holiday Inn Express
1.7 miles from Brightmoor
39675 Twelve Mile Road, Novi, MI 48377
(248) 344-8204
Amenities: Hot breakfast bar, free parking, Wi-Fi available, indoor pool, close to 12 Oaks Mall, about 30 miles from Detroit Metro Airport
Hampton Inn Detroit/Novi
1.8 Mile from Brightmoor
169 Loop Road, Commerce Township, MI 48390
(248) 624-8100
Amenities: Hot buffet breakfast bar, indoor pool, Wi-Fi available, close to 12 Oaks Mall, about 30 minutes from Detroit Metro Airport
Town Place Suites by Marriott
2 miles from Brightmoor
(248) 669-3200
Hilton Garden Inn Detroit
3.2 miles from Brightmoor
(248) 348-3840
Double Tree
3.5 miles from Brightmoor
(248) 344-8800