Description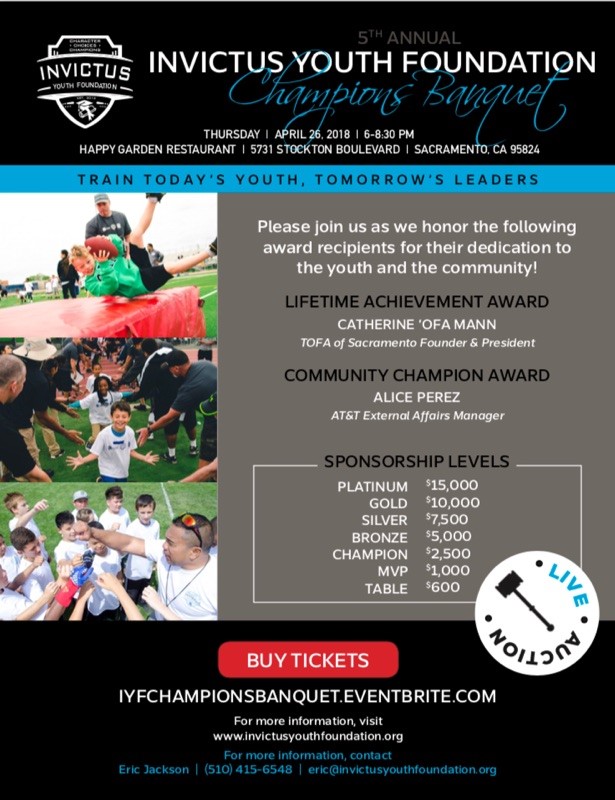 Dear Friends and Community Partners,

On behalf of Invictus Youth Foundation, I would like to invite you to join us at our 5th Annual Champions Banquet on Thursday, April 26, 2018 from 6 to 8:30 p.m. (doors open at 5:30 p.m.) at Happy Garden Restaurant located at 5731 Stockton Boulevard, Sacramento, CA 95824. Proceeds from this banquet will go towards our youth programs that help build character, choices and champions. This is our biggest fundraiser for the year and all proceeds go directly to our programs that serve youth and furthering the mission of Invictus Youth Foundation. Please attend and support our cause as neighbors helping our community "train today's youth, tomorrow's leaders."

Your commitment will ensure that our programs will not only be sustainable, but grow to allow more children within our community to be impacted by the free programs we offer. This year we'll be recognizing two champions of our community that are committed supporters of Invictus Youth Foundation.

Please join us in honoring the following award recipients:
• Life Time Achievement Award — Catherine 'Ofa Mann, TOFA of Sacramento Founder and President
• Community Champion Award — Alice Perez, AT&T External Affairs Manager

We will also be awarding youth from our programs and the community for awards that fit our core values of character and the choices that reflect integrity and championship excellence in the classroom and fields of play. We appreciate your support and commitment to our cause and passion to positively impact the youth of our community. We hope that you will join us for this evening of champions.
For questions, please contact Eric Jackson, Event Chair, at (510) 415-6548 or eric@invictusyouthfoundation.org.
Organizer of Invictus Youth Foundation 5th Annual Champions Banquet
Invictus Youth Foundation is a registered 501(c)(3) non-profit charitable organization. Established by Viliami 'Coach V' Tuivai in 2013, the organization supports California's at-risk youth in providing life skills and character development through our sports programs.
Invictus Youth Foundation's mission is to continually train and advance youth in self-development, education, sports, and success.
"It is our hope that each youth in our program will know what character is, make choices that reflect the highest level of integrity, are confident in their ability to excel in academics, and strive to be champions in every phase of their lives."
Today's youth. Tomorrow's leaders.